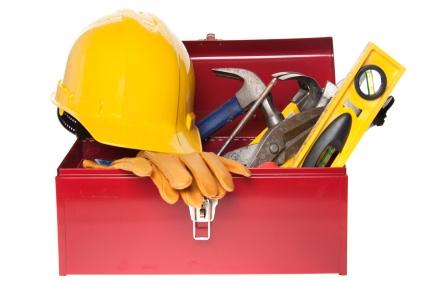 The TV was tuned to New Girl.  It's a sweet comedy with an easy formula. Three good guy friends and one loopy but irresistibly adorable girl share a cool, warehouse-like apartment. Laughter ensues.
That is, until the jokes hit too close to home.
Case in point: Season 1; episode 7 "Bells."  A brief montage of improvised home-repairs includes Nick "fixing" a chair by taping a stack of coins to one leg.  He also jerry-rigs the toilet in a manner that requires removing a chunk of wall and doing something to a plastic bottle duct-taped to a pipe to get it to flush.
My family wanted to laugh. Unfortunately, we were keenly aware of the fact that downstairs, our wonky kitchen closet door was held shut only by trapping a part of an apron just so. Have you ever seen someone driving around like a doofus with his or her coat accidentally caught in a car door because they were in a hurry?  It was like that. Except it was an apron caught in a closet door. And it was no accident. And worse. We were in no sort of hurry at all, apparently, judging as how this particular technique had been employed for approximately one year since the little thingy bob that was meant to make the door click in place died of natural causes related to old age.
Recognizing your home repair habits as the subject of parody on a sit-com is a lot less fun without a laugh track.
That weekend, my husband and I pored over hardware as if it were estate sale jewelry. Our grand purchase would amount to a $3 fix of magnet and metal. Inspired, we bought two more of the things for the loose cupboard doors below the sink where we have been unable to keep a trash can for more time than I can recall less a curious dog get at it.
Now we're on a roll. Next up: Entire basement remodel!
Yes, it's a bit of a leap.
And we're not alone.
Remodeling Magazine's  recent list of Top 100 Markets projects that Portland will be among the busiest with hammer and nails in 2012.  Their projections are based on their Residential Remodeling Index.  Oregon homeowners thinking of jumping in the game would be smart to check out the Oregon Remodelers Association. Think of it as an online dating service with remodelers as your potential beaus.  Most cities on Remodeling Magazine's list are close to their pre-economic apocalypse levels of remodeling activity.  They put Portland in the "tortoise and hare" category,  as in "slow-and-steady wins the race" growth.
My family may have been guilty of skewing the stats with our actions resembling a lame turtle on downers taking a leisurely stroll through a molasses swamp.
But the finish line is in sight.
Readers have been sending in stories of wonder and woe about their own remodeling projects. We'd love to hear yours.
Vivian McInerny: [email protected]; 503-445-8820