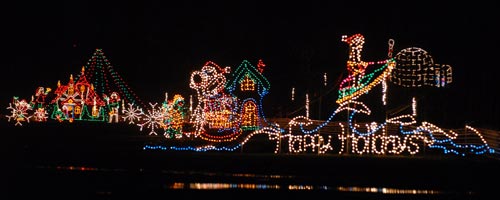 Jubitz Winter Wonderland at P.I.R.
A boy I went to school with had a mess of sisters all named Mary. There was Mary Elizabeth, Mary Catherine, Mary Anne and Mary Therese. They all went by their middle names. Except for Mary.
The brothers were named for Apostles.
Different Apostles.
If the brothers wanted to bug the sisters, they would refer to them as The Marys, plural form. The Marys always come to mind this time of year.  I'll be walking down city sidewalks, busy sidewalks dressed in holiday style — red dress, black boots and . . . oh, the shop lights look pretty festive, too — when on every street corner I hear their shared name. It's all "merry" this and "merry" that. Sure, it's spelled differently but my ears don't hear spelling.
In the dreariest, gloomiest, darkest days of winter, it's nice to spread a bit of good cheer and have a socially acceptable excuse to give my home a thoroughly merry makeover. Eleven months of the year, my house is fairly sparse and relatively refined. Come December, it is a clutter of kitsch. There are things on my mantel I'm embarrassed to own the rest of the year. But the plastic Father Christmas that looks like something Charles Dickens wisely edited out of a novel reminds my husband of his U.K. childhood. The vintage wax angels with glitter sparkles that I picked up at thrift shops and were just about worth the 15-25 cents I paid, remind me of my childhood. Add the kids' cloyingly cutesy ornaments and I think we strike a balance on the scale of tastelessness.  
If you want to see merrily decorated places there are plenty of opportunities.
The Pittock Mansion in Portland adds a touch of holiday magic to every room of the house. If your family is more the load-them-up and drive-through-waving check out The Winter Wonderland at P.I.R. or grab an umbrella and walk  down Peacock Lane, wander through the  Zoo Lights for a bright safari, or The Grotto  for a mix of religion plus carolers plus petting pen of farm animals.  If you are near Keizer, check out the Miracle of Christmas Lighting Display.
So have yourself a Mary little Christmas!
Vivian McInerny is managing editor of Oregon Home; [email protected].