I was recently reading an Arciform post in which people shared the cool history of their homes. Maybe the house was home to an owner of a local watering hole, or had historical documents stashed in the attic. Or it was built with a lumber baron's special stock of timber and has a freaky amount of gorgeous built-ins (which somebody painted in the '80s—fools).
See, some houses come to you with history. And then there are houses like mine, built in 1978, with no particular history included. Well, let's say no good history! There might be the inherent history of its  '70s composite wood ugliness, or the perplexing danger of its popcorn ceilings. But nothing you want to brag about. And that's so sad! Why should people with the historic homes have all the bragging rights?
Well, they don't. This is America, baby and you are in charge of your home's history. And dammit, if you want it to have history, it can have history. Invent it. Add it. Brag about it. Here are a few areas of your home that lend themselves to an upgrade with a pedigree, and ultimately, a great story behind the materials.
1. Floors and counters: If you like wood, consider the vintage touch. Whether you find wood sourced from an old barn, stadium bleachers, a bowling alley floor or pickle barrels, this is a great way to add an interesting story to your remodel. Start browsing at Barnwood Naturals and Pioneer Millworks.
2. New doors are new, but perhaps impersonal? Haunt the Rebuilding Center, Aurora Mills and salvage shops to find yourself some nifty old doors. All you need is one in a visible location to add history to your home.
3. Fences and gates are genius places to incorporate old metal pieces, such as those from deconstructed local buildings. And a gate from a vintage piece of metal (from an old bank vault, old tree grates?) will give you a lot of bang for your buck.
4. Antique and vintage lights can be found locally in antique or thrift stores or on Ebay. Friends recently installed antique church chandeliers (a not-too-ornate set) over their dining room table. Very cool. Instant history. Also, consider making your own dining table light from a set of vintage apple baskets, birdcages, colanders, or anything else that strikes your fancy.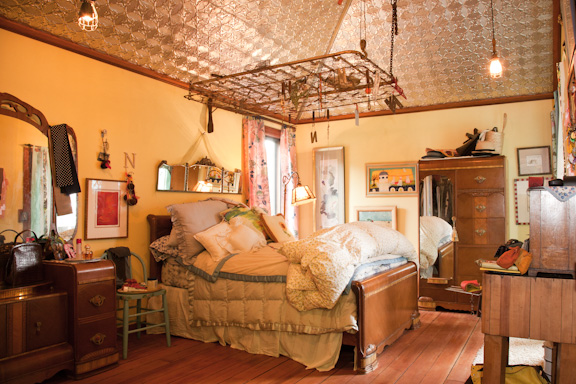 5. Smaller additions can also add big history to your home. In the room pictured above, the floor was pulled from an old Portland home's attic, sure, but the canopy / box spring was found at a pop-up shop for $20. It is suspended form the ceiling with vintage chain and an old hand winch. The catch-all table on the right side of the pic is an antique butcher block. And one of the curtain rods is an antique apple butter stirrer. No joke. The closet curtains are made from old saris, the bedroom set is from the '30s. Items from interesting provenances carry interesting stories.
No more feelings of inadequacy about your nouveau house and its lack of history. Take charge of your home's narrative. Add the history. Create the story. Discover what truly speaks to your sensibility and style, and share it with others by showcasing interesting things and interesting stories you can be proud of.