By Nancy Ranchel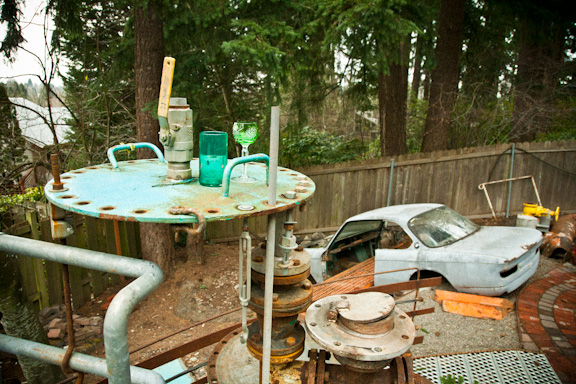 Am I late to this party? Has everyone out there already checked out freecycle? I first heard about it several years ago when a friend mentioned how she was able to easily get rid of a pile of sandbox sand cluttering up her yard. She posted the free sand on freecycle and someone came and picked it up. Easy peasy. Unwanted sand no longer cluttering the yard.
I immediately tried to get on the site, got locked out, gave up. That's the way I roll sometimes. But a few weeks ago freecycle emails started popping up in my inbox. Revisiting the site reminded me that:
"The Freecycle Network™ is made up of 5,205 groups with 8,598,426 members around the world. It's a grassroots and entirely nonprofit movement of people who are giving (and getting) stuff for free in their own towns. It's all about reuse and keeping good stuff out of landfills. Each local group is moderated by local volunteers (them's good people). Membership is free."
"Them's good people" is right! What an invaluable and smart service. Are you now curious about what shows up as available or needed in the Portland area? I can help with that:
WANTED: Wifi printer (SE Portland/ Oregon City)
TAKEN: Assortment: Steamer, Magazines, Kid's Play tube, Succulents (Hollywood, near the neighborhood branch library)
TAKEN: Offer: Painters Drop Cloths (NE 7th and Fremont, Portland)
WANTED: CARPET – BROWN/DARK BROWN 12 X 14 FT (PORTLAND, SE 64TH)
WANTED: Yarn wanted!! (near Gresham)
OFFER: Air Force Uniform (NE 122nd & I-84)
OFFER: offer: egg cartons and brown bags (SE Hawthorne area)
OFFER: Carpet and Pad (Outer SE PDX 97233)
WANTED: Wanted water color paints and supplies (SE Hawthorne)
WANTED: Low income family needs a freezer (Portland, Oregon)
TAKEN: Yerba Mate Teas
TAKEN: Lincoln Electric 225 Amp Arc welder (West Linn)
WANTED: Food Processor? (Portland, Oregon)
WANTED: Canning jars? (Portland, Oregon)
WANTED: Baby Items (Portland/Vancouver)
What's your reaction to this eclectic list? My first reaction was this: I was a bit appalled. People are just DEMANDING things. Talk about pushy! Should we all just put our needs and our excess out there for everyone to read? Brown or dark brown carpet, please; no other color — it needs to go with my room. How about this: I want to try watercolor painting but I don't want to pay for the supplies. Will someone give them to me please? What kind of people do this?
Smart people. Old carpet has limited use. If it's possible that someone out there has excess/used carpet that would work in your home, why not just ask? If you do find that brown carpet you're ensuring it doesn't go to the landfill, plus the previous owner doesn't have to worry about hauling it somewhere. And as for hobbies, how much have you spent on hobby supplies you've rarely or never used? Why not stop the madness and try a new hobby for free? Why not give old art supplies to someone who could use them? Putting your need out there for the universe to redirect is a good idea. Yes, it might sound pushy if read out loud in the right tone, but it's also smart. Smart for your pocketbook if on the receiving end, smart for your back and your schedule if you are on the donating end. There's no need to load the car with your old sink and find time for a trip to the Rebuilding Center; maybe instead someone will come pick up that sink and get it out of your garage and off your mind.
FYI, there are two pallets of bricks at my house. I've been collecting them for a project for a few years, and if they don't get used soon, they're going on freecycle. Any takers? How about you? Take a look around. Anything you want to offer up to the universe? Anything you would like to try out? Give it a shot. Put your need online. You never know.