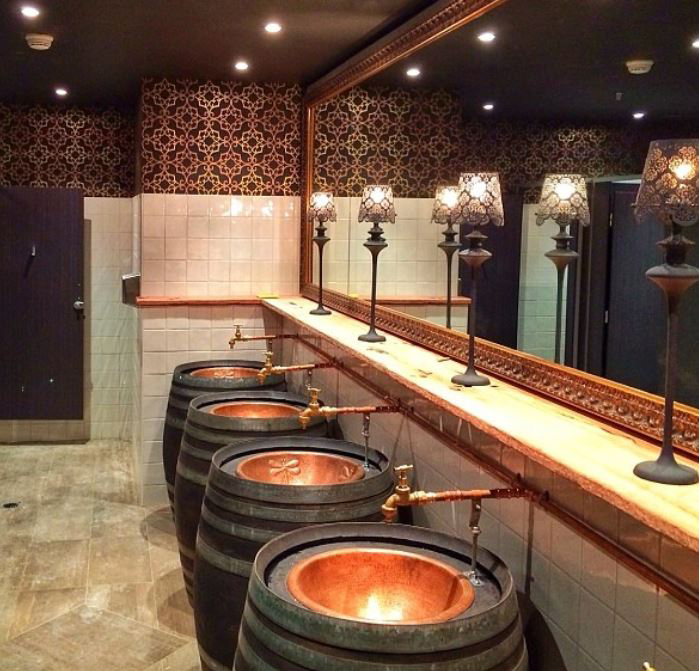 As the popularity of the trendy Moscow Mule cocktail and its complementary speakeasy vibe continues to grow, you may begin to notice an aesthetic shift in your favorite bars and restaurants. The classy copper mugs that serve this fashionable drink are popping up in bars across the country, revealing a newfound desire for warm, rustic, and somewhat old-timey or colonial design shifts in our favorite saloons and eateries. Business owners who catch on and incorporate a few copper elements to their establishments, other than just the trendy mugs, may attract a generation of bar-goers searching for the laid-back yet classy atmosphere that stylish copper can provide.
Copper Bar Tops
The most prevalent and substantial addition to the gastropub scene is the copper bar top. The transition from wood or stone to copper is a surefire way to achieve the old-timey, speakeasy feel. Styles vary from hammered to smooth, and from polished to rustic with natural patina. No matter the style, copper bar tops always prove to be unique, artsy, and incredibly functional additions to the bar area.
Copper is naturally anti-microbial, meaning that bacteria will not live upon its surface for long. This is an incredible sanitation benefit for a typically high-traffic area, repeatedly touched by countless customers who may or may not have recently washed their hands. Simply wipe down the bar with mild soap and water, and you'll never risk a buildup of dangerous bacteria where your loyal customers eat and drink.
Copper Bar Sinks
Many bartenders are enjoying the beauty and benefits of installing copper bar sinks in their establishments – an appropriate "level-up" for the restauranteur seeking a laid-back, classy vibe in their bar area. Copper bar sinks come in various sizes, shapes, and patina finish colors, but typically all have flat bottoms for ease of setting glassware down inside. Look for a copper bar sink with a strainer or lift out basket drain to easily dispose of lemon and lime wedges, cherry stems, mint leaves, and other cocktail accoutrements at the end of the night.
With the same anti-microbial benefits as copper bar tops, copper bar sinks are enjoyed by many a bartender because of their sanitation qualities. Harsh chemicals are never required to clean your copper sink, and you and your customers are still safe from the germs that typically accumulate in a working sink.
Bar faucets with an oil-rubbed bronze finish are generally great coordinating pieces for copper bar sinks with a medium or dark patina finish. If you plan to polish your copper sink to maintain a shiny, natural copper finish, aim for a faucet with an antique or shiny copper-colored plating.
Copper Lighting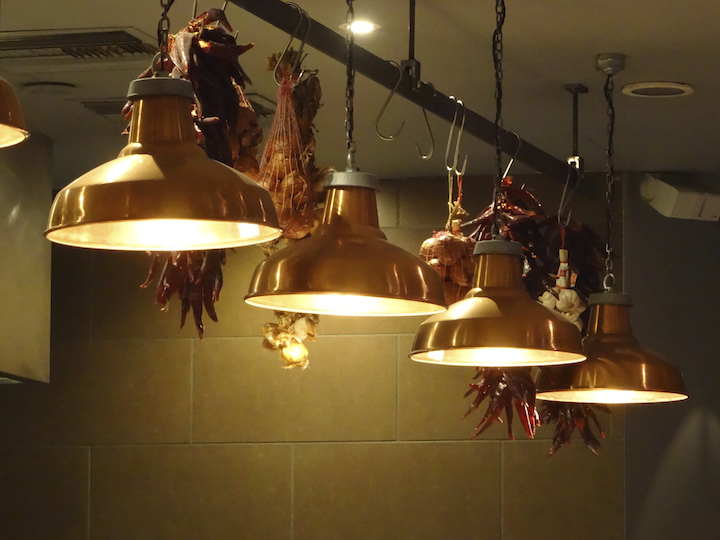 You can add so much to a space by choosing the right small, finishing details. In a space that features a beautiful copper bar top and bar sink, a bar or restaurant owner might as well go the extra mile and coordinate their pendant, overhead, or wall sconce lighting and switch plates with the copper aesthetic.
The warm, amber light emitted from a hand-hammered copper lamp shade will help set a casual, colonial tone in any establishment.
Outside the Bar – Copper in the Kitchen and Bathroom
Don't relegate copper fixtures to just the bar! There are some great options to spread copper around your entire restaurant and really make a statement. If your kitchen is visible to patrons, which is a cool feature in and of itself, then dress up your ranges with custom or designer copper range hoods. These large, eye-catching hoods can also be finished in a variety of patina colors, textures, sizes, and styles. Have your monogram hand-hammered into the hood face, or inscribed it with your business's name or logo. Hang some ornamental copper cookware nearby for a truly artisan, fashionable look. Over time, you'll love the way the copper lightens and darkens with use, adding some functional charm to your kitchen.
Your customers will inevitably use the facilities before leaving, and why not "wow" them with one more impressive copper element before they depart. Many restauranteurs are choosing to install a series of copper bath sinks in their public restrooms, which makes for yet another warm, cozy environment to seek out in your place of business. Washing hands in a beautifully, hand-crafted artisan copper bath sink will impress upon customers that you put thought into every square inch of your space. Unique copper lighting and switch plates to complement sinks in this room is another tiny detail that will not go unnoticed.