By Katherine Oakes of Modernize | katherineoakes.com
We love to take on the challenge of making our house into a sanctuary. However, it's even better when we get the chance to do that for somebody else. If you are having guests stay over at your house, creating the ultimate guest room starts with offering all the comforts of both their home and yours—it can also be a fun design project, too!
In order to help you get started, here are 5 steps for creating the ultimate guest room.
1. A Warm Welcome
When you first begin to plan the look of your guest room you will also want to consider the way it feels to be there. A spare room with sparse décor and a single bed outfitted in your second-hand bedding just won't cut it. Offering your guests a warm and inviting place to spend the night says a lot about what a gracious and considerate host you are. You will want to make them feel welcome and comfortable in their space—not like an afterthought. This can easily be achieved by establishing a warm-colored palette.
● Paint the walls a soft hue and decorate the room with cozy furniture like an oversized armchair they can sink into, like this armchair from Wayfair.
● Load up the bed with plush pillows and a duvet that complements your wall color.
● Lay down a matching rug, place lamps in the corner and on a bedside table for a warm glow, and style it so it looks like the best room in the house.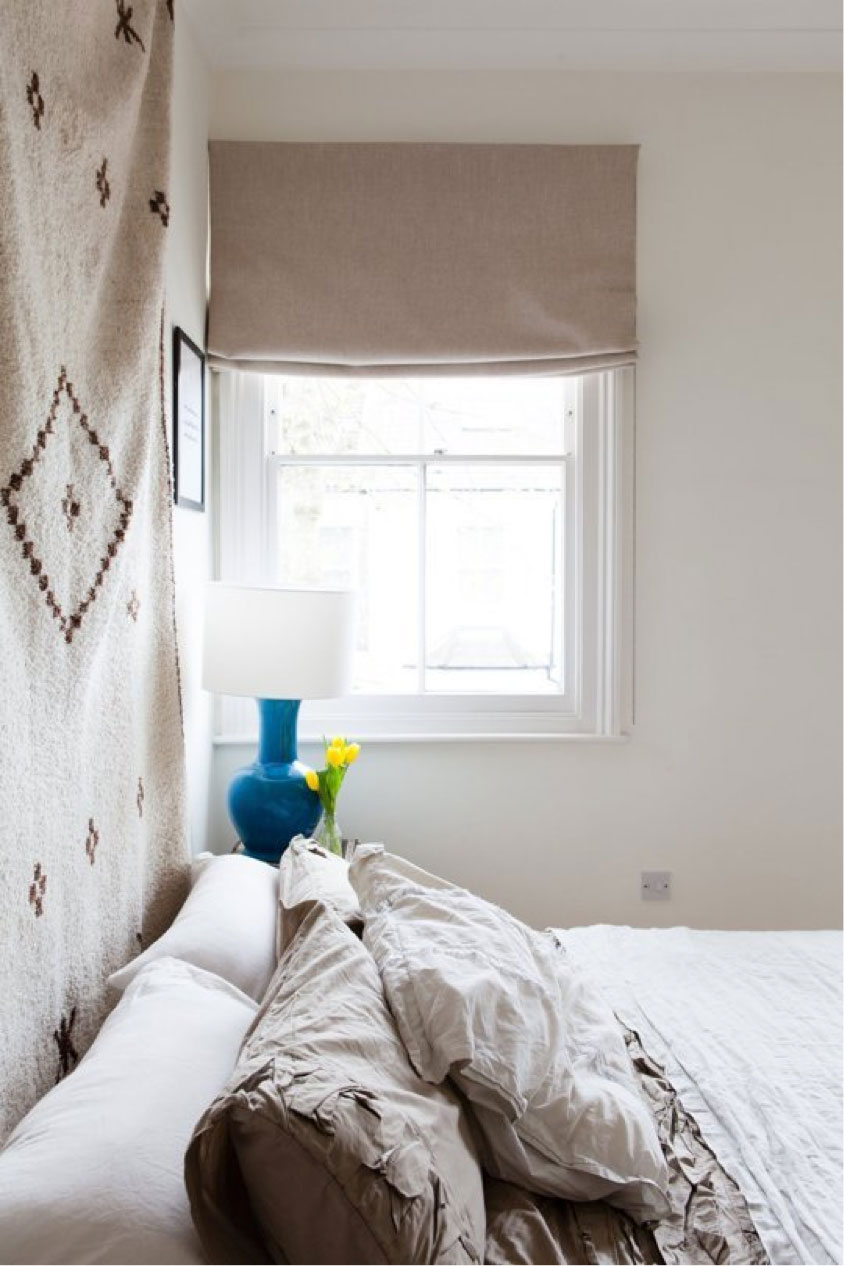 2. Pile on the Extras
One thing you don't want your guests to have to do is ask for anything. Naturally, they will of course make some small and courteous requests, but part of being a thoughtful host is also being prepared.
● Store extra blankets, sheets, pillows of varying firmness, and bath towels in a closet, trunk, or under the bed just in case.
● A pair of slippers or a bathrobe for ultimate comfort.
● Leave a handwritten note indicating where your guests can find these helpful items.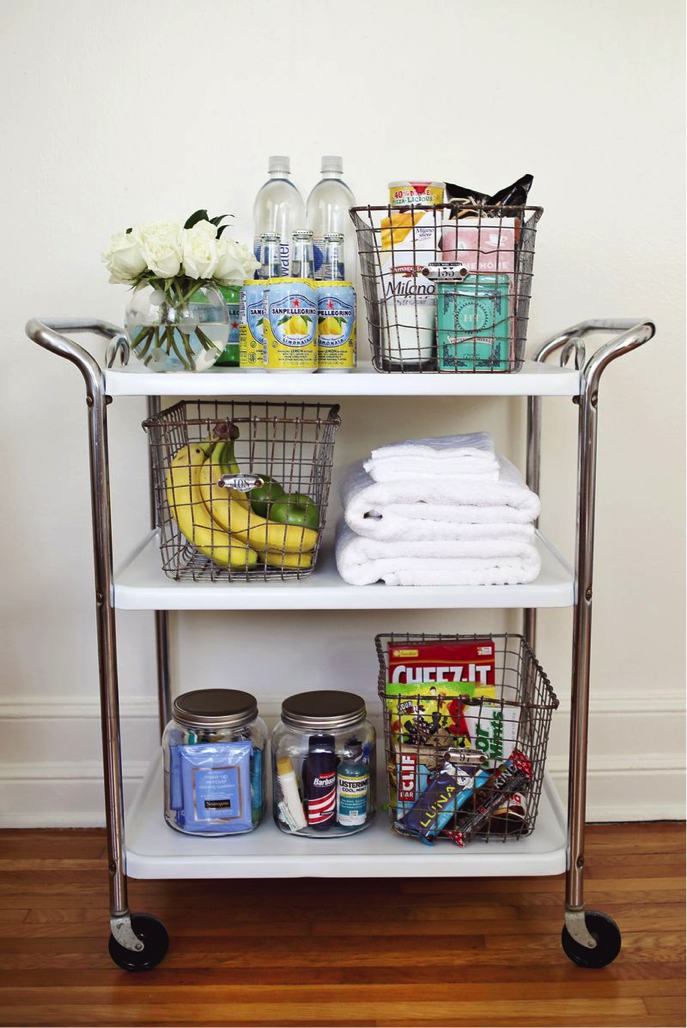 3. Add Small and Thoughtful Details
It's the little things that mean the most when it comes to making your guests feel at home. Small touches like a vase full of fresh flowers on the bedside table for when they arrive is a kind and friendly gesture that can make all the difference in their stay. If you are the type of host who really loves to pamper your guests, try some of these tips, and even try out the guest room cart like the one above from A Beautiful Mess!
● Leave a small collection of toiletries they might need (or have forgotten) like shampoo, body wash, toothpaste, and hand lotion in a basket with a washcloth in their room to make it feel like a weekend away at the spa.
● If they are staying a few days, a stack of books and magazines by a cozy reading nook or table can also be enjoyable.
● For an anytime snack a bowl of fruit can stave off hunger when they need something to eat.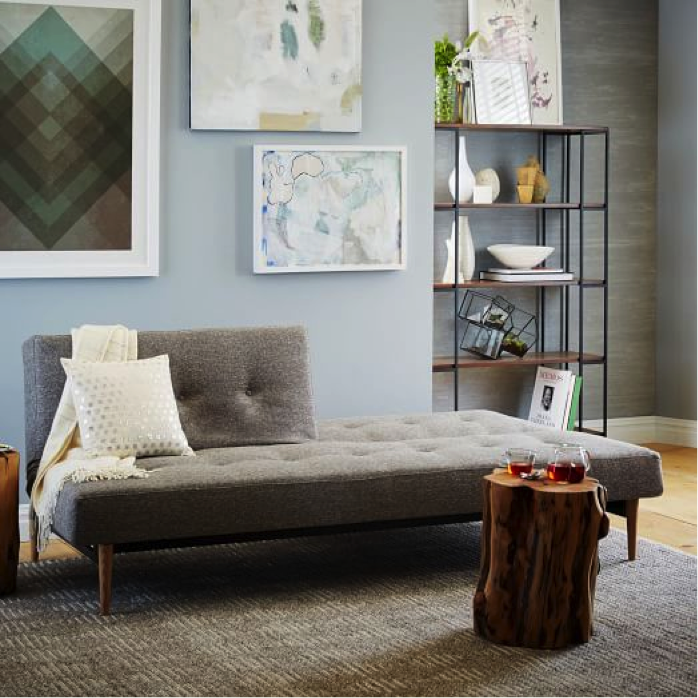 4. Additional Sleeping Arrangements
For the last minute extra guest or two (or three or four), have a few extra bunks ready in case you find yourself accommodating more folks than you expected. If this leaves you wondering, "just how do I do that?" try these helpful and homey suggestions.
● If you have the space for a pull-out couch or futon in your guest room, simply arrange the extra beds with the spare bedding you have conveniently stored on hand. For a sleek and stylish futon, check out this transitional sofa.
● Another easy way to create more places to sleep is with a trundle or bunk bed. Both types of furniture easily sleep more people without taking up more space. Besides, doesn't everybody love a good bunk bed?
● If you are really in a pinch, store a couple of air mattresses beneath the bed or in the closet of your guest room so that you can easily pull them out of storage whenever you need.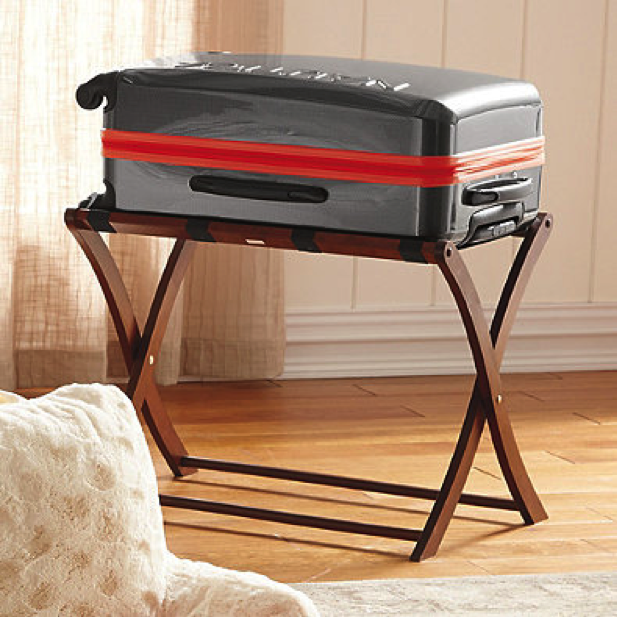 5. Go Above and Beyond
We know that you've already thought ahead, cleaned every inch, and stocked your guest room with all of the most important items, but if you find yourself wondering what else you can do to really make your guest's stay unforgettable, try any of these extra-nice offerings.
● Print the Wi-Fi password on cardstock and have it laminated or taped down to the bottom of the desk or nightstand drawer. Make sure to leave it in a place where they can easily find it!
● Purchasing a luggage rack for your guest room takes above-and-beyond to a whole other level. To make it more stylish and decorative, rather than Motel 6, pick out a beautiful solid wood luggage rack, like this one from Bed, Bath, and Beyond.
● Leave a spare key! If your guests need to come and go on their own time, this will avoid any awkward moments when they find they've been locked out of the house, or worse yet, you have been locked out of your house. Don't have a spare? Leave a garage door code or some other helpful directions for entering and exiting your home.