In many homes it's the coffee table, even more than the dining table, the wet bar or the kitchen island, that serves as the community center. At various times it can be library and snack bar, display space and conversational hub. It's certainly a centerpiece in most living rooms, and as such acts as a kind of first violinist, setting the tone for the surrounding "orchestra."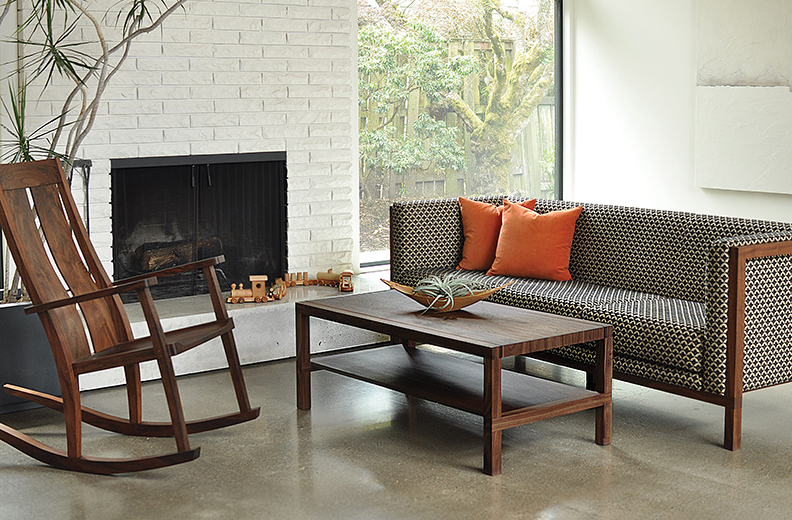 Below you'll see a sampling of The Joinery coffee tables. But before you make any decisions, keep Rule No. 1 in mind:
The nearly limitless range of coffee table styles lets you express your idiosyncratic self in a single piece of furniture. Do you veer toward the traditional? Original? Experimental? Environmental? Practical? Cerebral? Don't show us your palm to get a reading — just your coffee table. Not surprisingly, then, our customers spend a lot of time looking for the perfect marriage of form and function, construction and composition in their coffee tables — so we make sure to give them a huge range of distinctive styles to consider. 
The first measure of a perfect coffee table is a tape measure.
If a coffee table is too large or too small, the whole room will feel off and the furniture out of proportion. You want your room to feel comfortable and cohesive, which can be achieved in part by making sure your coffee table is properly sized.
Height – the proper height for a coffee table is the same height as the cushions on your sofa or 1-2 inches lower.
Length – scale your coffee table to the size of your sofa: It should be one-half to two-thirds the length of the sofa. This can be achieved with one piece or a couple of tables that collectively 'fill' the space.
Placement – keep 12-18 inches of space between a coffee table and the seating surrounding it.
The biggest mistake is choosing a coffee table that's too small for the space. When in doubt, go larger. If you have a hard-to-fit or awkward space, consider a custom-designed table. And, because coffee tables are for function, not just show, you'll want something that works for the way you live, and that can outlive fads and constant use. Quality and simplicity trump passing fashion every time.
Armed with that criteria, take a look at a few of our Joinery designs. Most of what you see here are available in several sizes and woods and choice of accessories, with a custom-built variation always an option. Besides their wood construction, about the only common denominator is the uncommon craft and conscientiousness that goes into each of them.
The character of The Joinery's Arcadia coffee table is clean-cut and substantial. Built of solid hardwood with thru legs, its wrapped edge creates a distinctively thick top that's usually book-matched for an elegant sense of symmetry. Its large scale — 42"d x 42"w x 16"h — allows the unique patterns of the carefully selected wood to be a work of art in itself. You'll keep discovering something new to admire from every angle. From $2510.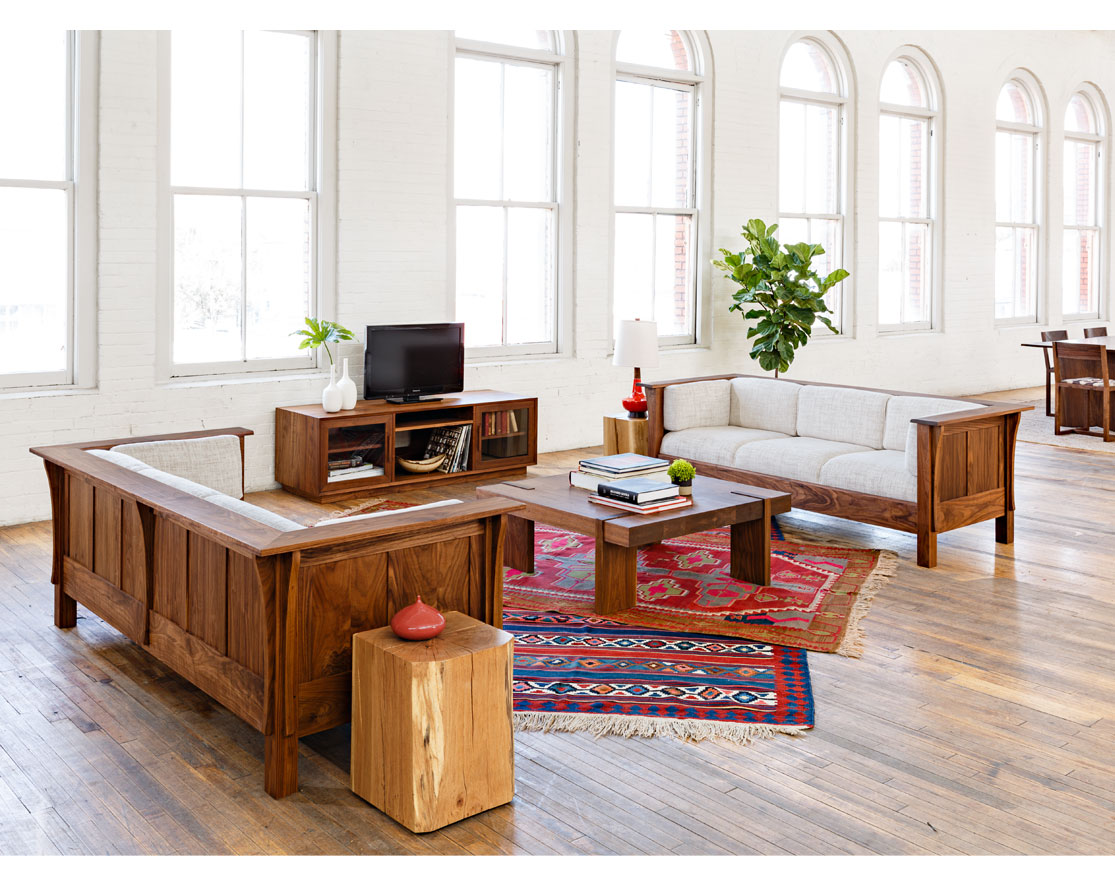 Nothing speaks of individuality as eloquently as The Joinery's live-edge miter wrap coffee table. No photo does it justice, because each is made entirely from a single slab of wood, each with its own identifying knots, color variations and organic perimeter, then sanded and oiled to awe for the fingers as well as the eyes. Typically sized 24"d x 48"w x 18"h. From $1955.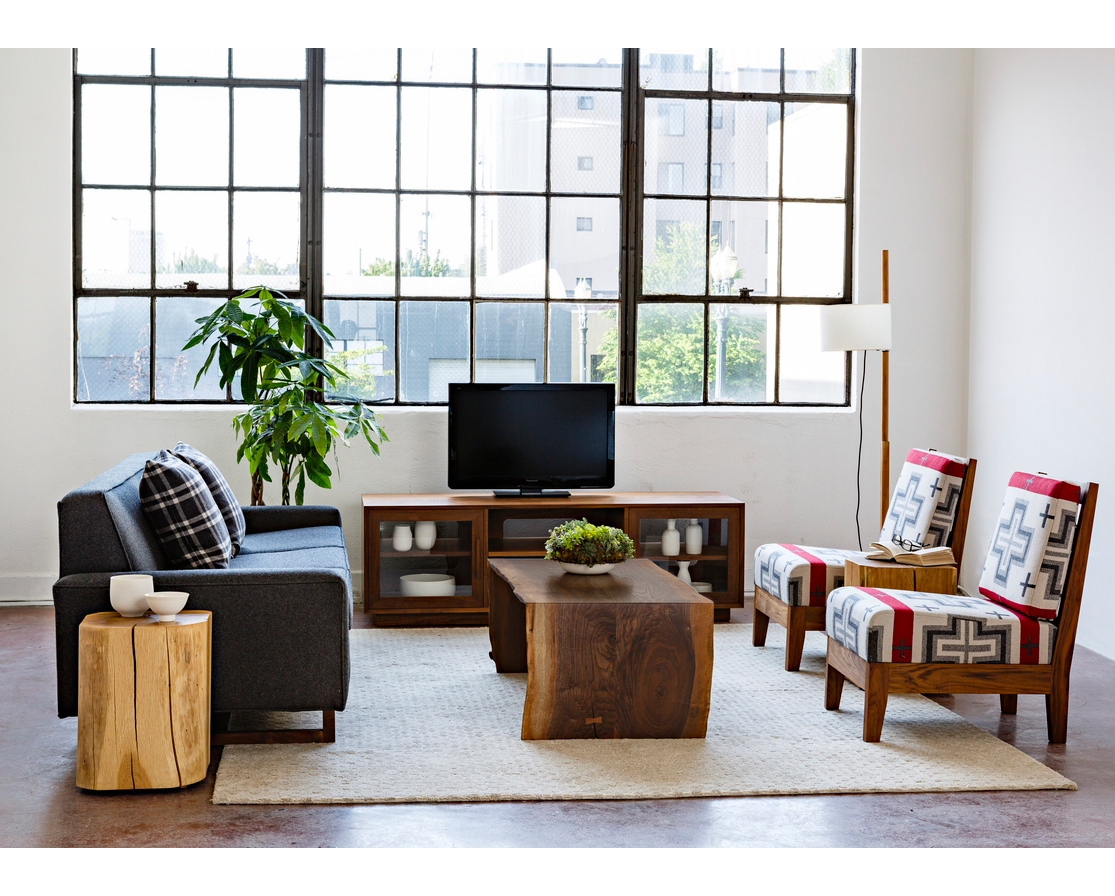 Master craftsmanship makes possible the slender-but-solid, sophisticated simplicity of The Joinery's Celilo coffee table. Its classic styling is enriched with contemporary details like exposed bridle joints and a mitered top. 24"d x 48"w x 18"h. From $1905.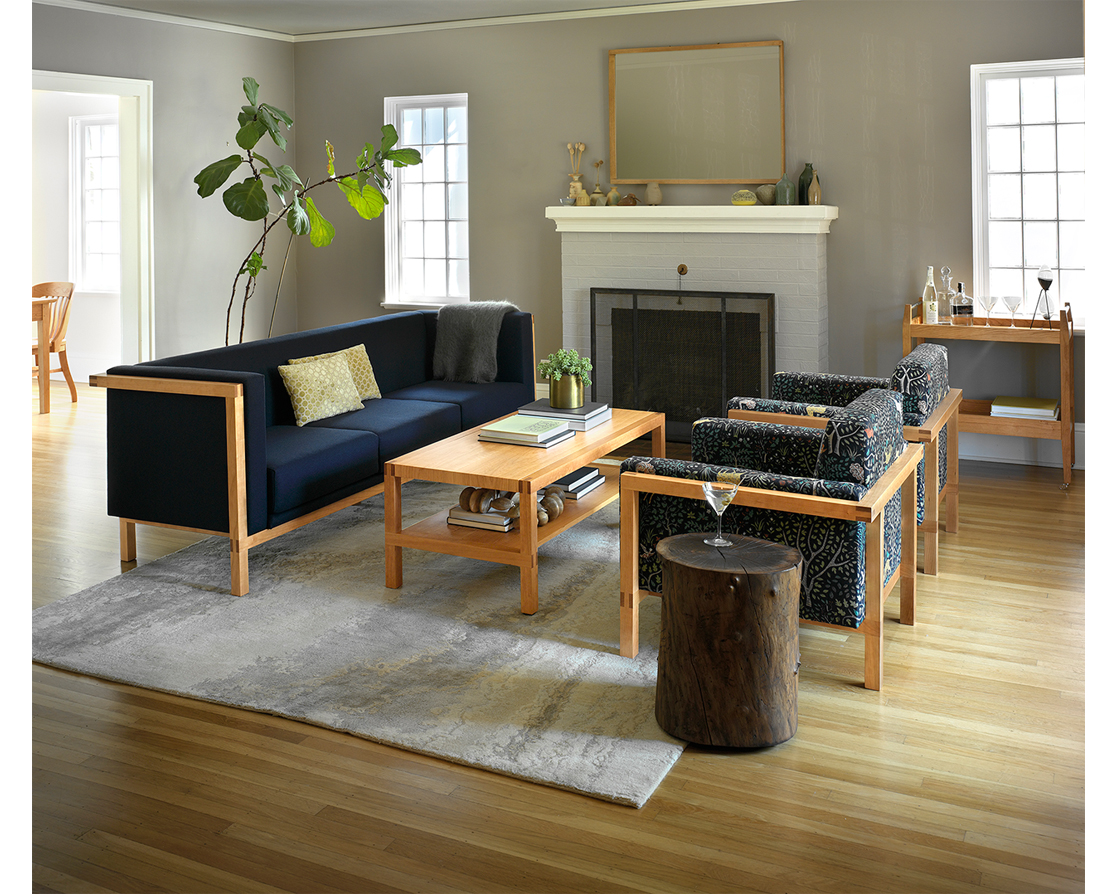 Graceful details like the floating top, bowed rails, and what we call a cloud-lift element on the apron give our Joinery Hochberg coffee table a deceptively delicate air that belies its lifetime warranty. 25"d x 48"w x 18"h. From $1190.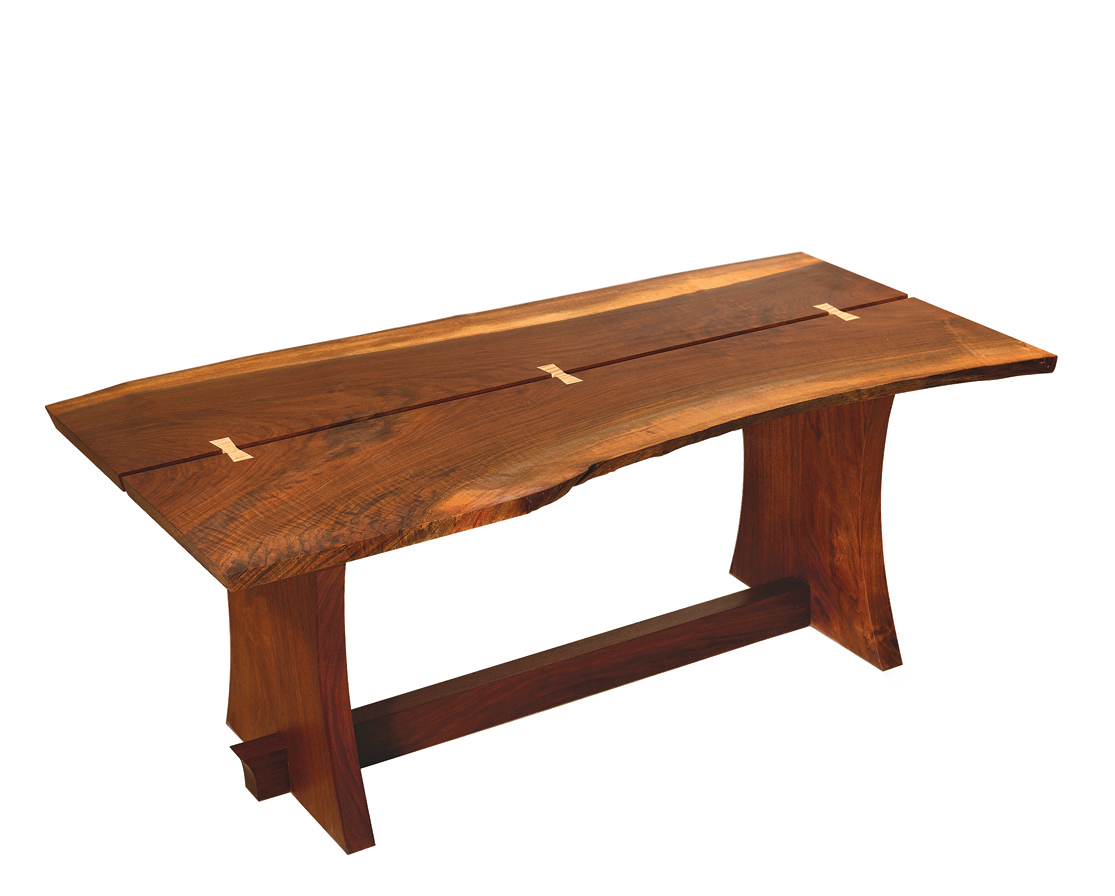 It's a bench, it's a coffee table, and it does double-duty beautifully: our Western walnut live-edge butterfly coffee table has a split-personality that's at once wonderfully informal, uniquely natural, and masterfully constructed — including details like its contrasting curly maple butterfly joints. 24"d x 48"w x 18"h. From $1475.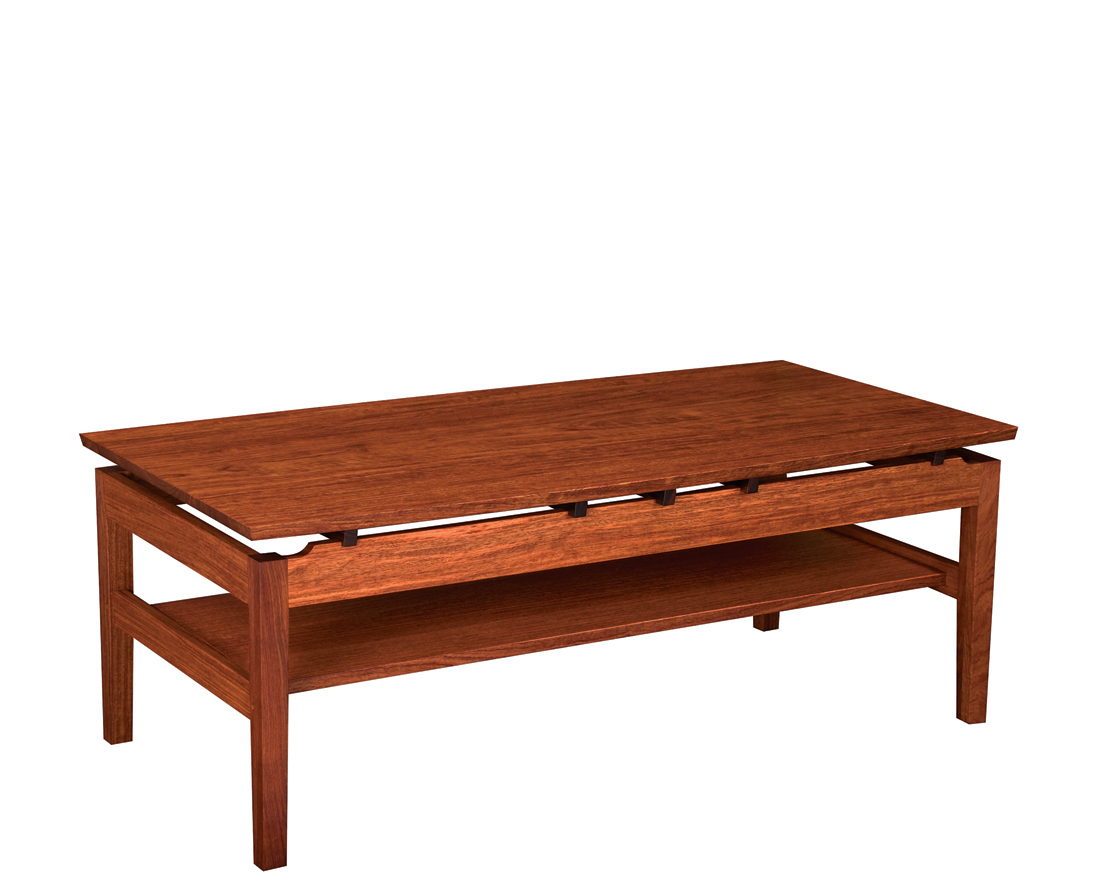 The Joinery has many more styles in stock. In store. In our catalog and online. And if you have a design that exists only in your head, come in, talk with our designers and craftspeople and chances are we'll work with you to make it practical, beautiful and real.