Style favors the bold in designer Angela Todd's foursquare foyer.
Photography by Blackstone Edge
---
Like most designers, Angela Todd sometimes has to coax her clients into choices that will best enhance their spaces. But even she had a moment of panic when the scene-stealing wallpaper she chose was going up in the front entrance of her home. The paper, with its cascading pink orchids and tiny hummingbirds set against a rich teal, would be a bold choice in any environment.
"It's almost always true that the thing that scares you to death is the thing you end up loving the most," Todd says. "You can't get excited about what's predictable."
The Osborne & Little wallpaper, called "Trailing Orchid," acquired from Portland-based Manolo Walls, is just one of the standout elements the designer used to transform the generous entry of her Mt. Tabor foursquare as part of the Better Homes & Gardens One Room Challenge. The semi-annual contest charges interior designers and home-lifestyle experts with redoing a room within a crunched six-week timeline. They share their ideas, their wins and their misses, documenting the process online.
---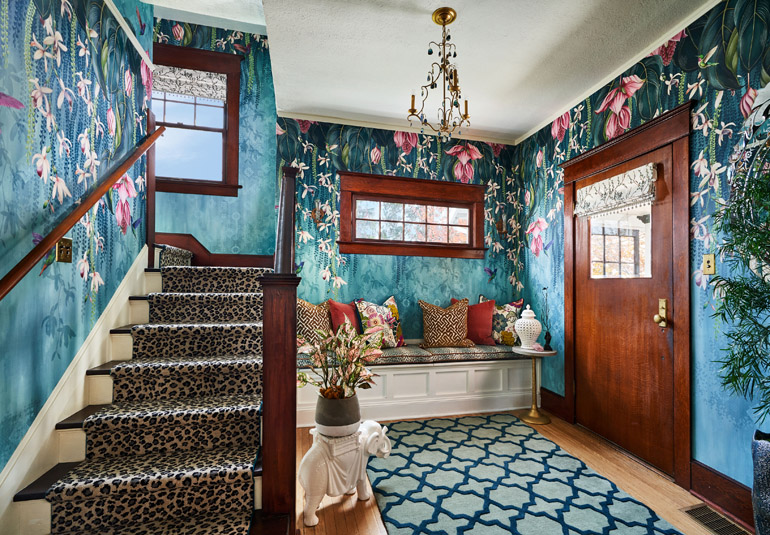 ---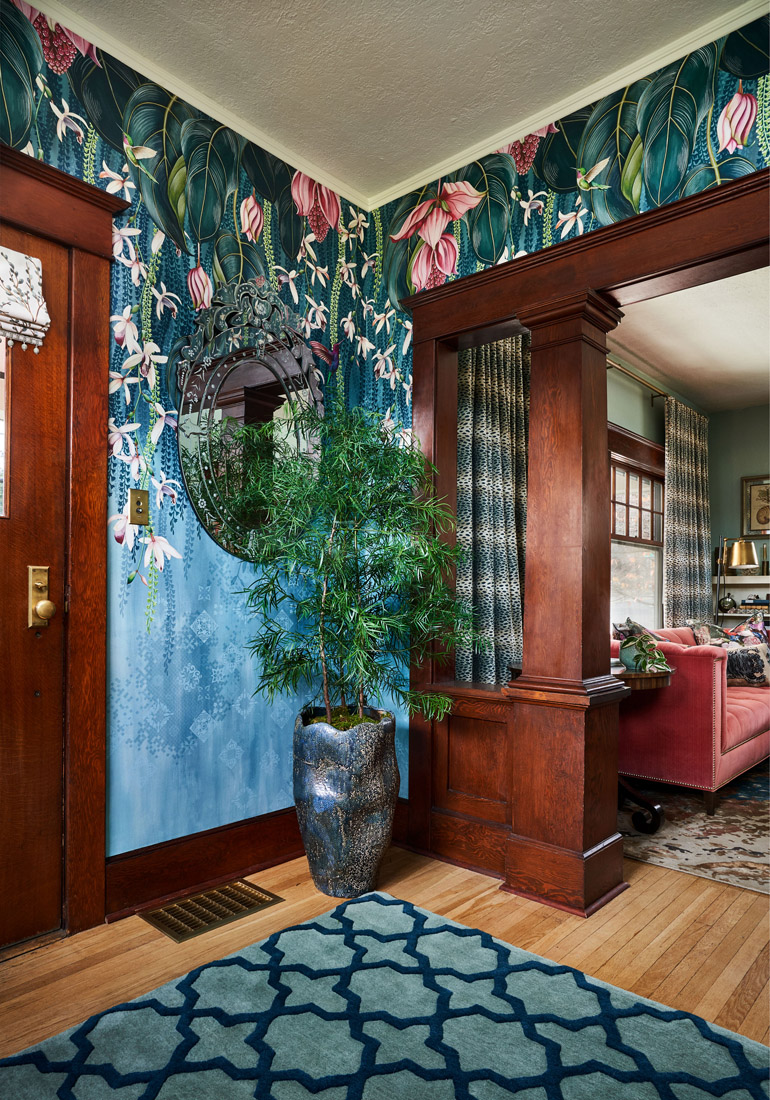 ---
Most designers come to the challenge with choices already made and custom items ordered. But Todd joined right at the start and hustled on what she calls an "aggressive schedule" to align all of the elements while also serving her regular clients. She called in help from her regular industry collaborators to make it happen: wallpaper expert Chuck Ricks, Kula Solutions to restore the woodwork, Classique Floors for the hardwoods, Juanito's Fine Furniture for the custom bench and Ray-Burts for the hand-bound stair carpet, just to name a few. Night and weekend work became commonplace.
The result has been a social media phenomenon but also a real-life winner, one that allows the designer to feel like she is walking through a jewel box as she moves between her living space and the upstairs offices of her business, Angela Todd Studios. The project is becoming something of a teaching moment for how homeowners can learn to lean into their true personality as they design their homes.
"Our culture doesn't teach people how to blend color and pattern," Todd says. "But if you work within your signature colors, you will never get tired of them."
---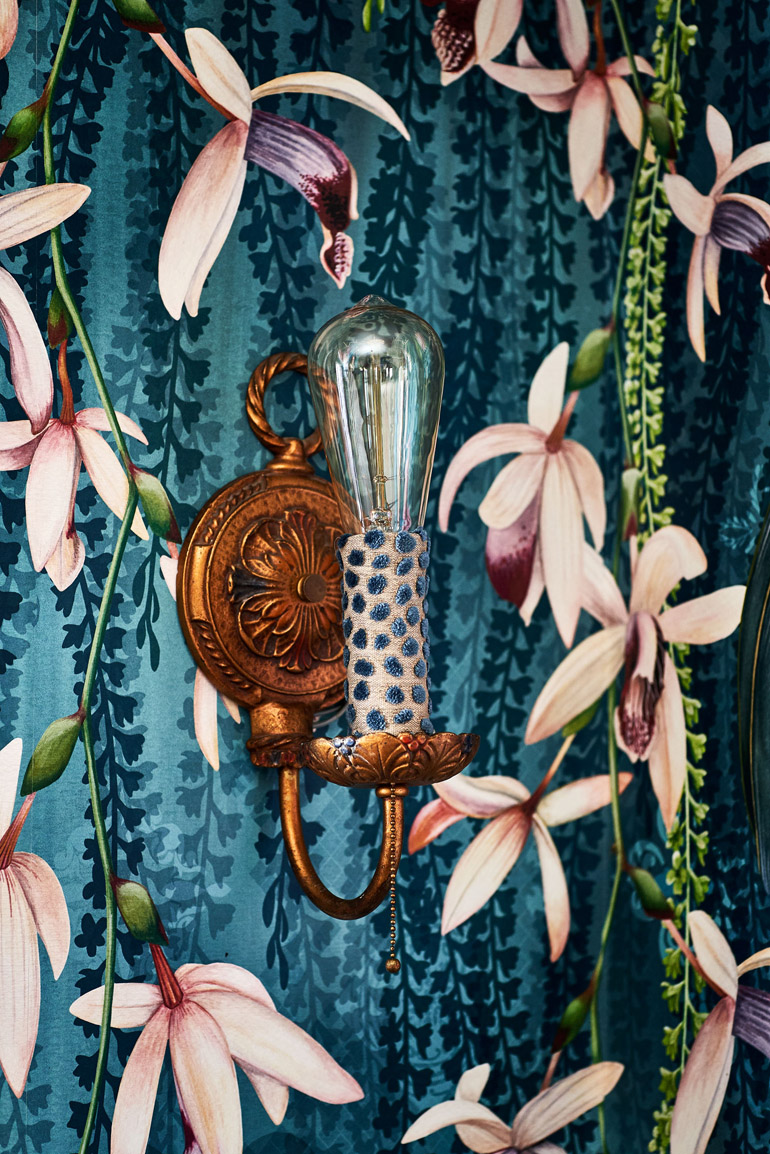 ---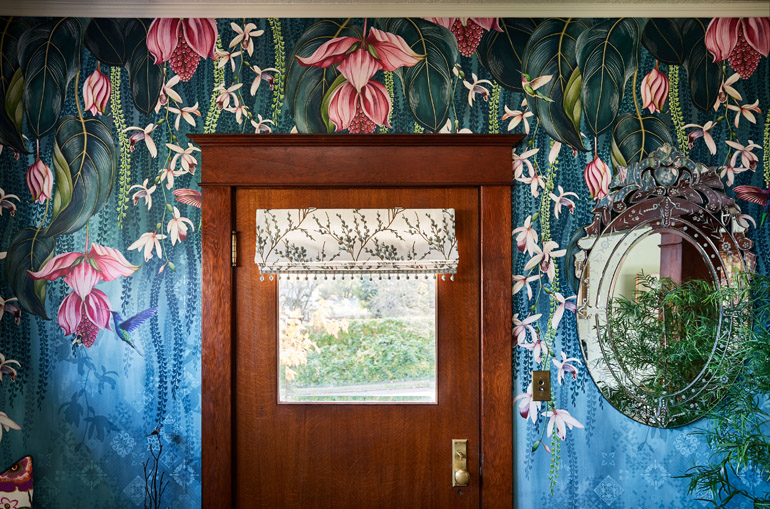 ---
Todd has lived in the historic home—built by early city builder and wood dealer J.J. Mann—for four years but had been waiting for the right time to work on the entry. She purchased the property for its personality—its appealing mix of good energy from generations of happy family life and the pared-down grandeur of a home that was built for a middle-class lifestyle. It was also a designer's dream: Historic elements remained largely intact; the floor plan was more than functional; it had good bones. In the years since, she has educated herself about the home's history to select what to save and what to let go to best tell its story visually. The stained wood millwork, for example, was a keeper as a foil to the playfulness of the wallpaper, even though that style of heavy stained-wood isn't currently fashionable.
"In our industry, the highest level is: Give me something nobody has," Todd says.