One-night stands aren't often pretty. But designer Colin Fjeld aimed to make an overnight stay at The Jupiter Hotel a beautiful experience worth bringing home.
Finding the right tone for the 2009 revamp of the Portland hotel was tricky. The owners had in mind something light and modern. Field imagined a grungy rocker motel. Or maybe something that would play up the motel's mid-century roots.
"I grappled with the design," says Fjeld. "Rock-star-meets-Zen collaboration. That's kind of where it landed."
Fjeld's first solo project won accolades from shelter magazines and the hotel industry. Bring it home with his design tips.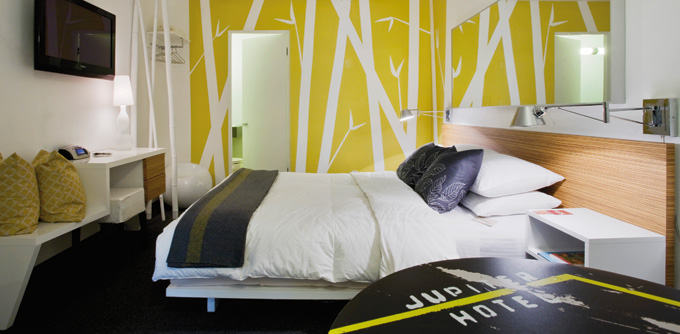 ---
Splurge: Custom pillows and valance with Ikea fabric.
Skimp: Ikea sells readymade cushions for $16.
Tip: Ikea fabrics $4-$8 a yard, or check out Mill End Store in Portland and Beaverton.
Splurge: Original mural by Fjeld.
Skimp: Do it yourself; use wide masking tape to create simple lines that imply bamboo.
Tip: "I painted the wall white first. Put the tape silhouette down, then go over with yellow paint for a crisp line." 
Splurge: New 33-inch round stainless steel bistro table about $275. 
Skimp: Copy Fjeld and go to Signs Now in Portland to have a photo or design printed on vinyl for a unique table top; about $200 for one, price break for multiples
Tip: "Any kind of painting on the stainless steel would have scratched off, and been expensive. The vinyl is really durable."  
Splurge: Headboard made by Tomita Designs in Portland. Colin attached white boxes to serve as floating shelves for about $500. 
Skimp: Repurpose an existing headboard or cut plywood to shape.
Tip: "If you have an old piece of furniture you can glue a piece of new laminate to the top of it. I bought an old desk at City Liquidators in Portland and did that."