Recipes by Portland Butcher Zeph Shepard. To read our profile on Zeph, click here.
---
CLASSIC WINTER BEEF STEW
INGREDIENTS
1/4 cup + 1 Tbsp. all-purpose flour
2 tsp. kosher salt
1 tsp . freshly ground black pepper
1 (3-lb.) boneless chuck roast
3 Tbsp. vegetable oil
1 med. yellow onion, diced large
2 Tbsp. tomato paste
1 cup dry red wine
4 cups (1 qt.) low-sodium beef broth
2 bay leaves
4 fresh thyme sprigs
3 med. carrots
3 med. celery stalks
4 med. Yukon Gold potatoes (about 1.5 lb.)
1 cup frozen peas (if desired)
PREPARATION
1. Place 1/4 cup of the flour and the salt and pepper in a large bowl and whisk to combine; set aside. Trim the roast of excess fat and sinew, and cut it into 1- to 1-1/2-inch cubes. Place the meat in the flour mixture and toss to coat; set aside.
2. Heat oil in a large, heavy-bottomed pot or Dutch oven over medium heat until simmering. Shake off the excess flour from about one-third of the meat and add it to the pot. Cook, stirring occasionally, until browned on all sides (about 4 to 5 minutes). Remove to a large bowl. Repeat with the remaining meat in 2 more batches; set aside.
3. Add the onion to the pot and season with salt and pepper. Cook, stirring occasionally, until softened and just starting to brown, about 5 minutes. Add the tomato paste, stir to coat the onion, and cook until the raw flavor has cooked off (about 1 to 2 minutes).
4. Sprinkle in the remaining flour and cook, stirring occasionally, until the raw flavor has cooked off, about 1 minute. Pour in the wine, scrape up any browned bits from the bottom of the pot, and simmer until the mixture has thickened (about 3 minutes).
5. Return the meat and juices to the pot. Add the broth, bay leaves, and thyme sprigs. Stir to combine. Increase the heat to high and bring to a boil. Immediately reduce the heat to low and simmer uncovered for 1 hour.
6. Cut the carrots, celery, and potatoes into a large dice and add them to the pot. Stir to combine, cover, and simmer, stirring occasionally, until the vegetables and meat are tender (about 1 hour).
7. Remove and discard the bay leaves and thyme stems. Stir in the peas, and simmer uncovered until warmed through (about 5 minutes). Taste and season with salt and pepper as needed.
---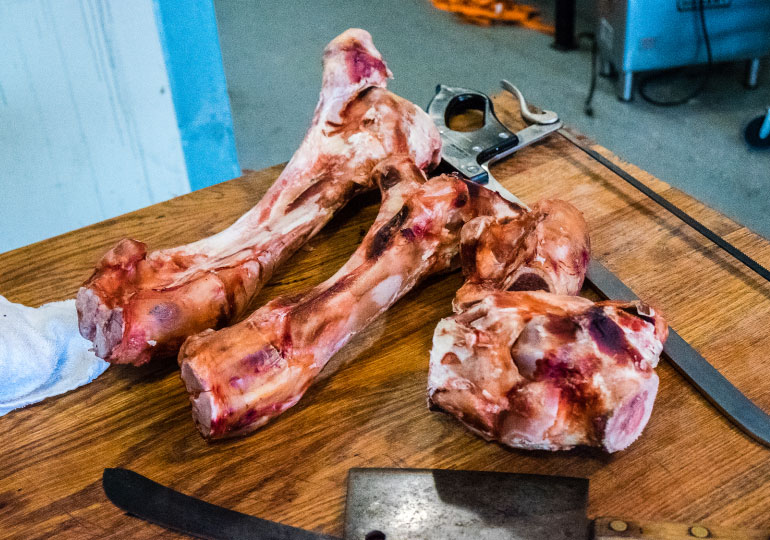 ---
Click here to watch our video of Zeph Making this Recipe
INGREDIENTS
5lb. approx. Beef bones, mixture of femur bones and scatter bones (femur bones have marrow, scatter bones do not)
1 onion
6 celery stalks
4 carrots
10 garlic cloves
1 cup vinegar
2 Tbsp. black peppercorns
PREPARATION
1. You have some options here: You can roast the bones in the oven at 400 degrees F. until golden brown, then put them in your stockpot, or you can add the bones in raw.
2. Roughly chop all vegetables and smash garlic cloves and put in the pot.
3. Add vinegar, bay leaves and peppercorns.
4. Fill with water until all ingredients are submerged.
5. Bring to a boil for about 5 minutes, and then lower heat to a simmer for at least 4 hours.
6. Let the mixture cool off, and strain through a colander, then jar and freeze.
TIP: You can do a second batch of broth with existing ingredients. Fill up with water again and repeat.