"I have this idea of having a sandwich bar, like Subway, where you build your sandwiches with all the toppings — like fudge and caramel and raspberry jam — inside. Or wait! You can have three or four different ice cream sandwiches already made or bought and set out dipping stations, where you dip and roll them in different toppings. You can even cut the sandwiches and put them on Popsicle sticks, so they're mini and bite-size. Or it could be fun to serve them in parchment sandwich bags. Or you can wrap them like a burger, with paper, so half of it is showing. You can put a fun stamp on it."
Ask Lisa Herlinger how to throw an ice cream sandwich party and you won't get a straight answer. That's because the founder of Ruby Jewel ice cream bubbles with nonstop creativity, her brain some sort of idea factory with no off switch. Her ideas go on and on, but the bottom line is this: Herlinger knows that when it comes to making herself and other people happy, the magic recipe is a scoop of ice cream between two cookies.
---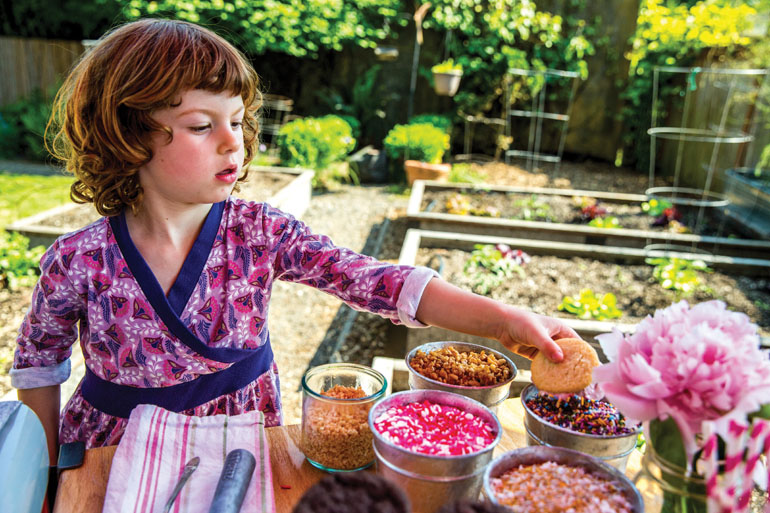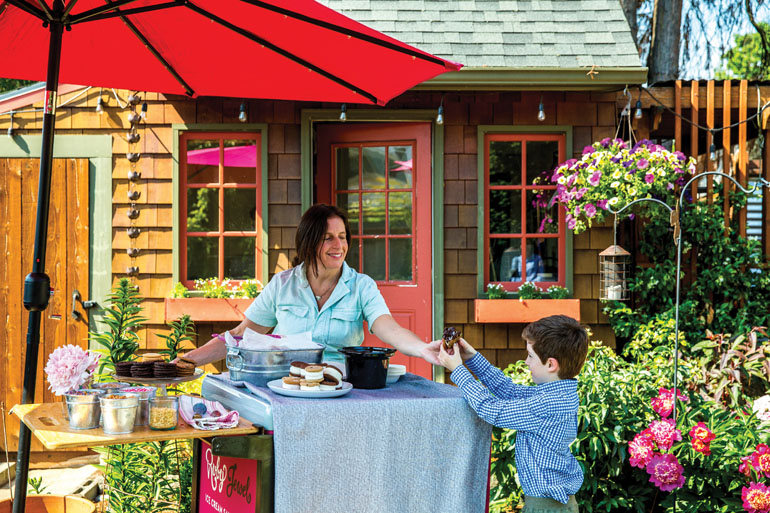 ---
Herlinger built the Ruby Jewel mini-empire in 2004 on this exact premise. At the time, she was working as a chef in Portland when she realized the city's ice cream shops offered plenty of scoops but sorely lacked the cookie component. For someone whose teenage diet consisted of a daily intake of It's-Its (a California ice cream sandwich icon), this sad state of affairs needed immediate rectification. She set up a booth at the Portland Farmers Market, starting with her now famous honey-lavender ice cream and lemon cookies, coffee with cinnamon-chocolate cookies, and fresh mint with dark-chocolate cookies.
Soon she was working with Portland's Food Innovation Center to turn her handmade treats into full-fledged products, learning how to scale up from 100 to 1,000 sandwiches. Her packaged ice cream sandwiches hit local grocery stores in 2005, and her first brick-and-mortar scoop shop opened on Mississippi Avenue five years later. This past May she launched her fourth — and possibly favorite — location on Northwest 23rd Avenue, which boasts sandwich flights and a cookie warmer.
Best of all, it has a little test kitchen where she can let her imagination run free.
"This is the perfect space. I can try new flavors and combinations, and have people come in to collaborate and taste-test," Herlinger says. "I'm going to have so much fun at this shop."
---

---
Be social
Ice cream on a cone is great, but ice cream between two cookies opens up a world of flavor combinations — especially if you factor in all the spreads, sauces and sprinkles you can add. That's why ice cream sandwiches are so perfect for a backyard party, as guests can mix and match to create their own signature combos.
Ruby Jewel's key advice for pulling off the perfect ice cream sandwich social:
1. Cookies = soft
"You can under-bake them a little or warm them up on one of those plug-in flat-top griddles," Herlinger says.
2. Ice cream = hard
"You don't want it to mush too fast. Try pre-scooping a few flavors of ice cream onto a tray lined with parchment and freeze." If pre-scooping isn't practical, keep the ice cream cartons cold in a cooler with dry ice.
3. Add-ons = fun
From strawberry "magic shell" to caramelized Rice Krispies, Herlinger says there's no limit to the stuff you can dip, layer or roll onto an ice cream sandwich. "Have some mason jars with toppings, like sprinkles and toasted nuts, plus a bowl where you can roll your toppings on."
---

---
Brown Sugar Sour Cream Ice Cream
Recipe by Lisa Herlinger
This ice cream pairs well with any fruit, as well as any streusel, granola or nut topping. It is a perfect dessert for sweet summer nights.
2 T unsalted butter
1/2 C packed dark-brown sugar
1 ½ t water
1/3 C sour cream
Pinch of salt
2 egg yolks
1 ¾ C heavy cream
1 ¾ C whole milk
1/4 C granulated sugar
1/8 t vanilla extract
1. Combine the butter, brown sugar and water in a small saucepan and place over medium-low heat. Warm until the butter and sugar are melted, about 2 minutes. Remove from the heat and pour into a medium bowl. Cool for 5 minutes. Add the sour cream and salt, whisking to combine. Place a fine-mesh sieve over the bowl and set aside.
2. Fill a large bowl with ice water. Whisk the egg yolks in a small bowl and set aside. In a medium saucepan, combine the cream, milk and granulated sugar. Warm over medium heat until the mixture is hot and the sugar dissolves, 4 to 5 minutes. Temper the eggs by slowly pouring ½ cup of the warmed cream mixture into the yolks, whisking constantly until combined. Return the warmed yolks to the pan with the remaining cream mixture. Heat the custard over medium-low heat, stirring constantly, until the custard thickens and coats the back of a spoon. Remove from the heat and pour through the fine-mesh sieve into the sour cream mixture. Whisk thoroughly. Set the bowl in the ice water bath to cool, 20 minutes, whisking occasionally. Stir in vanilla. Cover and refrigerate until well chilled, at least 4 hours or overnight.
3. Once chilled, pour the ice cream base into an ice cream maker and churn according to the manufacturer's instructions. Transfer to a freezer-safe container and freeze until firm, at least 4 hours.