Photos by Stephen Tamiesie and Jock Bradley
Though their home is just 675 square feet, the Roby residence feels spacious and full of light whether inside the master bedroom (top right) or living area (middle).
Five years ago, Erin and Ben Roby were living in a 2,200-square-foot, four-bedroom house in Hillsboro. "But we only used a portion of the house on a regular basis," Erin recalls. So when the couple decided to build a house after moving to Hood River, they chose a prefabricated one-bedroom, 675-square-foot home designed by Salem's ideabox.
Despite the modest size, "Everyone who comes over mentions how livable and spacious it feels," Erin says. "That may have to do with the 11-foot ceilings in the living area. We had nine people over the other day, and it worked great."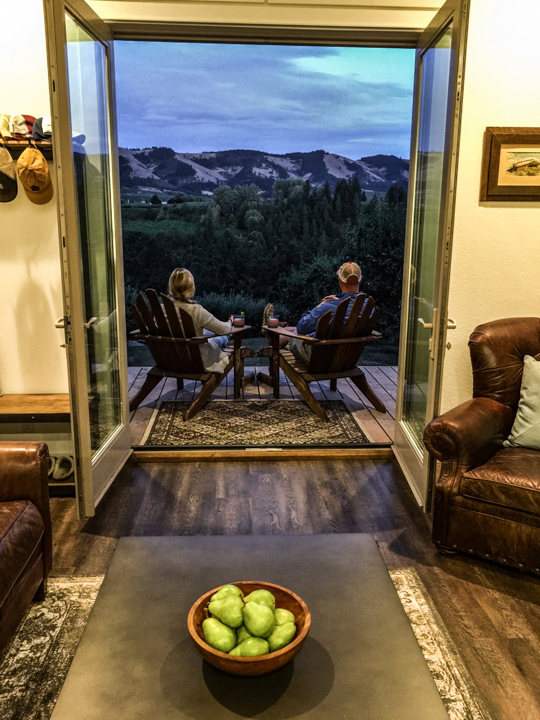 Erin and Ben Roby admire the view through tall French doors that open the living space to the Hood River valley.
Prefabricated houses have been around for a long time, but until recently, most seemed to exist at one of two extremes: either lower-end manufactured homes or high-end prefab that's usually as expensive as traditional site-built homes. ideabox targets a mid-range price point.The Orchard House model that the Robys chose, for example, lists for $115,000 (excluding, of course, land costs). Other models range from about $84,000 for 400 square feet to $194,000 for a 1,700-square-foot model.
"I don't know if prefab is still kind of this funky, cool thing or if there's a genuine interest by people to live in better, more clever ways," says the company's founder, Jim Russell. "But we're seeing more people who want responsible housing. I'm sensing where prefab has an opportunity to be cost effective in houses that aren't as big and houses that respond to modern life."