When two Portland executives with three teenage children found a challenging lot in Portland's Green Hills neighborhood, they weren't sure it could accommodate their dream for indoor and outdoor living. But they were sold when they viewed Craig Wollen's 3D rendering of a pen-and-ink sketch of a 4,500-square-foot home.
"Our house flows from one room to the other like a New York loft space," the owner says. "There's obvious separation, but the rooms still flow together and feel inclusive."
---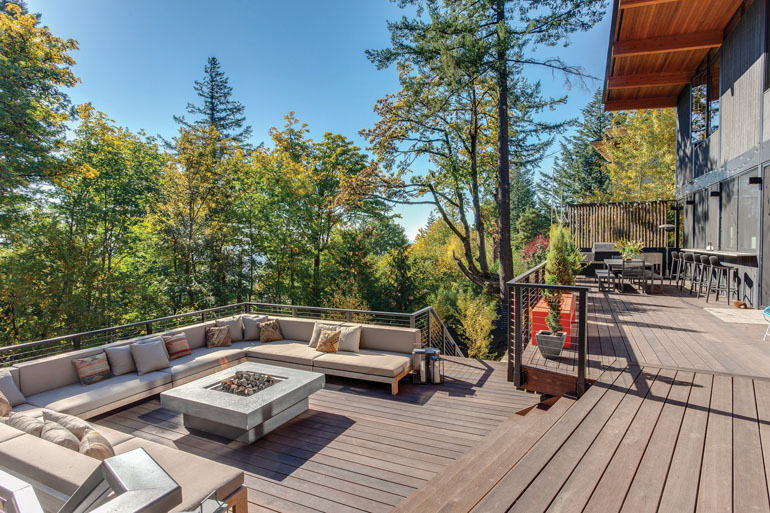 ---
Wollen, founder of Turn Design, had the task of designing a modern home emphasizing indoor-outdoor living while accommodating space for the couple, their three teens and two dogs. Their previous Portland Heights home had almost no usable outdoor space, which the family really wanted. The parents also wanted space for easy entertaining for people of all ages, along with that sense of privacy that sometimes goes missing in urban areas.
---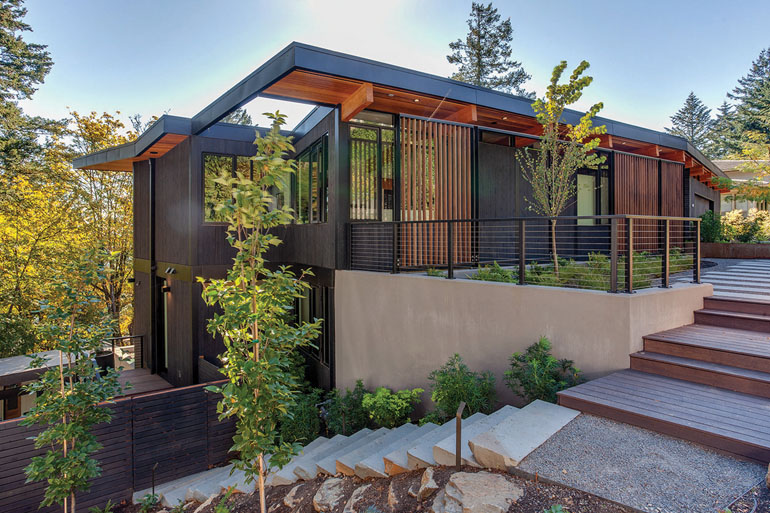 ---
The homeowners pulled together a collaborative team in Wollen, builder Ed Valik with iBuildPdx and landscape designer Melissa Medeiros with LANDline Design. Valik specializes in building and remodeling modern custom homes and skillfully helps bring the vision of architects and designers to life. He relishes projects challenged by steep or complex sites or difficult access, and makes them with a focus on high-end details, while Medeiros brought 20 years of experience creating compelling, modern Pacific Northwest landscapes that draw the life of the family outdoors. Wollen had spent decades creating branded environments for retail outlets, offices and showrooms while reinventing five Portland homes for himself and his own family. His focus now is on combining mid century-rooted design principles with a modern, simplified approach to interior and exterior spaces.
---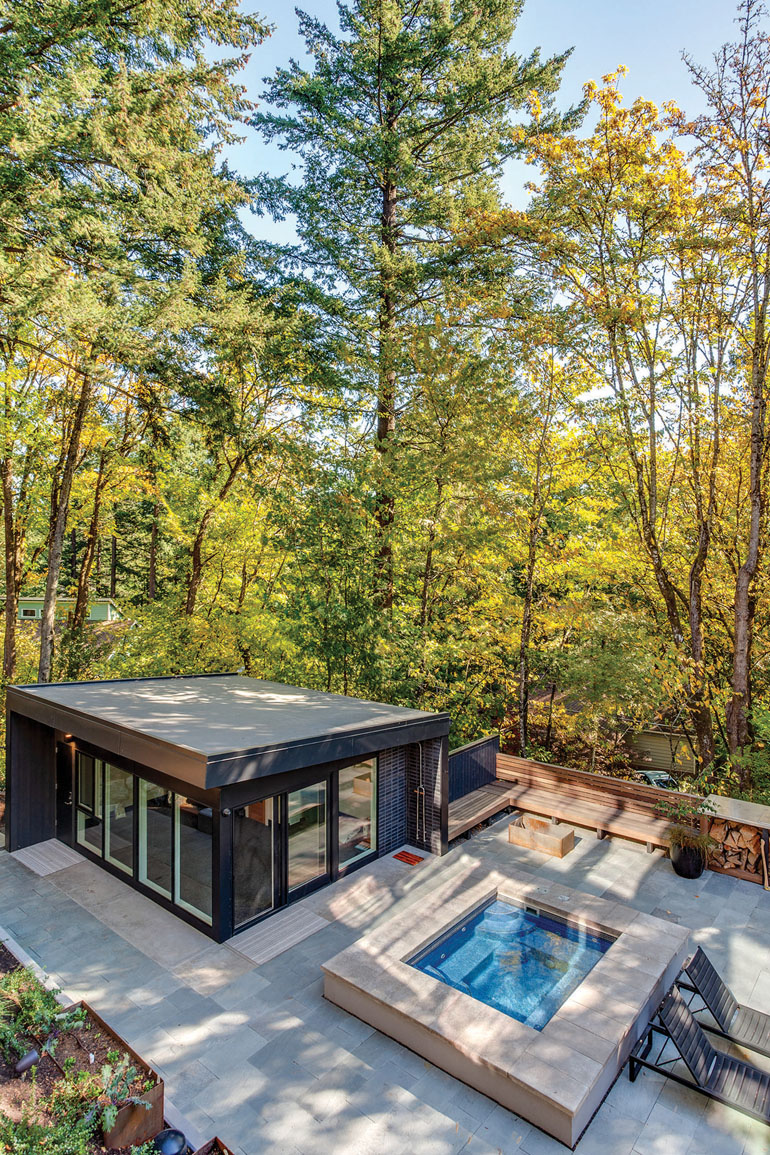 ---
Wollen utilized the lot's challenging 30-foot downslope by creating an accessible series of decks leading from the lower level to a large terrace. The backside of the house is south-facing, with a large roof overhang, a plethora of windows and a multipanel sliding door provided by Sierra Pacific Windows (which also supplied all other doors and windows) that opens to a large main deck. From that deck, which is nearly the entire width of the home, Wollen connected two more terraces to create a few gathering spots. Below, concrete bleacher seats accommodate outdoor movie nights in summer, while a 400-square-foot workout studio with sauna and half-bath, a large in-ground hot tub and spa, a fire-pit area, a bocce court, vegetable gardens and more patio areas finish out the property.
---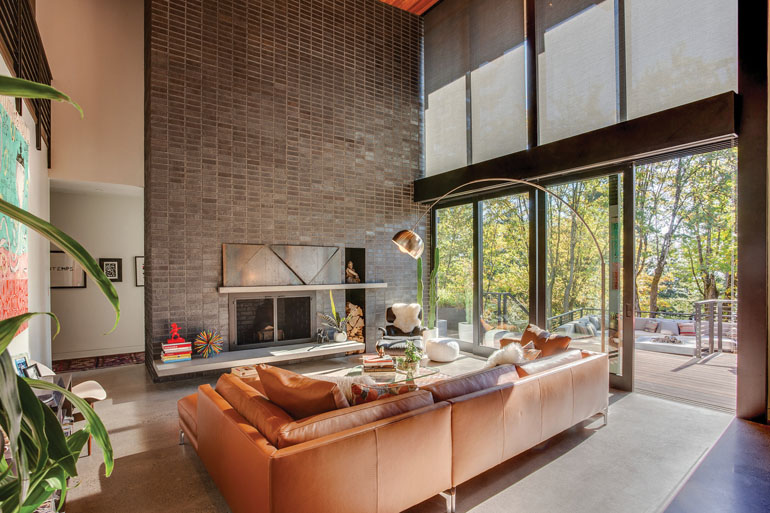 ---
"The terraces make the experience of exiting the house more interesting and enjoyable," Wollen said. "People forget how far down it is, and the inviting pathways and terraces allow you to just enjoy the process of going down to see what's next."
Inside, the family wanted some separation between their master suite and the kids' bedrooms, along with space for everyone to spend time together. The main level, or entry level, has one two-bedroom wing for a guest and for their son, with the other wing for their two daughters. The master suite is on the lower level. The layout gives everyone a chance to have their own space and still be connected to the rest of the house.
---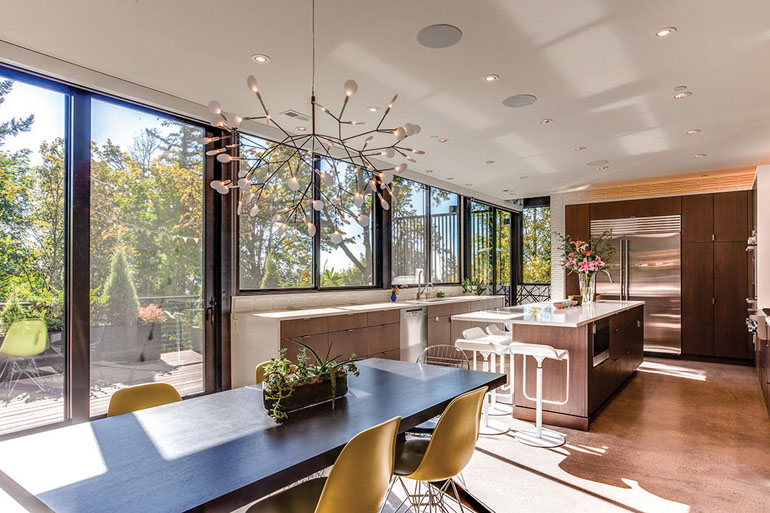 ---
Ipe wood screens outside the street-facing windows create some privacy while adding a layer of texture to make the home warm and inviting. The screens continue by the barbecue, which allows people to see out but protects the area from the nearby neighbors. Protech's indoor/outdoor sound, lighting and blind controls allow the family to customize their experience wherever they are. Visual layering continues in the interior spaces with a mix of stained oak, textured black bricks, warm cedar and various textiles and rugs. All the Carey's Custom Woodworking cabinets in the living room, kitchen, bedrooms and bathrooms are of a custom white oak with gray stain, which also ties visually with the home's black brick walls.
---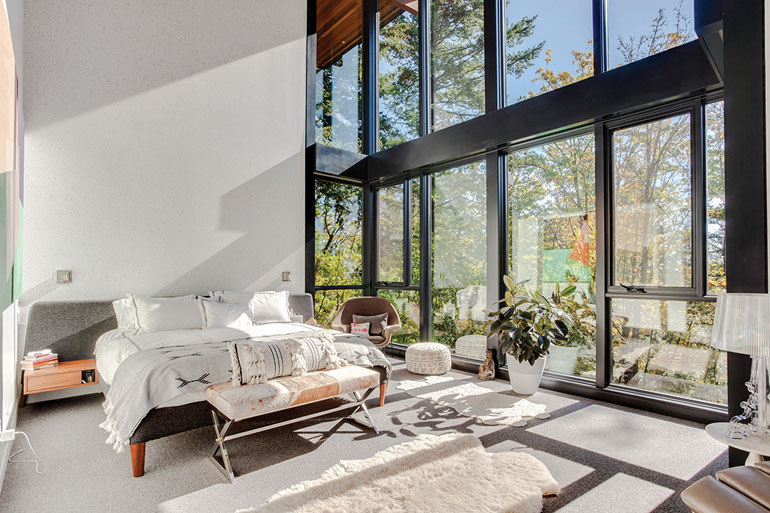 ---
The home's cantilevered butterfly roof, the 8-foot post-and-beam grid, and the clerestory windows harken to mid century form, but the other touches keep this home from being an abstract mid century remake.
"These are fairly modern homes I'm designing, but they are easy to live in and very inviting," Wollen said. "And that's what they wanted: modern but comfortable, and appropriate for a large family and for entertaining."
---
For more information, visit: turn-design.com