For Linda Blackerby and Steve Danielson, it was love at first sight.
They had been eyeing a particular neighborhood in Father Blanchet Park for years and a particular midcentury ranch for months.
"We loved the neighborhood. We loved how the house was sited on the hill, with its view of the Columbia River and Portland cityscape and hills, along with its proximity to PDX and the bridges," says Blackerby.
---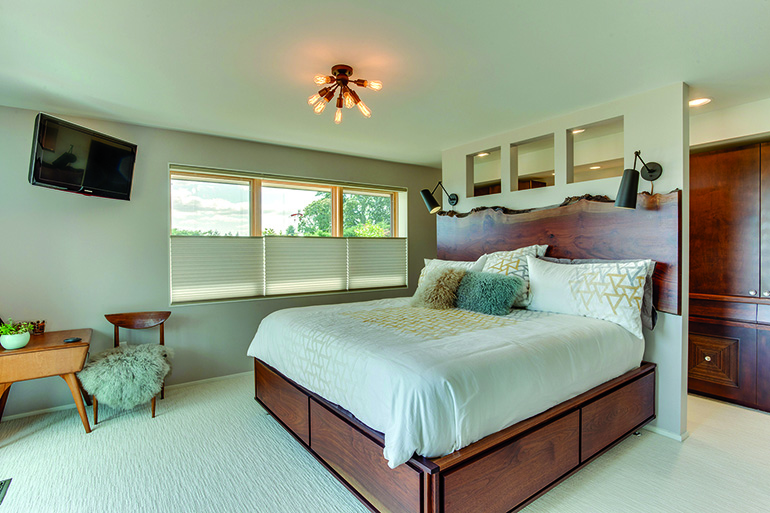 ---
They walked by regularly. Danielson cycled by from time to time, hoping it might someday come on the market.
One day Danielson happened by to find a rummage sale underway; in the window, he spied a small "house for sale" sign. He rushed home to share the news, and two days later they were doing a walkthrough.
"It was beat up. It smelled of smoke and dog urine" Blackerby says. "But the original bones and elegance of the house were still there. We walked in and knew we wanted to bring it back. It was like the house talked to us."
If the house really could talk, it may have warned them about what they were getting into.
---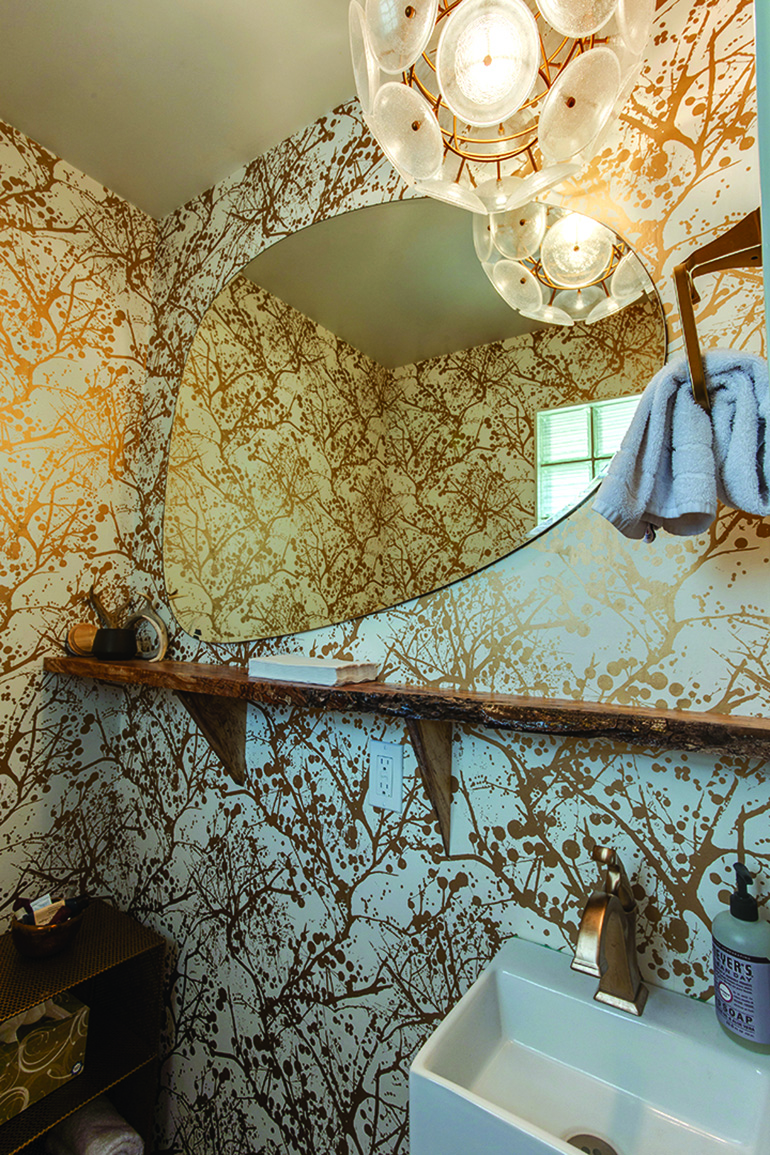 ---
The three-bedroom, three-and-a-half-bath, 2,800-square-foot 1952 Prairie ranch was completely original, from the low-voltage lighting and a radiant heating system fed by a boiler to the intercoms and built-in furniture throughout. This was not a simple cosmetic update.
"We've always been attracted to older homes but never lived in one," says Blackerby, laughing. "I might have watched a bit too much HGTV."
---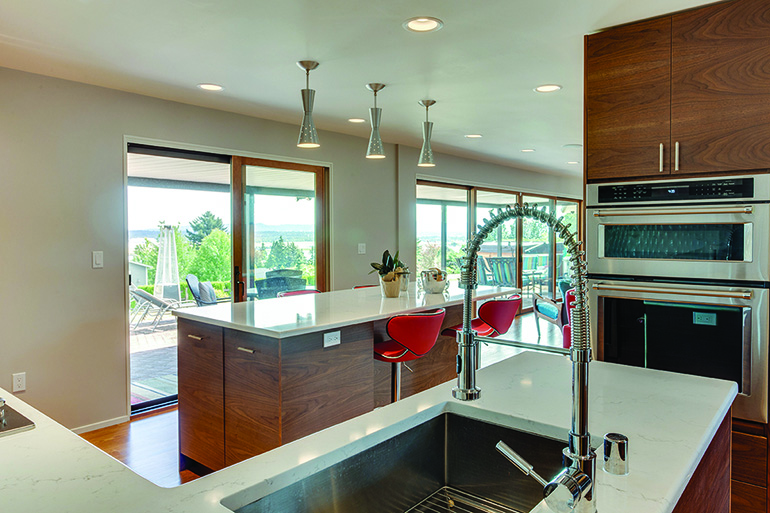 ---
After realizing they were going to need some help, Blackerby put out some feelers online and connected with Atomic Design, which subtly reconfigured the kitchen, dining and living spaces to create a more open floor plan conducive to entertaining. Atomic Design in turn brought in Sean Fields of SageFields Construction to translate the vision into reality. Working with the homeowners, Fields was able to bring in personal touches along the way.
"We immediately liked Sean and the way he communicated," says Blackerby. "He was open to helping us build what we wanted to build. He understood that we wanted to bring the house back to an elegant midcentury vibe without being ostentatious or chrome clad. I also felt he took a genuine liking to us and loved the overall spirit of our endeavor."
The renovation yielded some unexpected surprises, such as the grooved-wood paneling that Fields uncovered while demolishing plasterboard in the dining room. Blackerby loved it, so they carefully removed the square panels, cleaned and repainted them, and reinstalled them as an accent wall. The grooves are echoed by wave-patterned tiles surrounding the fireplace.
---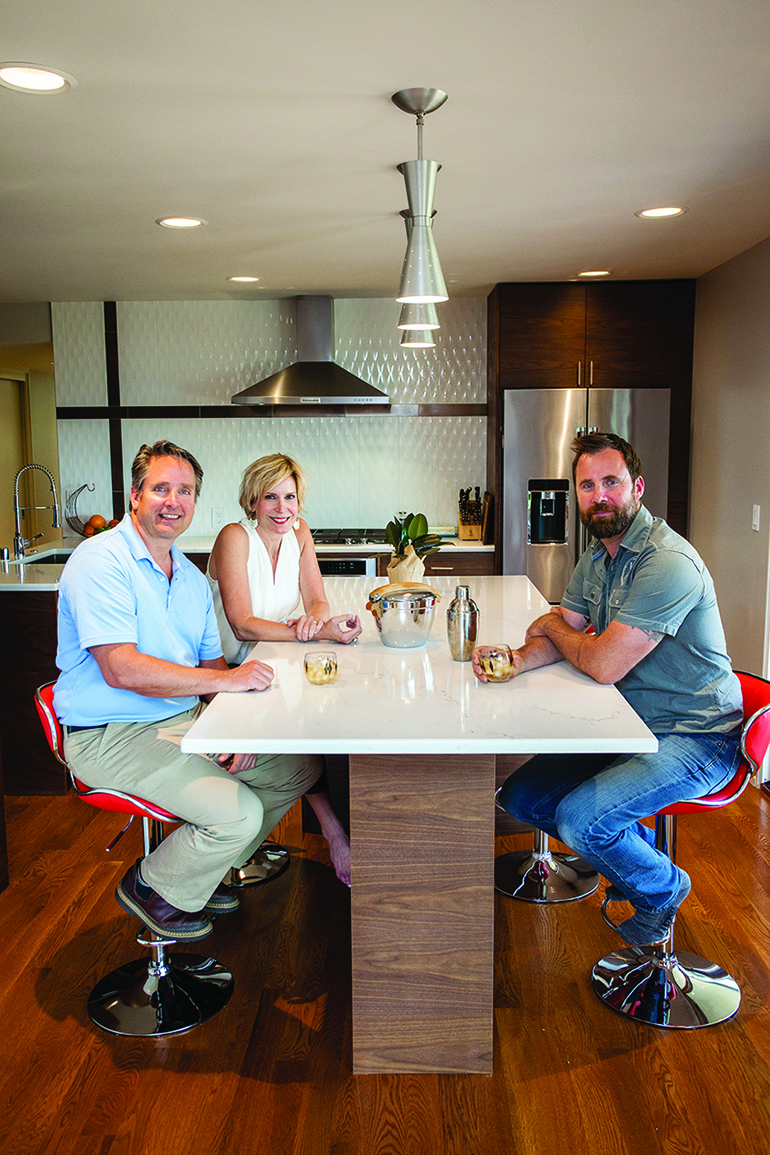 ---
The showstopper is an original built-in walnut hi-fi cabinet in the living room. Fields removed years of grime to bring out the hidden luster in the wood, and it's now enjoying a second life as a liquor cabinet and bar. On the facing wall, a custom walnut buffet and floating shelves were commissioned to complement the hi-fi cabinetry. Fields also salvaged two bedside built-in units from the master bedroom, decorated with the same grooved-wood panels from the dining room, which found their second life as the base of a one-of-a-kind gentleman's wardrobe.
"I loved that we were keeping bits of history from the house," says Blackerby.
Walnut finishes were repeated in the kitchen, paired with high-gloss tiles that balance the dark wood, while a nearby powder room was given a glitzy but sleek midcentury vibe with a dramatic gold splatter-pattern wallpaper, a live-edge shelf made of spalted big-leaf maple, and a mirror in an iconic teardrop shape. The room is topped off with a glam chandelier.
---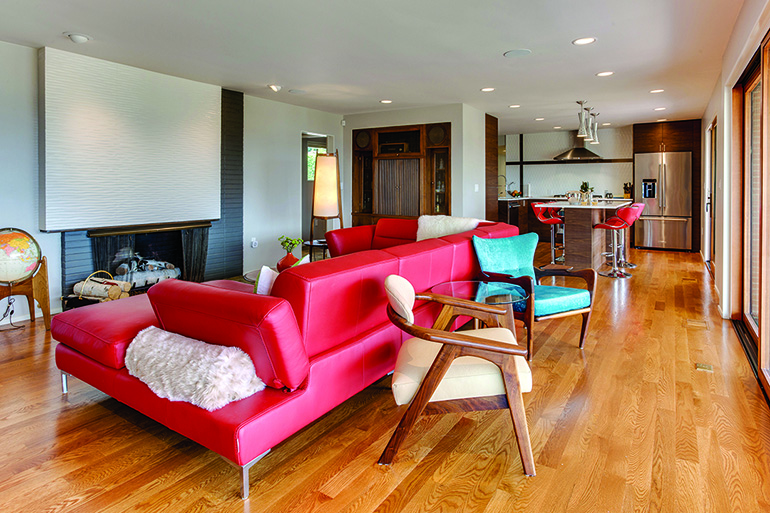 ---
The couple turned to Fields to help bring their vision for a new master bedroom to life. Together they selected a massive walnut slab for a headboard, and Fields built a platform-style walnut bed with drawers underneath. The attention to detail included making the bed high enough to provide views out the window to the Columbia River and the Coast Range beyond.
"I try to be as creative and personal as possible," says Fields. "I pride myself on not following trends or what you see in a magazine. I want to give my clients something that is personal and unlike anything else you'll find."
---
>> For more information, visit: sagefieldsconstruction.com