A couple with roots in San Francisco's famed Keystone Korner club reinvents their home as an homage to jazz.
Photography by Blackstone Edge
---
Jazz has been a central thread woven through Thomas and Greta Ballard's shared life. So when the couple became empty nesters, they decided to give their 1982 Multnomah Village home a modern makeover with its roots firmly planted in their shared love of the music genre and style.
"We wanted a clean, simple, midcentury modern design—sophisticated yet timeless," says Thomas. "All of the jazz, craft and art we enjoy are on the same sort of continuum. In my opinion, that's what jazz music is—both a metaphor for black American history and a very sophisticated art form. So that was what we were going for—nothing faddish or antique."
Just how do you take a sound, a rich historic era, and a musical metaphor and translate it to a space? Well, that requires a bit of improvisation. The Ballards engaged Amy Frye of Red Rooster Remodeling, Inc., to remodel the home. Frye recommended Joel Fraley of Fraley + Company for the interior design and architectural drawings. At the time, Frye was booked for nine months, which gave the Ballards lots of opportunity to meet with Fraley, lead designer Nicole Adair and the team for extended conversations about how to honor their love of music. During their first walk through at the Ballard's home, Fraley was especially taken by the jazz portraits that lined their walls.
---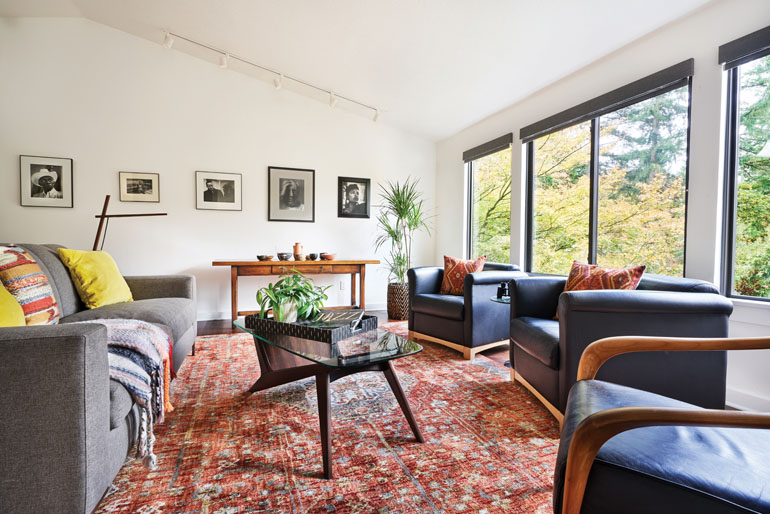 A collection of handmade ceramics from the couple's worldwide travels add ballast to the living room's historic portrait gallery wall that touched off the initial jazz-inspired design.
---
"I totally geeked out on that stuff," recalls Fraley. "I immediately envisioned a gallery wall in a minimal, clean room that would draw attention to the historic photos."
Thomas and Greta's shared appreciation for artistry, handmade objects and the value of good design created an instant connection between them and Fraley + Company. The periodic meetings held at Fraley's studio helped bring the overall project together and allowed the couple to find ingenious ways to work their love of jazz into visual metaphors.
Notes On Voice
Jazz sounds have been floating through Thomas's head since he was a child, growing up in a series of Army-based residences from San Pedro, California, to Germany and beyond.
"My father was very into jazz," recalls Thomas, a jewelry designer who co-owns the Seattle-based company Palladium, Inc., with wife Greta, a designer and certified gemologist. "I studied the history of jazz and the culture from which it came at San Francisco State, before working in the music business in Los Angeles, where I met a number of jazz musicians."
Like Thomas, Greta—New York-born and raised in Buffalo and Seattle—wound up in San Francisco in the 1970s, where she gravitated to the Keystone Korner club, a stopover for famous New York jazz musicians headed to gigs in Japan—another jazz-loving culture. There, the couple met and shared a group of friends.
---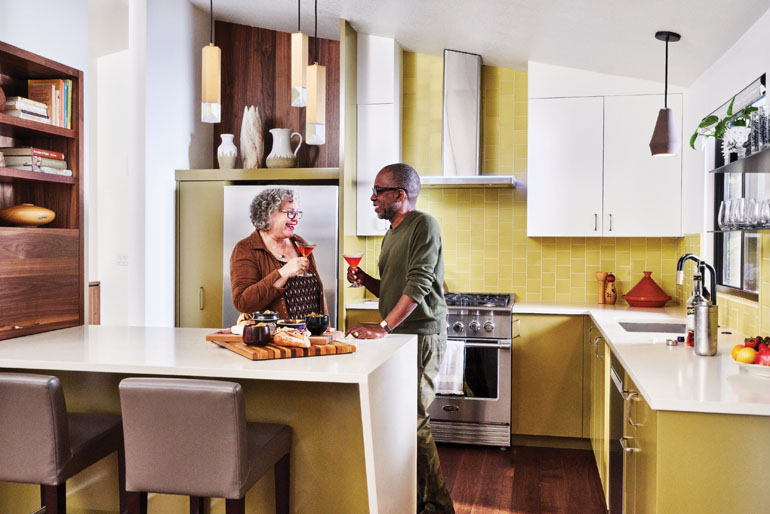 Greta and Thomas share cocktails in their newly remodeled kitchen, where light now enters through not only the sink window but also up the new entry and across from the large slider in the adjacent dining room.
---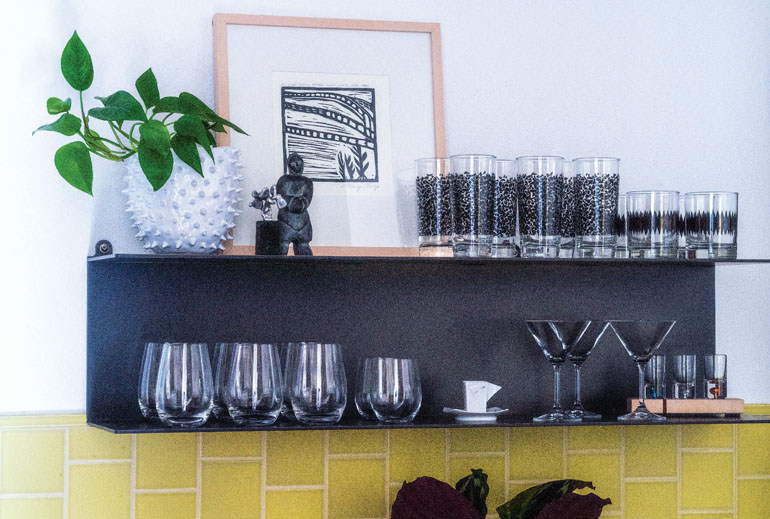 Free-hanging, darkened steel shelving plays against the kitchen's "Lichen" backsplash tile
---
"The fact I could go to a club every week and hear the best jazz musicians in the world just blew me away," says Greta.
Thomas soon became manager of the club. There, he met a lot of journalists, critics and famous photographers, like the late Jerry Stoll and Jim Marshall—known as exclusive photographers at the Monterey Jazz Festival, Rolling Stone and Woodstock—who came to capture the world-renowned jazz artists on-site.
"That's when I first began collecting their photography of the jazz greats," says Thomas, "some of which we've displayed here."
The couple married in San Francisco in 1984, moved to Oregon in 1991 and raised two children, Raphael and Ariana, in the Multnomah Village home yet never lost their love of jazz, traveling the world, architecture and non-stop museum visits.
---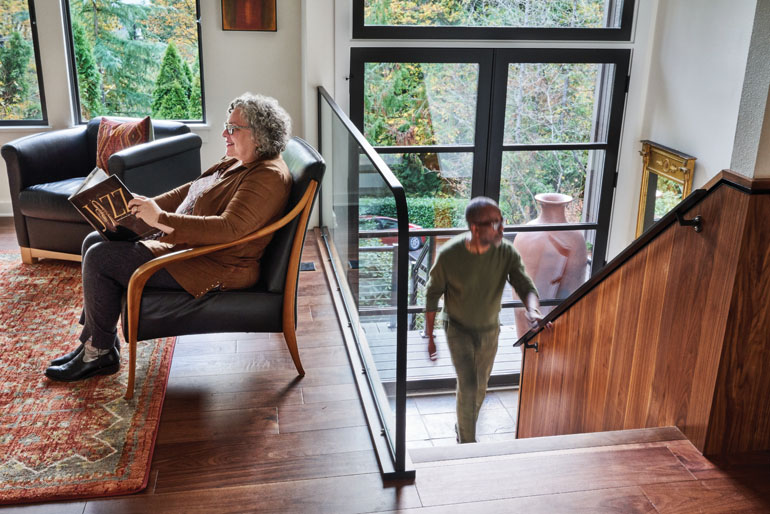 Light pours through the newly designed entry featuring Marvin Integrity windows. An 8′ tall thin-framed wood Simpson French door features eight 3'x 2′ glass panels crowned by a 2′ wide glass transom. The Tadao Ando-inspired glass railing divides the entry from the main living area.
---
Modern Turnaround
In fact, it was Thomas's vision for the entry that prompted its complete makeover. The original entry had a skinny, standard-size door with an ugly rotated square transom centered not on it but on the wall above it. Thomas wanted to bring in light via an entire wall of glass with seams, like a greenhouse. Fraley realized that vision using a painted-wood, glass-paneled Simpson door that mimics the metal look Thomas envisioned for a more reasonable cost. All-new black Marvin Integrity windows, a fiberglass product with good value for price, helps open up the entry from floor to ceiling.
Thomas showed Fraley a photo of one of Japanese architect Tadao Ando's entry designs featuring a super-minimalist glass railing as inspiration. The designer engaged Jordan Hufnagel of Hufnagel Design Build to finish the glass railing between living and entry with a subtle curve.
Fraley had James Gudat, of Maple Key, LLC. build the new cabinets in the home and carry through the walnut flooring to the vertical staircase paneling.
Nicole Adair, who oversaw the extreme makeover of the formerly dark, walled-in kitchen with Greta and Thomas's input, knew they wanted to update nearly every surface in the home. The glaze on the tile backsplash, for example, called "Lichen," is a nod to Greta's green eyes and her love of the color.
"They're both jewelers by trade, so I knew we'd have a bit more liberty in pitching them on both color and variety," Adair says.
---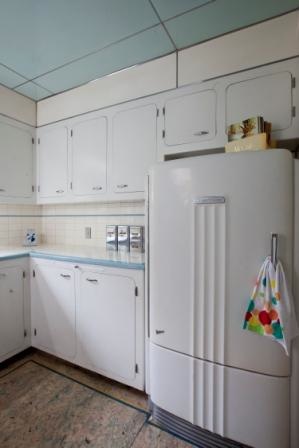 Left: The Fraley + Company "slash" includes the sharply angled cream-colored Marfil quartz peninsula that dramatically falls to the floor, leaving room for cozy meals enjoyed from two comfy barstools. Right: A walnut peninsula niche with built-in shelving includes a handy appliance garage. "We added just enough walnut to the jazzy kitchen elements," says Adair, "because there is no wood with as much integrity as walnut."
---
Adair calls the cabinets a kind of "ballsy nod to 1970s jazz influence," which meant the rest of the kitchen needed to be either oh-so modern or strongly artisan. She painted the crisp upper cabinets white and added a sculptural element through the aged brass pulls, which have a feminine, silhouette quality. She then brought the cream-colored Marfil quartz countertop on the peninsula across the cabinet tops and angled it straight down to the floor.
Fraley says his company prides itself on creating a "slash" element within each new design. The slash works like an emphasis, a punctuation, a pop—or, in this case, a high jazz note such as the peninsula end angled down to the floor. Unfortunately, the fabricator who initially installed the peninsula did it with a straight line. Amazingly, he was able to correct the error by recutting it on-site.
"This project wasn't highly structured," says Fraley. "It roamed into different places, where everyone was open to ideas­—even those on the fringes. A lot of clients want the safe road, but Greta and Thomas were willing to explore the outer edges with us."
The final jazz high note? A Sonos Sound System, which pipes the sonorous sounds of jazz through every room of the house.
---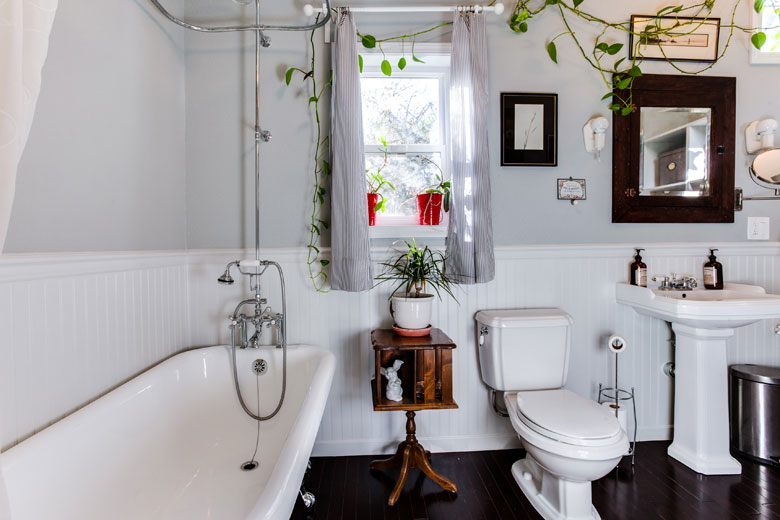 Left: One of the most challenging design/build items, says Fraley, was the lack of space allotted in the master bathroom for storage. "It was more challenging to design and build that storage without crowding the pedestal sink and mirror than it looks. We were thrilled with how it turned out." Right: The master shower's dramatic tile is "Raku" by Z Tile, with a niche liner from Pratt & Larson.
---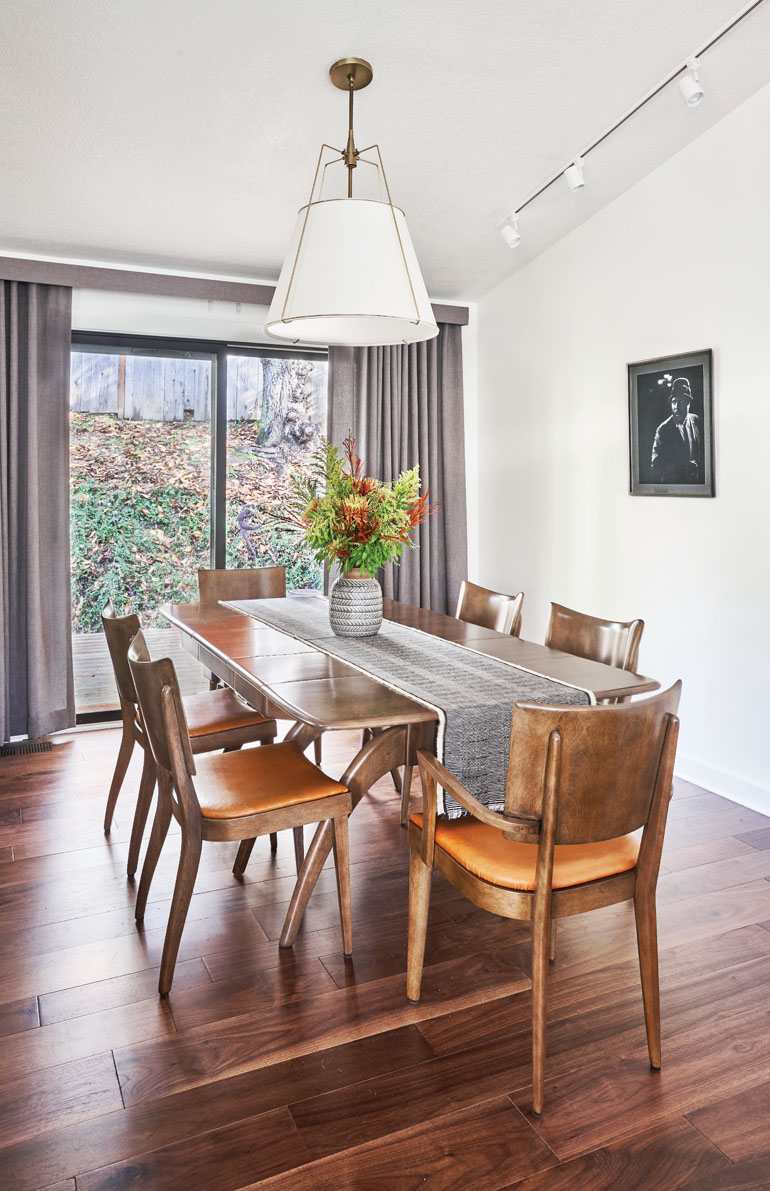 Greta's family midcentury dining table was envisioned for this newly opened-up dining area, crowned by a dramatic Conical Drum Pendant by Rejuvenation and warmed by floor-to-ceiling draperies that embrace the new Marvin sliding glass door.