Corvallis designer Molly Kidd explores the light, bright style.
Photos by Anne Blodgett Photography
---
Designer Molly Kidd doesn't love putting words to her design aesthetics. "I find that words aren't great for trying to explain your style," Kidd says. "It's hard to put your finger on it when there are so many elements." But when the one-time floral designer began shaping the interior choices for her family's new home (3 bedrooms, 2.5 baths) on a secluded, tree-filled property just outside of Corvallis, she knew she wanted it to feel functional, beautiful, light, natural and collected.
---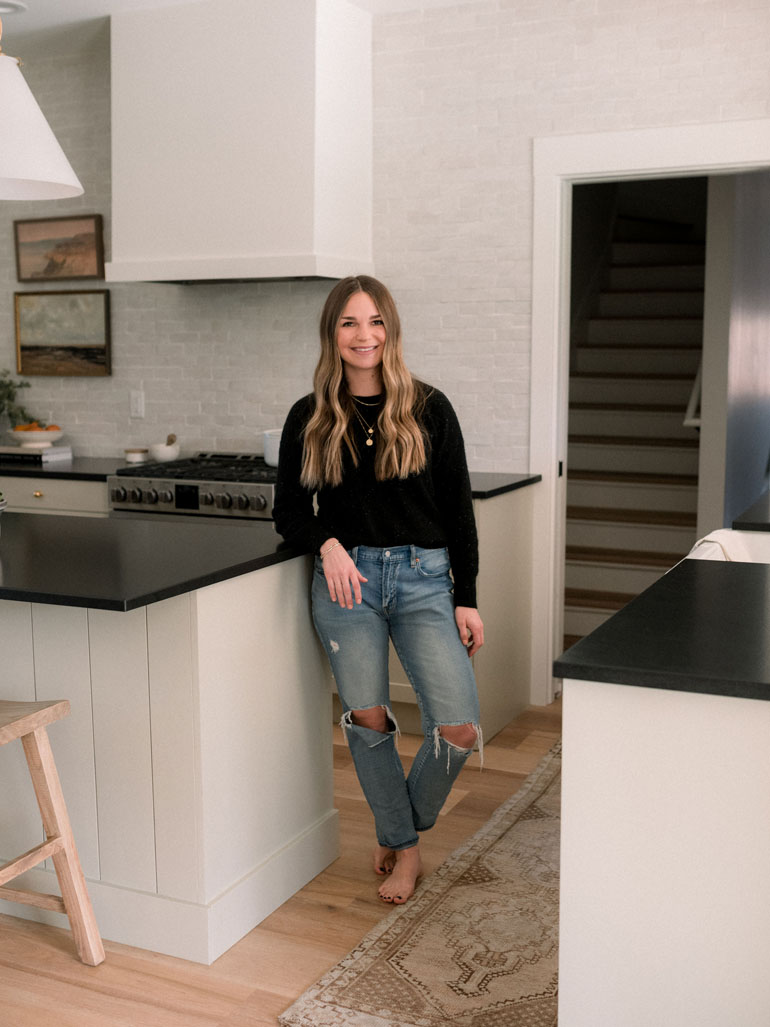 ---
Personal projects often serve as a lab of sorts for interior designers, but for Kidd, her home is very much aligned with the business she created in 2015 with her friend Aymee Kuhlman. In the five years since Light & Dwell launched, the duo has been able to bring their shared love for beautiful things, textured looks and functional spaces to clients all over the country. "We had both been doing homes on the side, and we went in blindly," Kidd says. Increasingly, they are finding delighted clients taking advantage of their virtual design services for projects as small as picking the right sofa. "Virtual design is really available and accessible to everybody," she says.
Kidd's own house project, a European farmhouse with Pacific Northwest elements, captures much about what has made the designer's accessible approach a favorite on Instagram and for a growing roster of homeowners stuck at home during the pandemic. Here, Kidd gives us her favorite lessons from designing her own home.
---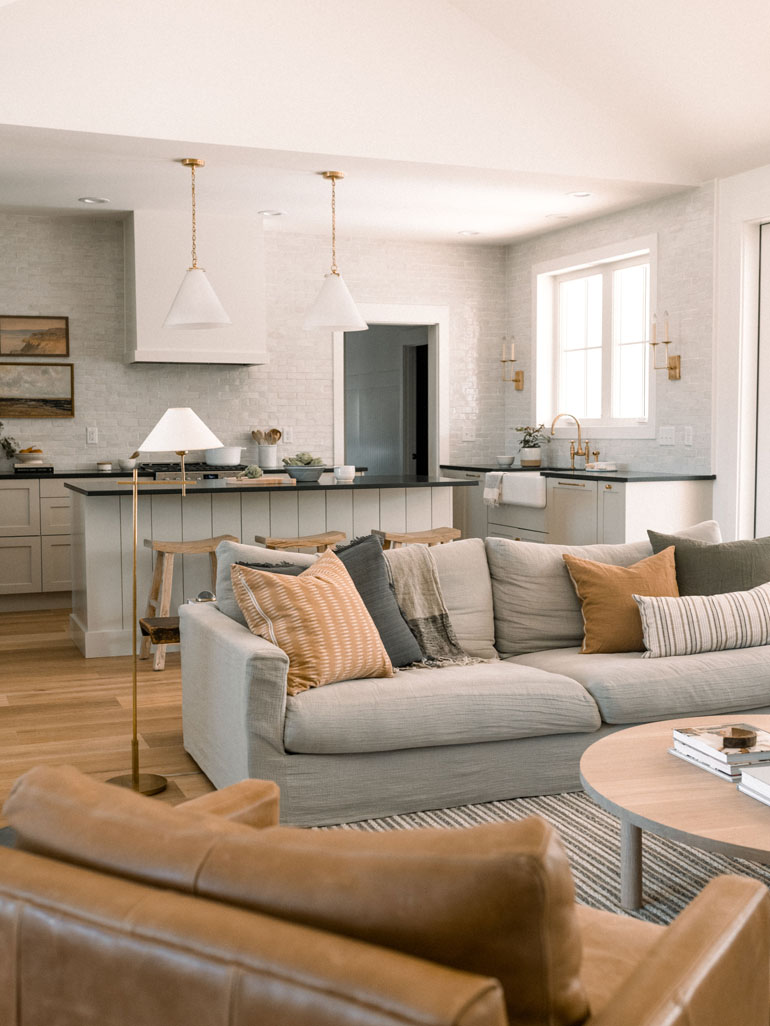 ---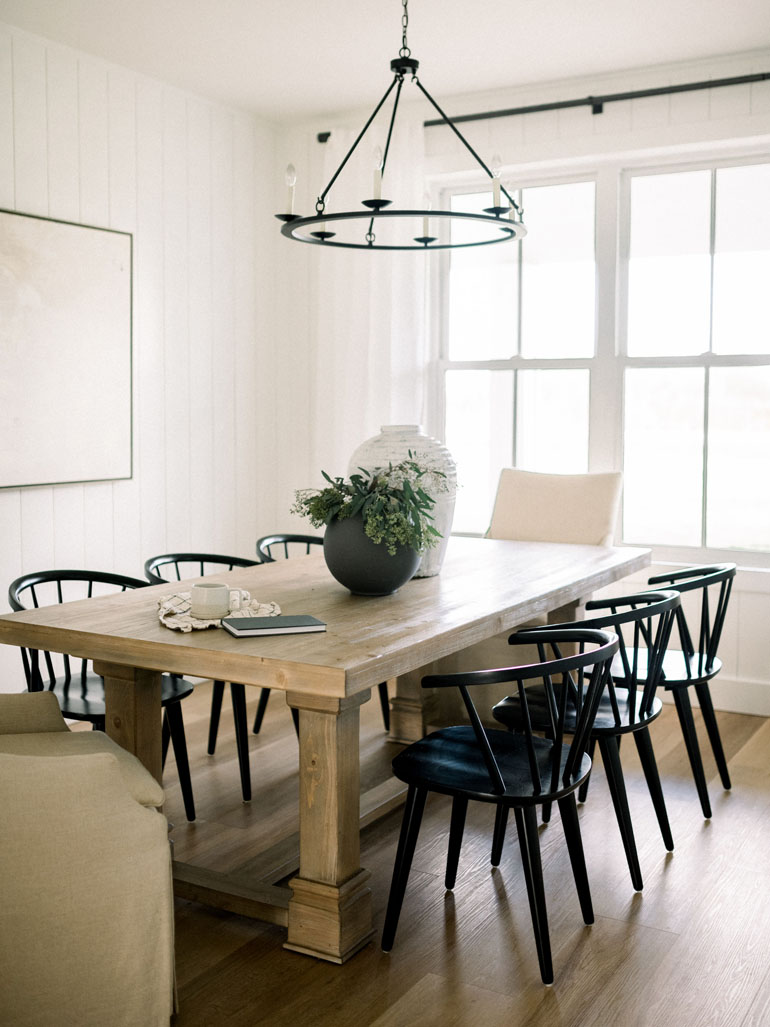 ---
Set Priorities
"With our lifestyle and having kids at home and wanting to host a lot, we knew our home had to be really functional and approachable and practical. We didn't want too large of a home, even though we have three kids. We wanted to use every square inch, and we purposely wanted our kids to have to share a room. We host a lot, so our great-room space had to be really inviting and functional."
Dream Big
"Our good friend is a woodworker at Bourbon Moth custom furniture. They have some land and sold us a piece of their property. It was always our dream to build a house in the country with some friends, so when the opportunity came up, we sold our house. At that point we had three kids under the age of 4. We worked with a contractor who allowed us to do a lot of work. We built it in over a year."
---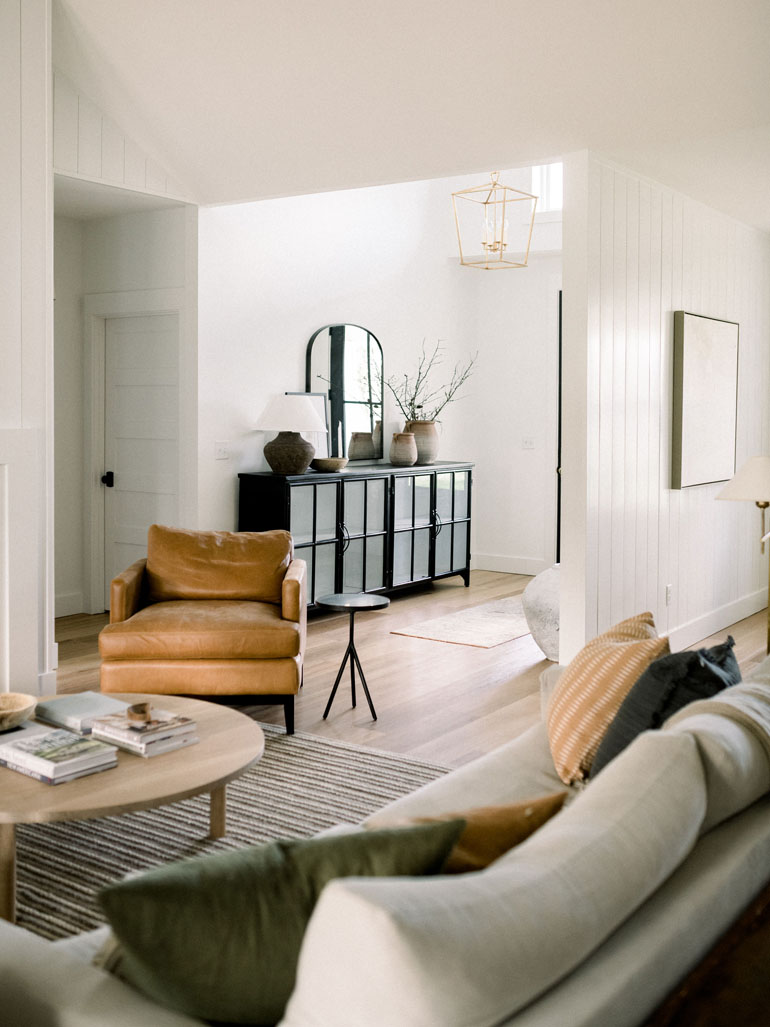 ---
---
Get Inspired
"My kitchen faucet is from England, and my husband just about had a heart attack when I ordered it. I really wanted this unlacquered brass faucet that I could only get through deVOL Kitchens in England. That was my first purchase for the home, and it set the tone for the whole house."
Explore Variations on Style
"I knew we wanted a farmhouse but more of a European farmhouse in style. So I stuck with white exterior, silver tin roof, white windows instead of the white house with black windows and roof. A lot of the inspiration was pulled from European homes, especially homes in England, and also New England homes with warm unlacquered brass and warmer cabinetry. I've always been drawn to those more timeless, warm elements with layers and textures that aren't always in a farmhouse — handmade tiles, finishes that will patina well over time. It feels really approachable and livable to me, and isn't stuffy at all."
---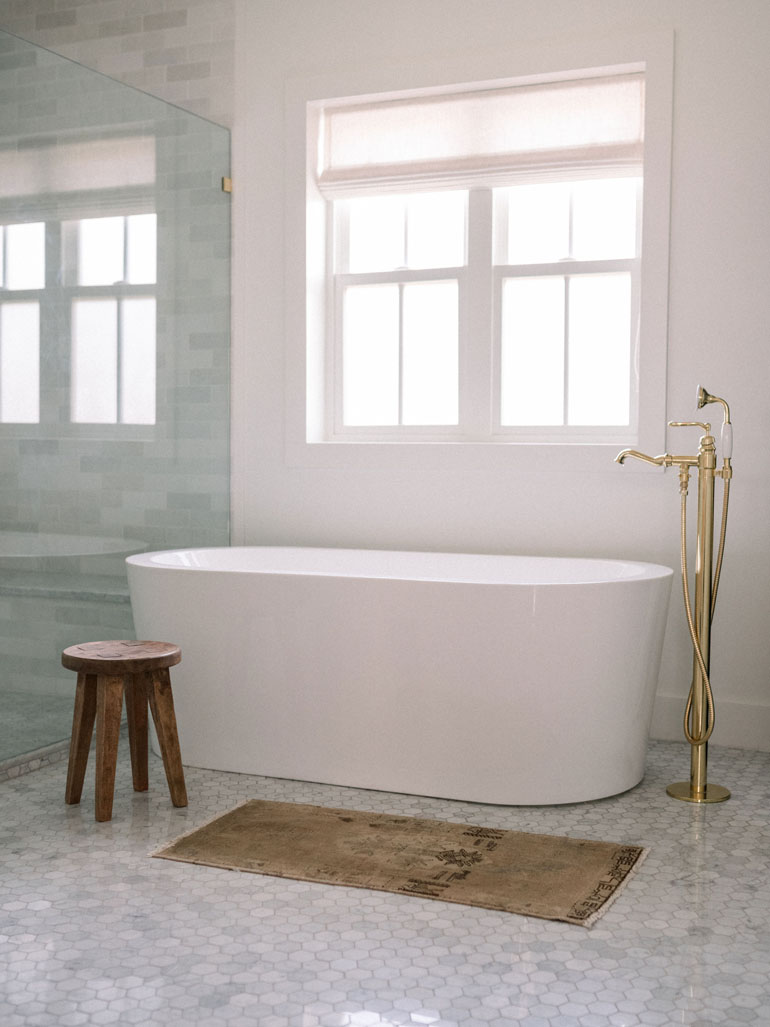 ---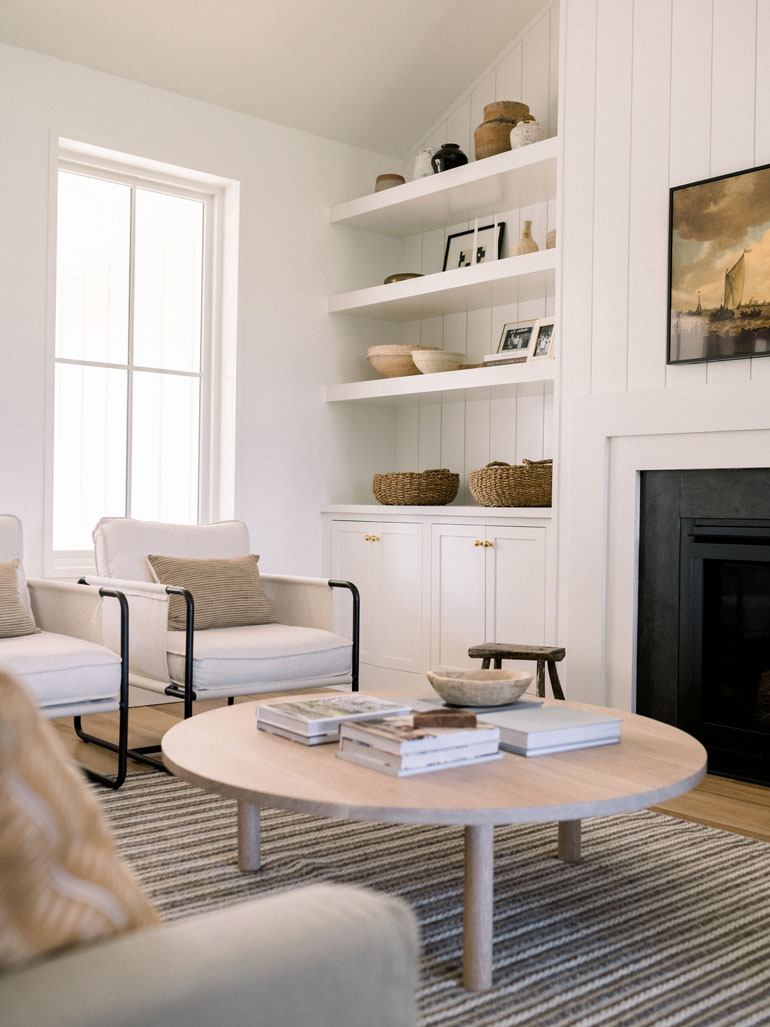 ---
Warm Up the Whites
"The big reason why I went with greige cabinets in the kitchen and the black-honed granite is to warm up the room. In every home we design, there is a lightness, brightness and an airiness, but it's important to add the warmth through cabinetry, furniture, tile or other elements. For example, in the bathroom, it's a white tile but there is a variation to it."
Welcome the Light
"Windows are super important to me and to design in general. They are one of the first things I think about and think through — how the light is going to work in a space. In our living room I wanted large windows. Our square footage isn't huge, and adding windows makes homes feel larger than they actually are."
Mix New and Old
"I like using vintage pieces and new pieces to tell a story. Less is really more here, without being boring. A lot of the things in my home I've collected over time from vintage markets, and some of it is new from retailers I love."
---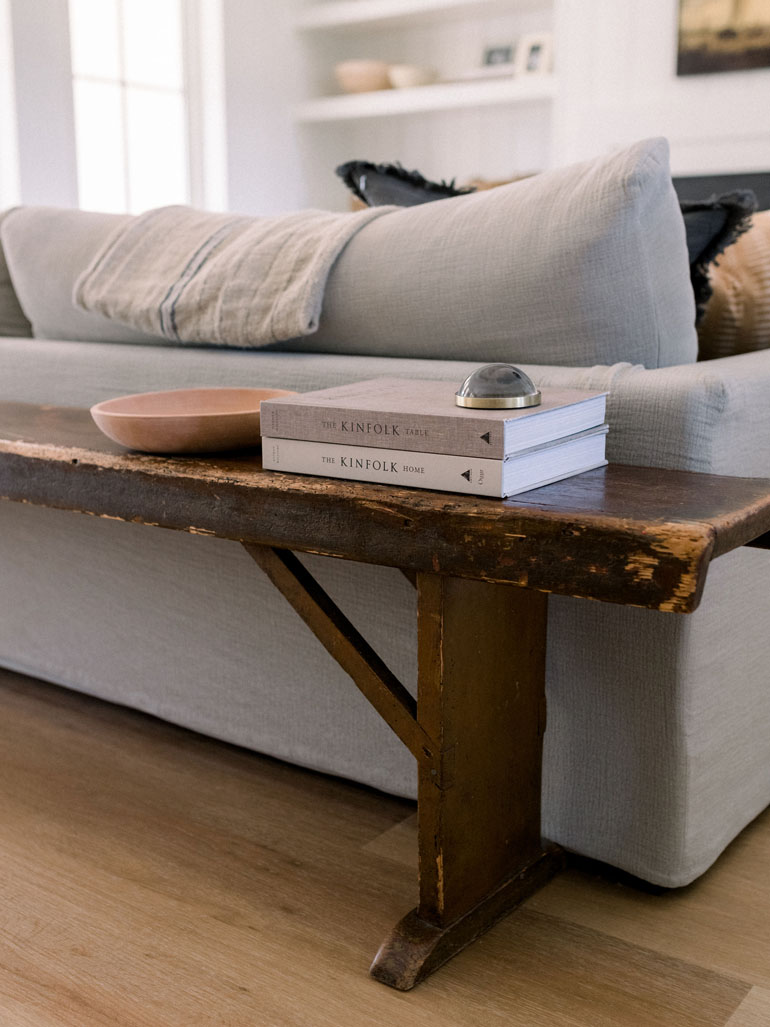 ---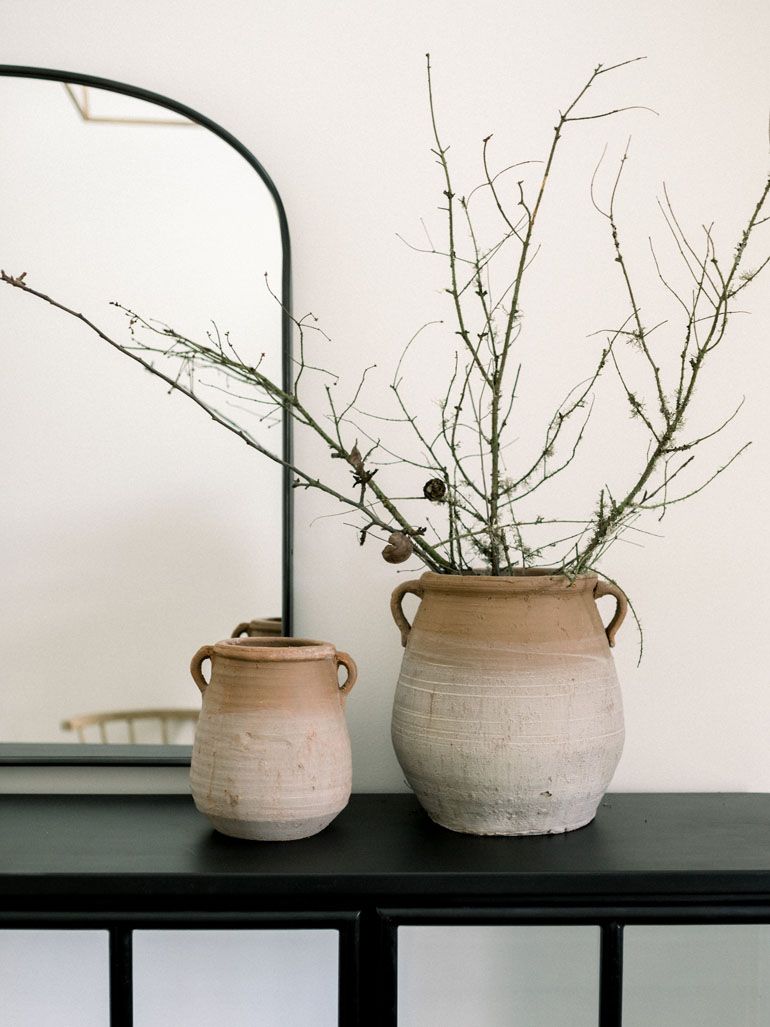 ---
Set the Palette
"I always start with a floral arrangement, and I use the colors in that as my inspiration for the room. From there, that's where I can really start to pull colors and tones and textures and know they are going to work together. Nature is a great way to set the tone. I've always been into the muted, earthy tones of the Pacific Northwest. Over time I've felt more confident taking risks. When I talk about the Pacific Northwest, I usually mean the muted tones that the land brings here. Before this I was a florist. In all of our projects, you see a lot of bringing the outside in: wood tones, muted tones, grays, taupes, warm whites, mustards, rust colors."
Incorporate the Fun
"With young kids, I knew I wanted to incorporate fun spaces around the house for them. One last-minute decision when we were in the framing process was to add this little reading nook under the stairs. My kids love it! They store books and crafts in the drawers underneath."
---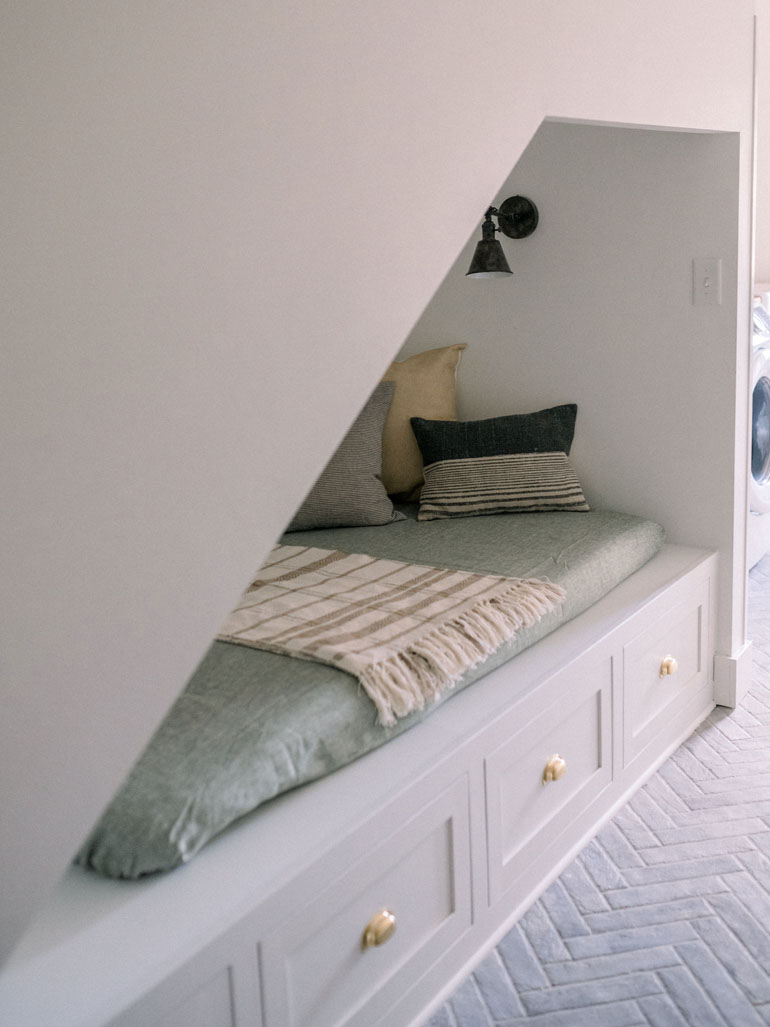 ---
Molly's Picks For a Light/Bright Kitchen
INTERIOR PAINT
Pure White SW 7005 by Sherwin-Williams
CABINETS
Naturel SW 7542 by Sherwin-Williams
COUNTERTOPS
Black-honed granite by Salem Marble and Stone
LIGHTING
Katie pendants by Circa Lighting
BACKSPLASH
"Snow" Zellige handmade tile by Riad Tile
---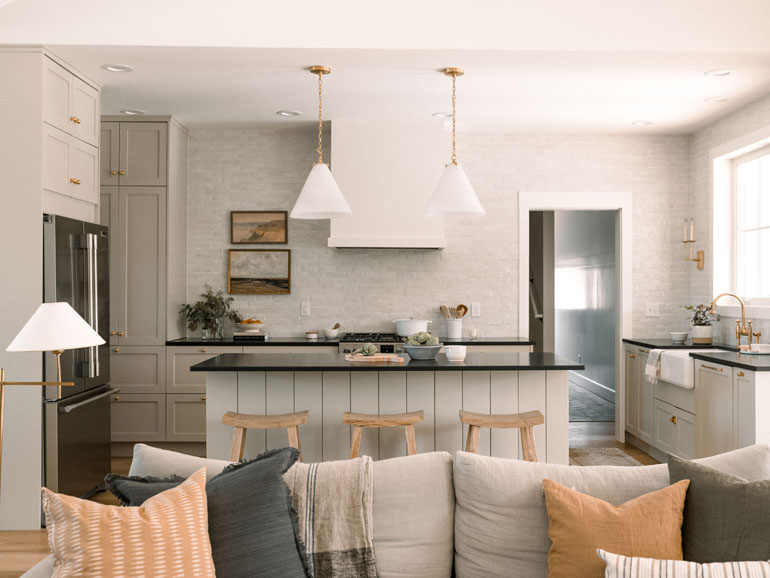 ---
Virtual vs. Full-Service Interior Design:
VIRTUAL
FULL-SERVICE
Great for
People Who:
Need help with choices
but like playing a more
active part of execution.

Like collaborating closely
over big and small details,
and are prepared for a longer-
term relationship with an expert.

Budget:
Varies by project but can
be quite affordable.

Generally a more expensive
option, but varies by project.

Time Frame:

Quick. As short as 3-4
weeks for design
decision turnaround.

More involved, requiring
months (and sometimes
years) of collaboration.

What You Receive:

Design board, shopping
list, one editing
round, styling tips and
sometimes a room sketch.

Design review, mood boards,
sketches, budget planning,
design implementation and
construction, ordering,
tracking and receiving,
install, and styling.

Interaction:

Everything goes through
email, easy peasy.

Communication can take a
variety of forms, and the
designer/client relationship
is closer.
Support:
Services are a la carte,
thus support depends
on what individual
services you buy.

Support includes consultations
at every step.

How to Prepare:

Know the scope of the
project and have an idea
of your budget; collect
some examples of styled
rooms that you like.

Same prep as virtual.