A Portland pied-à-terre by Casework checks all the boxes for color, confidence and creativity.
Interior Design: Casework
Photography: George Barberis
Styling: Jorie Garcia
---
It's been almost 100 years since Virginia Woolf wrote her seminal essay "A Room of Her Own" — but the author could easily have been describing a recent Portland pied-à-terre by Casework. The stylishly appointed project in self-love was born of the pandemic, when a successful local businesswoman went looking for a place to recharge and set out to transform a 500-square-foot, 1925 studio apartment in Northwest Portland into a personal haven.
"She knows this is a luxury," says Casey Keasler, principal designer at Casework, a Portland design firm known for its elevated use of color. "She really wanted something with a bit of a power clash, with surprise and delight built in."
---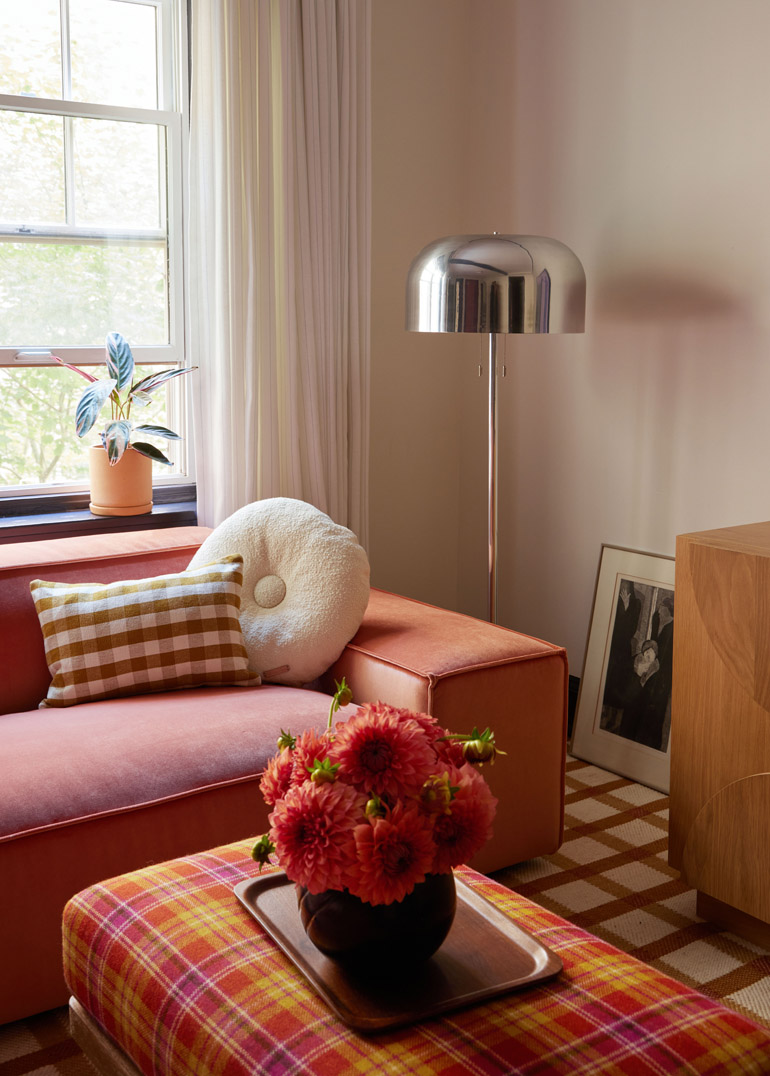 ---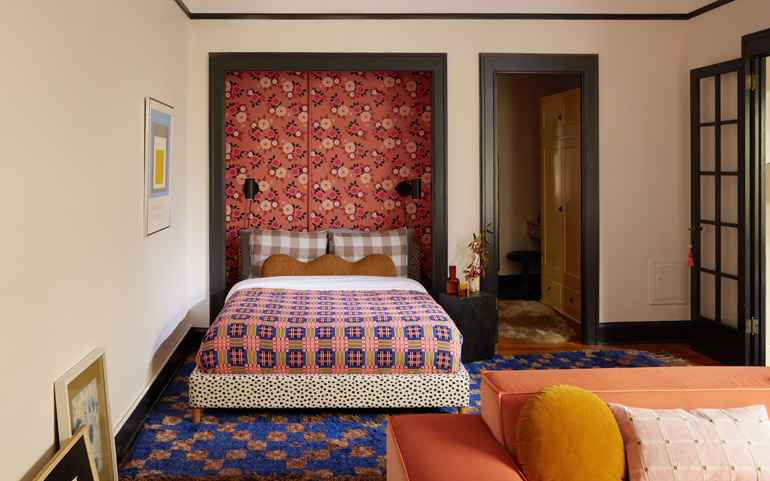 Benjamin Moore "White Dove" walls and "Black Jack" trim create a classic backdrop for the more modern color choices.
---
When Keasler first encountered the space, it was set up to appeal to the many, with basic finishes, neutral colors and standard fixtures. But the setup of the studio, with its separate kitchen and eating area and open living space, had enough of the vibes of a luxury hotel to inspire the choices in finishes and upholstery made along the way.
Together with Marla Kabashima on the Casework design team, Keasler put together four different color possibilities for the client, who was looking to transform the drab studio apartment. In the end, it was the primal, powerfully feminine textures, animal patterns and pink/red/orange colorways that drew her in.
---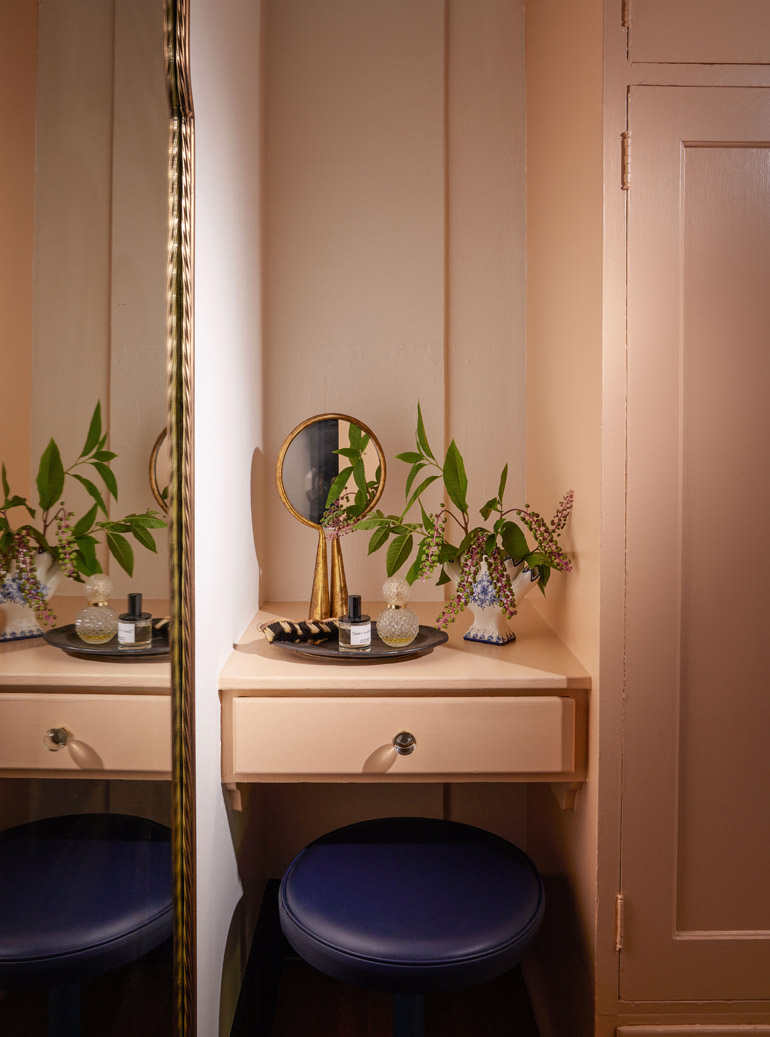 ---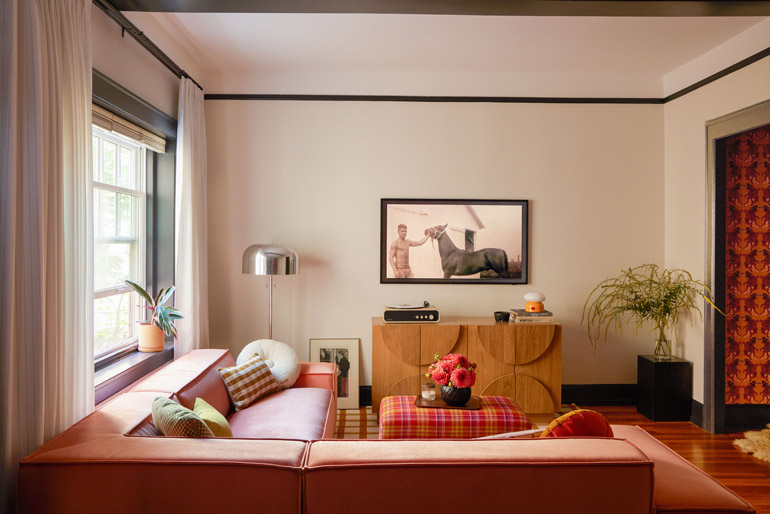 ---
"She was really looking to push the limits in terms of color and vibrancy," Keasler says. "She wanted a place to feel forever young — 'Am I 20 or am I 100?'"
One guiding choice for the project can be found in the client's entryway, made fierce with Kate Blairstone's "Tigris" wallpaper, a bold motif referencing Japanese tattooing, block prints and traditional Tibetan rugs. The use of the Benjamin Moore paint color "Hathaway Peach" in the kitchen was inspired by the paper. Otherwise, Keasler made minimal changes to the kitchen, painting the cabinets, swapping out hardware and lighting, and styling with products from local favorite Schoolhouse. A small bistro table and chairs completes the setting made for solo connection.
---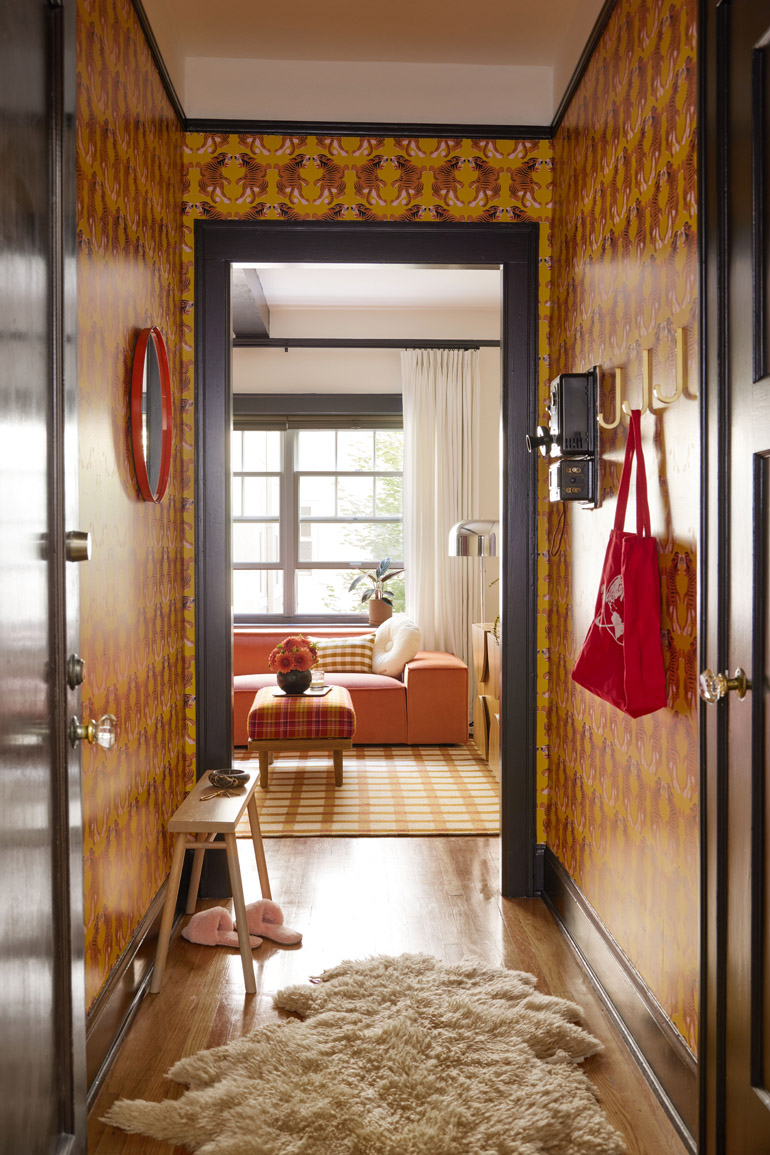 ---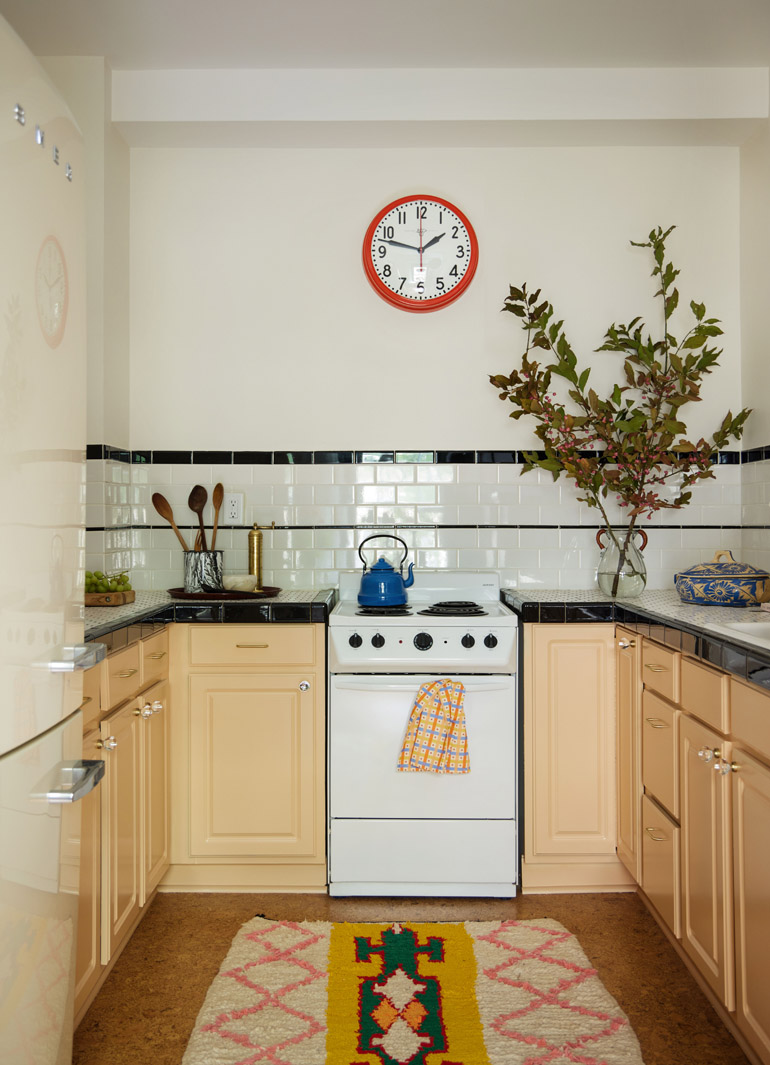 Vintage-looking appliances give the historic studio an air of timelessness.
---
"It's not for fancy dinners ­— it's a kitchen meant for serving takeout and the latest ice cream from 23rd Street," Keasler says. In the main living area, the coral sectional from Interior Define, lit by natural light, provides a big style moment. Keasler also warmed up the space with a bold butterscotch plaid on the floor and a custom plaid ottoman. "Working with pink and red is all about balance," Keasler says. "I was always thinking about proportion and getting the right value of the color.
Keasler created a contrast with the Kat + Maouche blue carpet under a bed styled with Schoolhouse and Gregory Parkinson linens. A second Kate Blairstone wallpaper, "Heirloom Rose," set in a closet converted into a bed nook, lends the entire space a sense of modern femininity.
The project's final details were more sensory in nature — Edith Piaf on the turntable, the smell of fresh citrus in the air. "My client was really in this lovely place of knowing exactly what she needs and wants," Keasler says.
---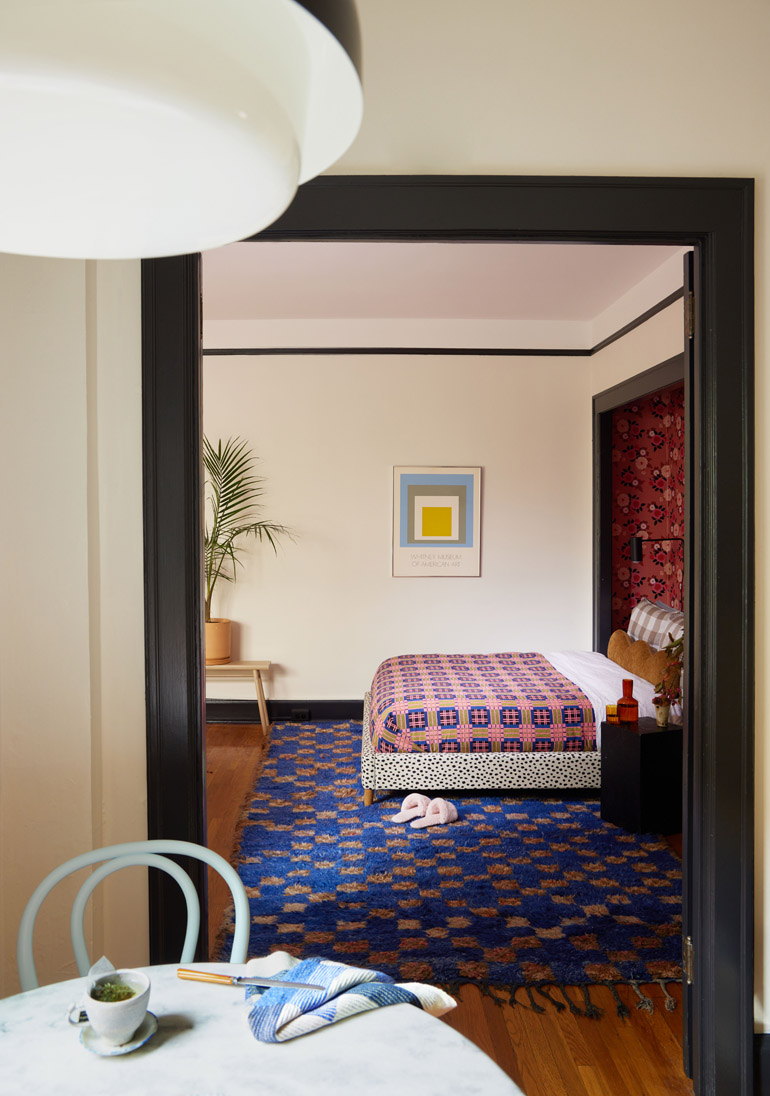 ---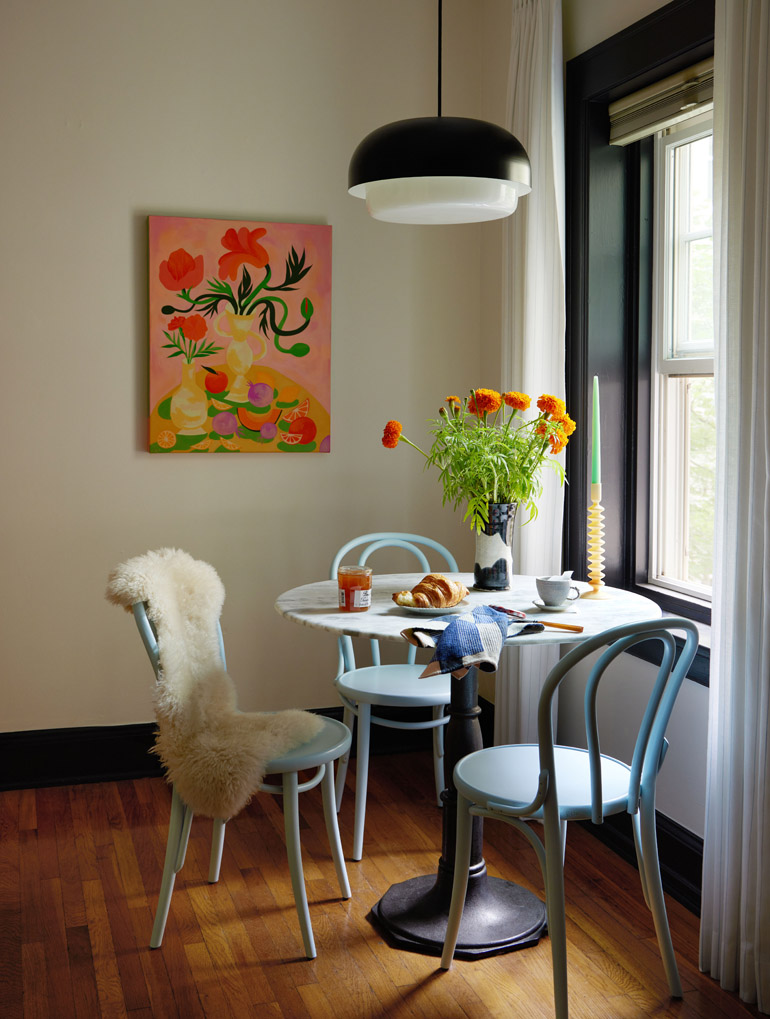 Art by local painter Jess Ackerman plays off the vibrant color in the space.
---
Color Connection
Get inspired by this Postwar-France-meets-modern-self-love palette by Casework.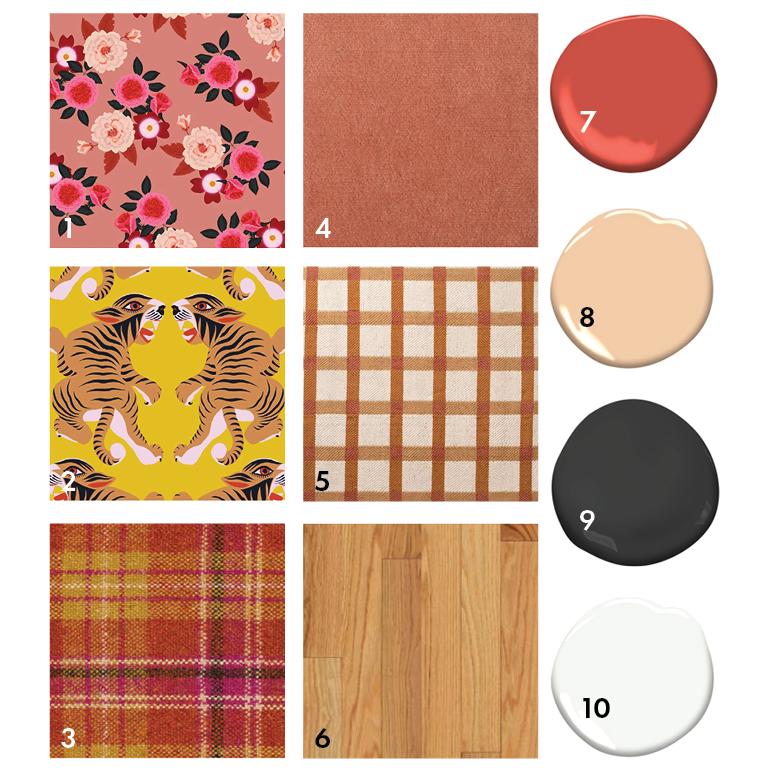 1. Bed nook wallpaper
"Heirloom Roses" by Kate Blairstone
2. Entry wallpaper
"Tigris" by Kate Blairstone
3. Ottoman plaid
Pressed Plaid by Maharam in "Sunset"
4. Sofa
Interior Define sectional in "Coral"
5. Rug
Plaid wool rug in "tawny"
6. Floors
Original oak
7. Closet interior
Benjamin Moore "Claret Rose"
8. Kitchen millwork
Benjamin Moore "Hathaway Peach"
9. Trim
Benjamin Moore "Black Jack"
10. Ceiling
Benjamin Moore "Chantilly Lace"