Produced by the marketing department of Oregon Home
Perched on a hillside overlooking the rolling rural farmlands of the Willamette Valley, one of this year's Street of Dreams homes stands out for its thoughtful design, high-end craftsmanship, fine materials and focus on good living.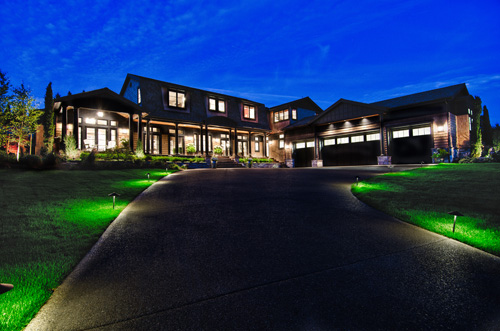 This photo Jeff Freeman // All other photos Paula Watts
Portland-based TTM Development Company designed and developed every aspect of the home, from layout to amenities and materials, starting with the choice to create a "transitional style," which combines traditional and contemporary aesthetics.
"My big focus was on functionality," says Joanie Merrihew, who, as TTM Development Company's principal designer and project manager, oversaw the project from start to finish. "When creating the floor plan and adding amenities, I kept in mind that people are going to live their lives in these spaces."
Since the home wasn't built for a specific client, Joanie used her imagination. Working with Eric Schnell, Design Director at Alan Mascord Design Associates Inc., she created a floor plan with an obvious flow between rooms, especially in the main living spaces. She thought about families with kids who play on sports teams (and their dirty uniforms) and fuzzy dogs (with muddy paws).
Any family will enjoy the mudroom, a spacious tongue-and-groove walled room with a wrapping paper station, homework desk, washer and dryer hookup, and plenty of storage and compartments for everyday clutter, such as dry cleaning and DIY projects.
In other rooms, functionality looks a lot like art. For example, the kitchen features a custom pot rack over the central island and a metal overlay hood from a local fabricator.
Two dishwashers and a Wolf warming oven are covered with the same grooved wood and hardware as the rest of the kitchen's cupboards and drawers.
---
Finding the perfect materials mattered to Joanie and TTM, who chose the exterior's cedar shake and dry-stack cultured stone. Indoors, an abundance of knotty pine beams and millwork offsets polished bronze hardware and hardwood floors. The entire home is filled with textures, including the barn wood his-and-her closet doors in the master bedroom and a reclaimed barn wood wall in the boy's bedroom.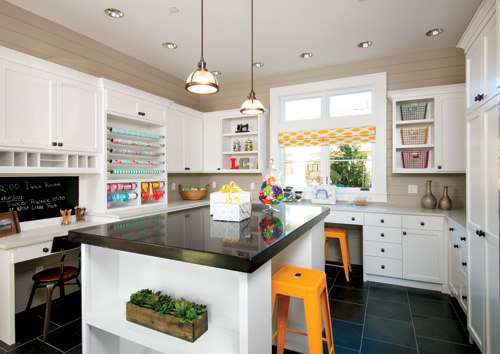 // Photos by Paula Watts
Thoughtful choices include custom tiles in the bathrooms and quartz countertops in the kitchen. Even the laundry room brings an artful sense of the outdoors to a highly utilitarian space with birch branch wall covering.
Every room, from the spacious great room with its impressive stone fireplace to the hallway that connects the second-level boy's and girl's bedrooms, makes lighting a priority. "Good lighting is one of our specialties," Joanie explains. "You can always dim lights, but you can't easily install more."
The focus on natural light is enhanced in the outdoor living space with the geometric array of skylights that Oregonians will appreciate. In the backyard, a quiet and private landscaped cove with a waterfall and small pond is connected to the covered outdoor living area. This outdoor space is outfitted with a barbecue grill, fridge, sink and flat screen TV. Hanging state of the art gas heaters make the space perfect for entertaining year round.
"Everything in this home was designed to look great and maintain a high level of functionality," Joanie says. "Functionality makes it much easier for people to enjoy all the amenities and use them every day."
"We wanted to bring something new and different to the street of dreams this year," says Tucker Merrihew, owner of TTM Development Company and contractor for the project. "Our mixture of great style and cutting-edge design will redefine what a luxury home should be in Oregon."
This home is located at 907 S Stonehenge Terrace, West Linn, OR 97068 and is currently listed for sale.  Contact Chris Smith at TTM Realty for more information. (503) 224-6200

TTM Development Company is Portland's premiere in-fill builder and renovation company. By crafting the highest quality renovated and new construction homes, TTM has peppered some of Portland's most desirable neighborhoods with top-notch homes, which ultimately helps discerning homebuyers find their dream home. For more info about the company and to view prior and future projects visit www.TTMDevelopmentCompany.com. If you have a home that you would like to sell that would be great for redevelopment, visit www.SellToTTM.com or call 503-224-6200.
Architecture by Eric Schnell, Design Director at Alan Mascord Design Associates Inc., www.mascord.com. Interior Design by Joanie Merrihew at JPID Construction & Design Llc, www.JPIDConstruction.net.