For interior designer Garrison Hullinger and husband J Jones, the backyard is a setting to stage epic shindigs.
Photos by Venjhamin Reyes
---
Walk by the home of Portland interior designer Garrison Hullinger and it might not exactly jump out at you as a prime pad for partying. Sure, it's a stylish looker, with its contrasting white-and-black paint scheme, accented with a splashy blue front door, a pair of stone lion statues and waves of wispy ornamental grass. But the 1948 Southwest Portland ranch appears anything but sprawling.
"It feels intimate and unimposing, and we are OK with that," says Hullinger, who's lived in the house with his husband, J Jones, since 2013.
---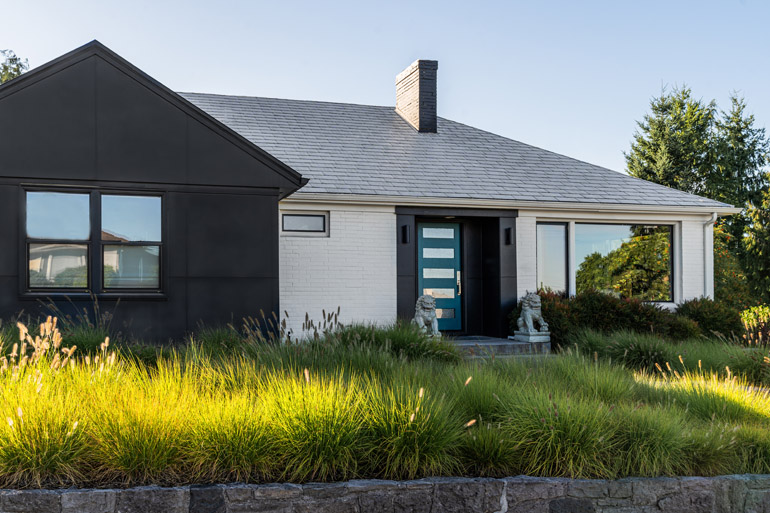 ---
Out back, however, is a different story.
"It's where we live," Hullinger says. "Out back we go all out to entertain friends and family. It's where we love to create moments."
Indeed, with its various seating areas, fire pits, drop curtains, deck, garden bar and lit-up patio that doubles as a dance floor, the backyard of Hullinger's home drips with entertainment possibilities. Add in the home's bold interior — comfortable and colorful with a bit of Hollywood Regency to it — along with Hullinger and Jones' honed shindig-throwing skills, and you've got the makings of some epic get-togethers.
"We're just trying to create an overall atmosphere where people feel like they've arrived at this really special moment," Hullinger says.
---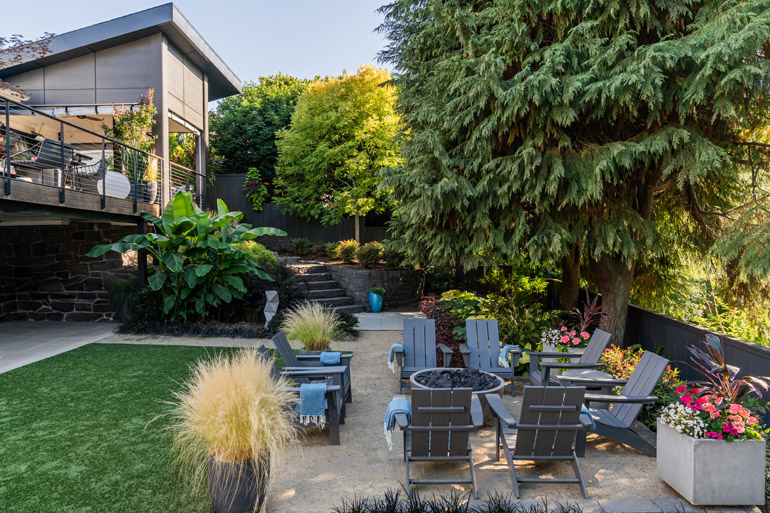 ---
Home Is Where the Party Is
Hullinger and Jones have been together for more than 30 years. In that time, they've renovated a dozen older homes together, including in Portland and San Francisco. They've also been throwing singular gatherings for friends, family and neighbors along the way.
Their current home needed more than a little love when they bought it a decade ago. They left the original trim, the marble hearth and the coved ceilings in the living room and dining room but otherwise freshened it up. For Hullinger that meant lots of colors, patterns, wallpaper and artwork the couple has collected on their travels over the years. They also moved a few doors around, which helped with the flow and circulation of the home, which Hullinger says can feel a bit compartmentalized. 
---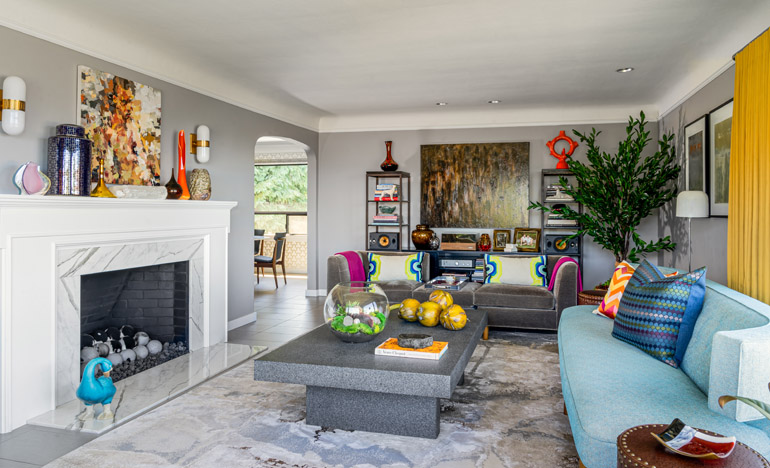 ---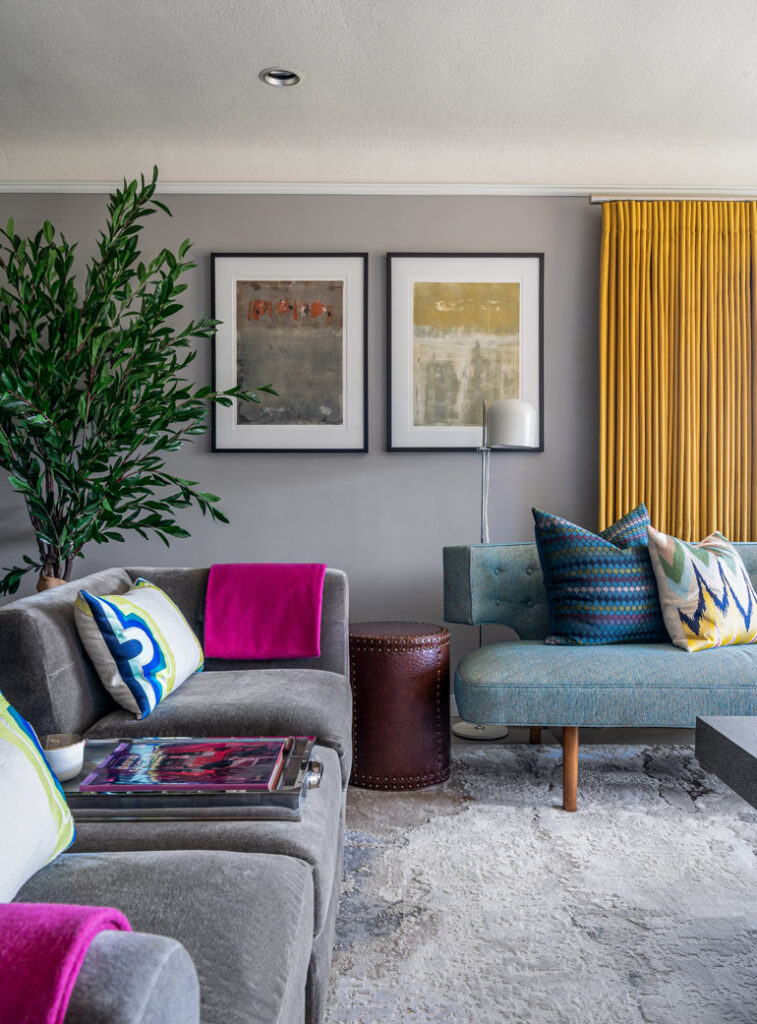 ---
With entertaining in mind, they went with 12-by-24-inch porcelain tiles that are easy to care for and all kinds of seating, including garden stools and small side tables that double as seats, to encourage close-up conversations. Additionally, most surfaces are meant for accommodating food, drinks — and easy cleanups.
"We are not shoes-off, don't-put-your-drinks-there kind of hosts," Hullinger says. "We are more about having fun than fussing."
Hullinger and Jones have focused much of their attention on the backyard, which some folks have likened to an amphitheater when they first see it, as it slopes down gently toward a treed ravine. The space includes multiple areas where guests can gather, including a fire pit ringed by eight Adirondack chairs; a covered area with drop curtains and heaters; and a small, raised deck with a simple table and a pair of chairs. There's also a sunny seating area and a shaded courtyard that, with the addition of some string lights, becomes host to late-night dance parties. An original sleeping porch on the home was also converted into a catering pantry, where Hullinger and Jones store dishes, glassware, water coolers and other accoutrements. 
---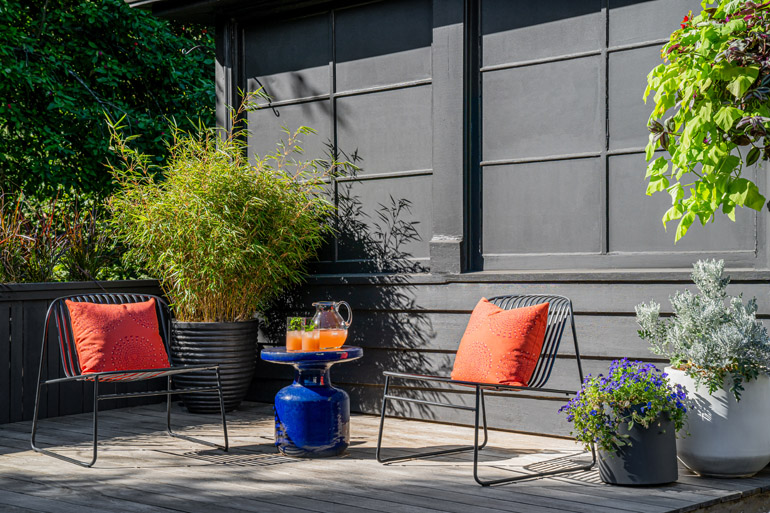 ---
Hosts With the Most
In addition to their ideal entertainment setting, Hullinger and Jones have years of party-throwing under their belts, which has helped them hone their execution. The more social piece of the puzzle, Jones has often been the de facto mayor of the streets where he and Hullinger have lived. They throw a big holiday gathering every year in December, hosting upwards of 60 people, many from the neighborhood.
"If you live on our street, you get an invitation," Hullinger says. "We think all the neighbors like us. We purposely invite them, because if you're dancing and partying, you can't complain."
There's also an annual soup party, as well as themed parties throughout the year. There was a party for Pride this year, and the most recent soup party was called "Rock the '80s."
"We always put some kind of theme to it," Hullinger says. "Nothing too serious. We just want to have fun with people and bring people together."
Not that all of Hullinger and Jones' parties are ragers, either. There are a few larger ones throughout the year, but Hullinger says their sweet spot is smaller gatherings of maybe three or four couples. Jones is more the planner, coming up with invitation lists and menus, shopping, cooking, and conjuring up signature cocktails. A Texan at heart, Jones infuses a Southern flair into his cooking. Among his recent hits: a white chicken chili, a chilled peach soup and his famous strawberry cake. The man behind the music playlists for all their parties, Jones has also whipped up bourbon peach slushies and lavender lemon-drop martinis made with lavender grown in the yard.
Hullinger's role is more about presentation and cleanup, including accents like flowers and decorations. He's also known for assembling extravagant charcuterie boards that are famous among his friends. 
---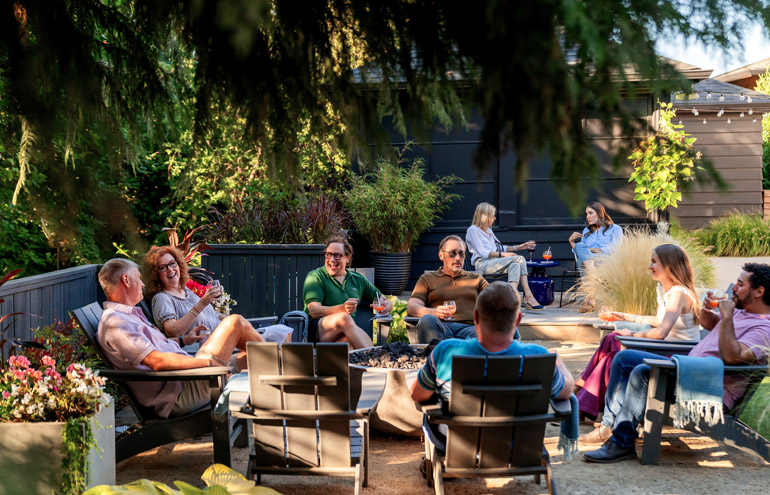 ---
Future Fests 
Those who make the guest list for any of Hullinger's gatherings know that there will be no games, movies or TV. The couple also prefers that their guests not worry about bringing anything to share.
"We are both workaholics, and we enjoy our work. But when we entertain, you shut that off and just relax and chill out a little bit," Hullinger says. "We want people to come enjoy themselves, hang out and be in the moment. We want to show our hospitality when they come here."
Up next on the party agenda: a Spanish paella party this fall, complete with giant skillets, in part to celebrate the launch of Hullinger's rebranded design business, Studio Garrison. And as for future fests that might come to fruition?
"I've always dreamed of having someone like Matt's BBQ [a Texas barbecue cart in Portland] come and cook in the backyard. I think that would be amazing," Hullinger says. "And we always joke that we've never done a Slip 'N Slide."
---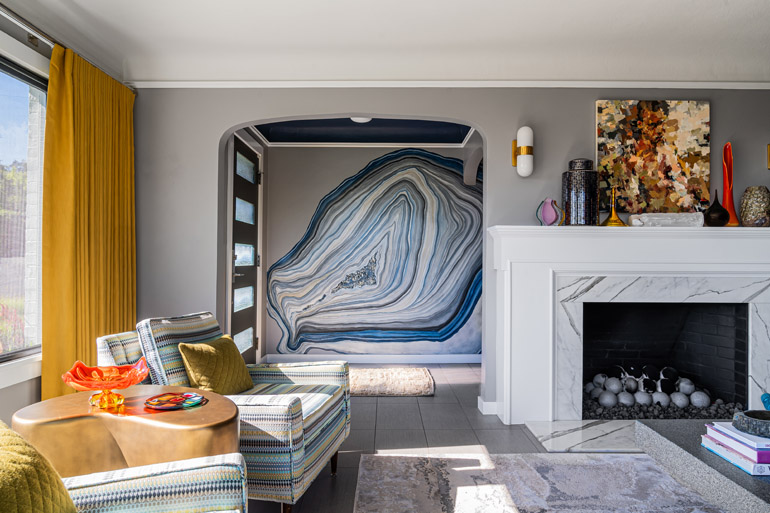 ---