By Jon Shadel | Photos by Jessica Heigh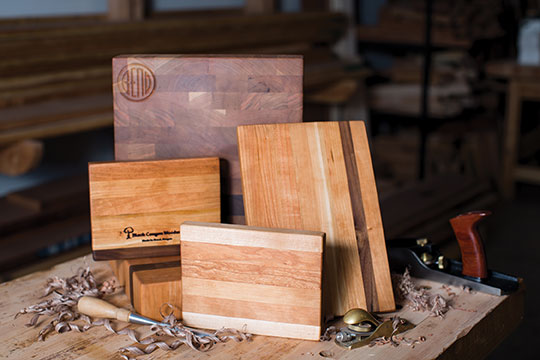 When it comes to kitchen design, a handcrafted cutting board might not be the first thing that comes to mind, but Jeremy Graham at Black Canyon Woodworks knows that the details are where a home comes alive.
Graham and his team create authentic Arts and Craft style cutting boards, meticulously selecting high-grade lumber and crafting each piece at their shop in Bend. "Each cutting board is like a fingerprint," he says. "No two are alike."
He and his team begin by selecting woods like Hard Rock maple, cherry, walnut and mahogany to craft carefully styled boards. He then goes the extra mile, engraving logos and personal messages on each cutting board for a one-of-a-kind gift.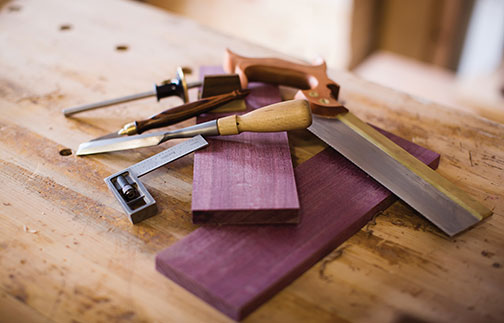 "We enjoy giving people a piece of our story," he says, explaining how his team draws on the same skills they use in creating custom furniture. And it shows when one considers the thought that goes into aesthetic details like matching the grain of the wood, and practical concerns like using waterproof glues to ensure that, when properly taken care of, each board will last a lifetime.
It is no surprise that, for Graham, it's all about craft. "We marry traditional techniques with modern ones," he says, explaining how the emphasis on craft in the production of his furniture carries over to his cutting boards. "I want to make something that someone will pass on to their grandchildren. I want each board to last a lifetime."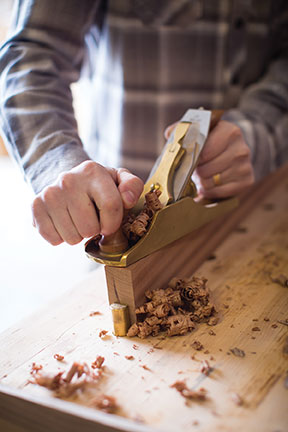 Graham is aware that this attention to craftsmanship is rare, and that is what makes a gift like this so special. "I love that people buy our products because they like to support the craft and appreciate the workmanship," he says. "And if you give one of these cutting boards as a gift, the recipient will always remember who gave it to them."