She knows how to pull strings. Or pluck them. Lead guitarist Jennifer Batten has been called one of rock's top shredders — period. She toured three times with Michael Jackson and played for three years with Jeff Beck. She launched a solo career. Nine years ago, she moved to the Portland area when she realized all she needed was an international airport and a place to call home. Her house (near Portland) is chockablock with guitars, amps, a bicycle, art glass, paintings, cat ramps and quirky steampunk-inspired sculptures she creates in her downtime.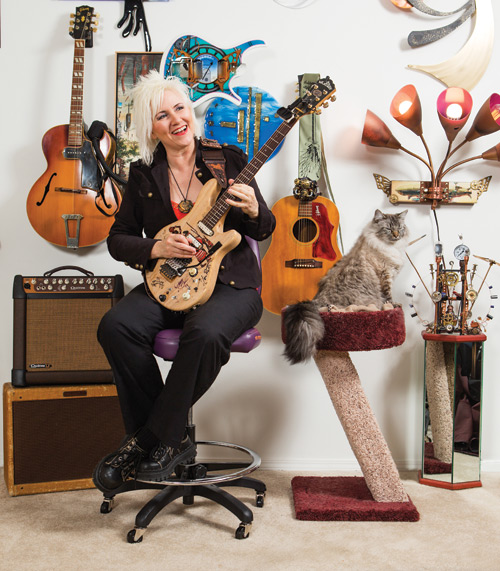 OFF THE WALL: "I can't resist when it comes to art." Her physician dad filled every wall in her childhood home, and she's doing the same with a collection of fused glass, metal sculptures and paintings by Northwest artists, including Chuck E. Bloom, who later created a CD cover for her.
METAL METTLE: One sculpture broke,"but I kind of like the way it's settled."
HER STORY: She wires and solders vintage sprockets, springs, clockwork, wings, gears, gadgets and goggles to make mysterious sculptures that look as if they fell out of Jules Verne's head. "I used to hate going to thrift stores because they smell funny," she says. Now they offer fodder for her art.
SMOOTH CRIMINAL: She spent formative years in a sprawling, middle-class, adobe-style house in San Diego with turned-wood trim rails on the windows. "My sisters and I refer to it as the Mexican jail."
ELECTRIC CHAIR: She inherited a small, tweed-covered massage chair. "I bought it for my parents after my first Michael Jackson tour. It's ugly as hell." A spud-shaped pillow, aka "couch potato," makes it more comfy.
COOL STOOL: A purple vinyl stool embroidered with her name and "Forever Dangerous" was a gift from a fan.
ON THE ROAD: She bought a 23-foot-long motor home to serve as a rolling closet/kitchen/crashpad on her solo tours. "I certainly put some dings in it learning to drive."
HUMAN NATURE: When she realized she'd made it, "I was disappointed. I still felt like me. I thought I'd feel different."