Issuing an artistic challenge to his industrial design students at Western Washington University in Bellingham, Wash., metal artist and industrial design professor Arunas Oslapas took it up himself.  "I asked them to intercept garbage and make something from it—and I'd do the same," he says.
Oslapas, whose family is originally from Lithuania, was born in New York City. His inclination toward industrial design was evident early on. "As a little kid, I'd make pushcarts and go-carts," he says. "Once I tried to make a sewing machine out of wood." After receiving a B.F.A. in professional design from Montana State University and an M.F.A. in industrial design from the University of Illinois, he worked in product design and space planning before moving to the Pacific Northwest.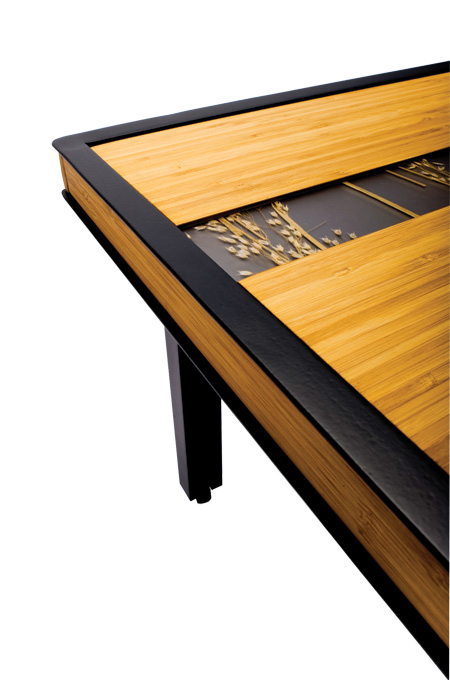 When Oslapas began working in salvaged metal, he wove baskets from the cast-off metal straps that are often wrapped around materials to keep them from slipping off pallets. A suggestion from his daughter to add color to his baskets led him to think of other ways to recycle metal into art. "The straps tended to be rust, brown or galvanized, which limited the color of my work," he says.
Choosing to add color provided him with the opportunity to come up with new design ideas such as wallhangings he calls metal quilts (above), which are backed with sheet metal or Masonite, depending on their size. "I had some colored pieces of metal from old streets signs and things like that, and I also began to add color myself," he says. "I started putting them into my wall pieces and adding small items, some of which I altered, to them. I like to work in concert with nature. After I paint the strips, I leave them outside for a while and see how the rust comes through and how the paints flake off. That becomes an important part of the design." The metal quilts, which range in size from a foot square to 42 by 42 inches are $275 to $975 each.
Contact metal artist Arunas Oslapas via e-mail at [email protected].