Jenni Kayne's tips for setting the perfect table
Photography by Angi Welsch
---
Jenni Kayne has always loved having a full house. But it wasn't until she had her own family holidays to plan that she realized how important the little details around a gathering could be—things like a lovely table and a generous attitude.
"It's really just about putting that little extra effort into something you wouldn't normally think twice about," Kayne said. "Place settings or how to arrange a centerpiece—this makes moments memorable."
Kayne's new lifestyle book, Pacific Natural: Simple Seasonal Entertaining, builds on the ideas she explores through her popular Instagram feed and her eponymous West Coast lifestyle brand. The book shares Kayne's distinct entertaining style alongside recipes appropriate for timely gatherings throughout the year.
Kayne, whose tablescapes exude an effortless comfort while still feeling extra special, is always trying to bring some of the outside in, whether it's foraging for flowers or using cut or whole seasonal fruits and vegetables instead.
"The secret is it's really no secret at all," Kayne said. "Anyone can do it, which is what I wanted to show here."
Below, we dive into Kayne's book to pull our favorite tips for your own entertaining.
---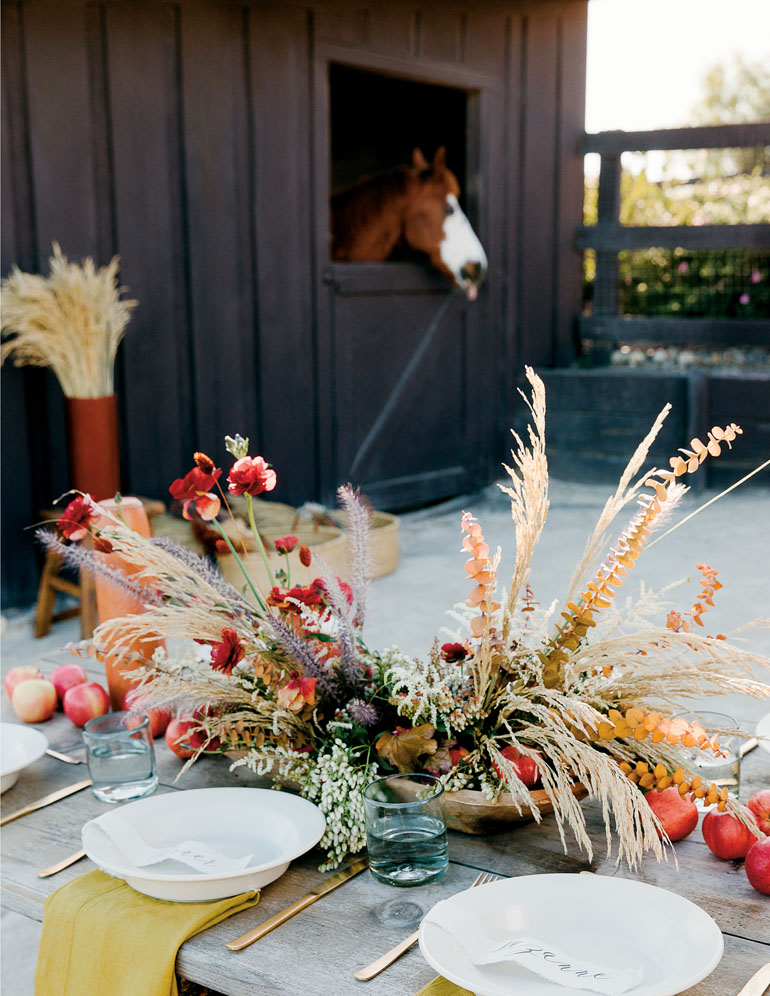 ---
Add a pop of color to the table. Mustard linens complement the scenery alongside dried wheat florals and fresh fruits.
Keep scraps of fabric from crafting to make your own place settings. Use a fabric pen on a (preferably light-colored) piece of fabric to write name cards and place on top of plates.
When the weather starts to get chilly but not too cold to still eat outside, serve something warm and bring out a basket of soft blankets for your guests.
Sometimes you don't need table linens or a runner. Take advantage of the rustic beauty of a wooden table if you have one.
Sheepskins over benches or chairs are cozy and textural, and add a little comfort for your guests.
---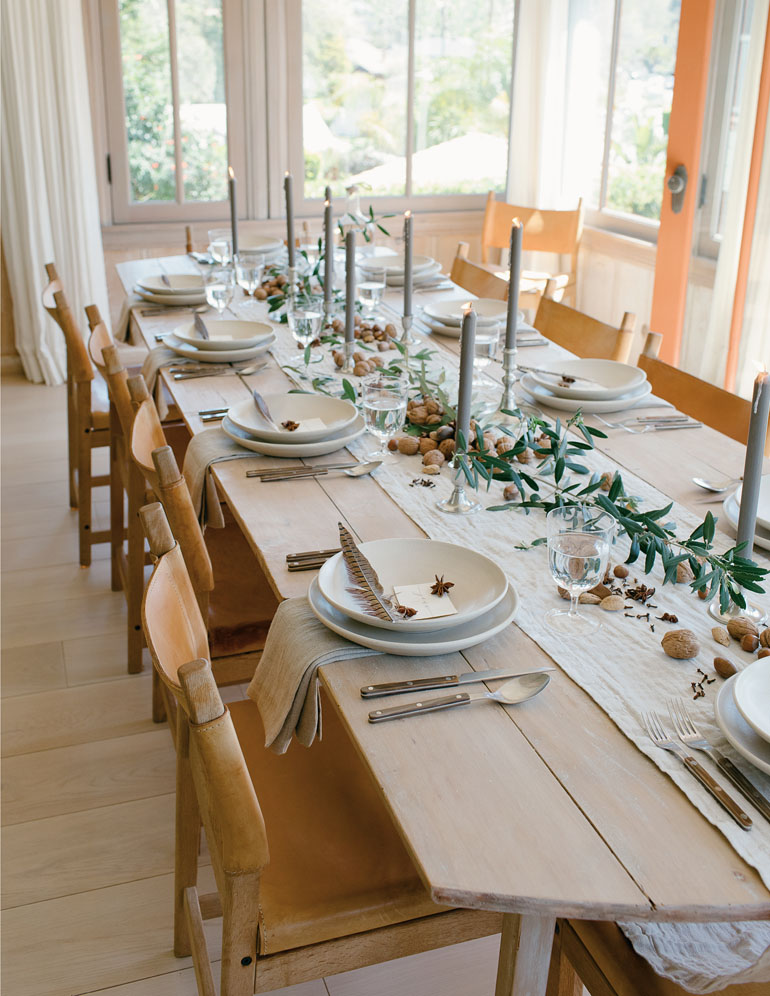 ---
Set a trail of greenery directly atop a runner with walnuts, cloves or any seasonal bits you like. Remember to leave room for serving dishes when you're setting the table.
The table will feel special and authentic if you don't try to do too much. Imperfections are natural.
Mark place settings with bits of found objects from nature: cloves, feathers, anise, nuts and bits of greenery.
Seating arrangements aren't meant to be confining, they are simply a way to facilitate conversation and introduce people to one another. Think about seating people where conversation will flow, ideas will be shared and bonds will be made.
Play with varying heights of tapered candles to add a bit of dimension to the table.
---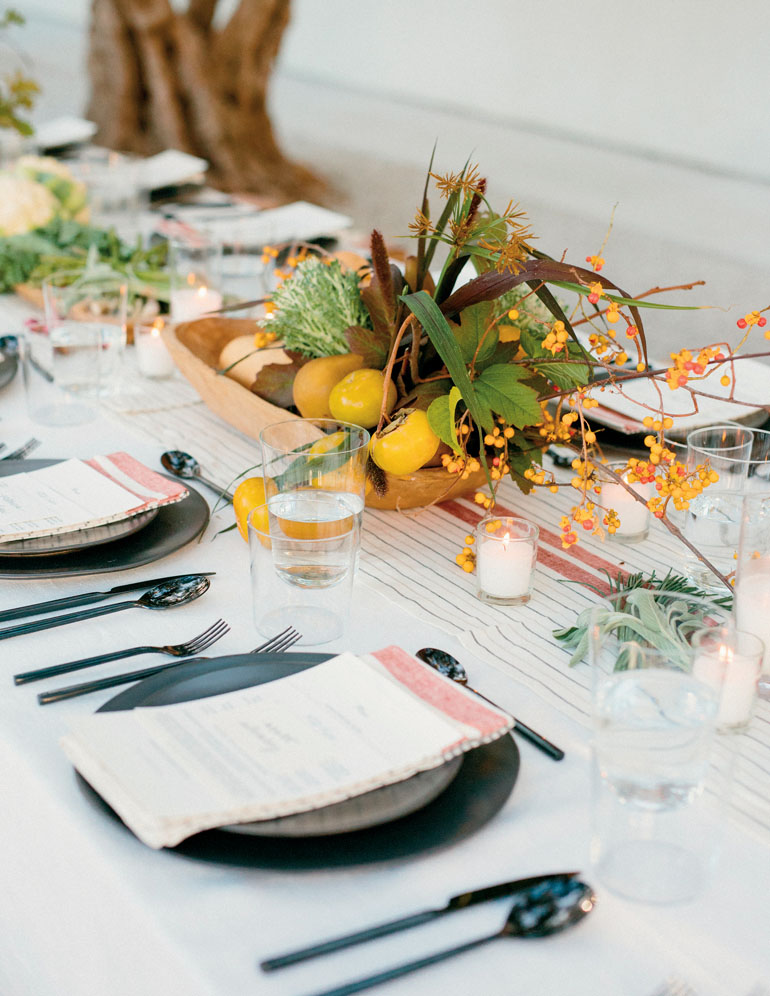 ---
Play with texture by layering a runner on top of a crisp, white tablecloth.
Think beyond flowers. Use squash and persimmons in place of blooms for a rustic touch.
When hosting a large group, it's nice to print a menu on cardstock and place at each setting. Look into renting tables and chairs for extra seats.
Light a bunch of tiny votives for ambient lighting.
Wooden bowls are a great alternative to vases. Fill them with fruits, vegetables or cut greens at the center of the table.
Use whole and halved fruits alongside florals. Light, delicate blooms complement the aroma of citrus perfectly.
Designate another area of your space for cocktails and appetizers to save room on the table for food and decor.
---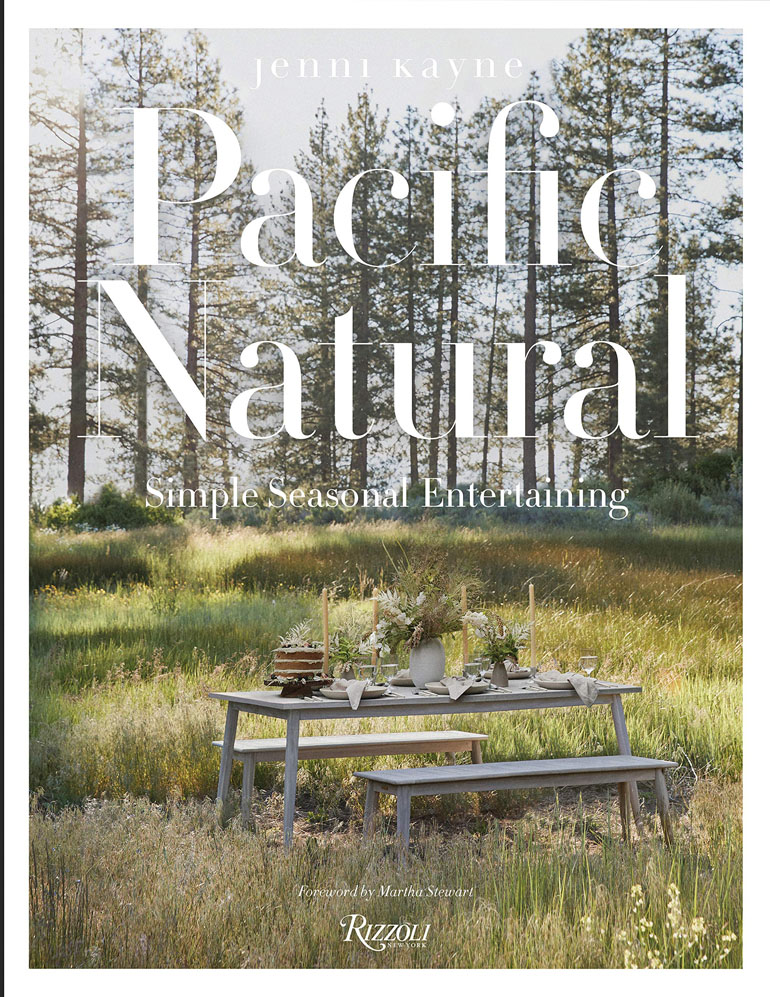 ---
Reprinted with permission from Pacific Natural: Simple Seasonal Entertaining by Jenni Kayne, Rizzoli, 2019.