Portland designer Emily Henderson shares tips from her new book The New Design Rules: How to Decorate and Renovate, from Start to Finish.
---
How do you choose the perfect color? I truly wish there were a science to it. But testing the paint in your space on multiple walls and looking at the samples at different times of day is really the only way to achieve what feels right to you. As you apply more coats and as the sun shifts, the color will change and you'll pick up on tones you may or may not love.
Here is some guidance on choosing the finish. All paint companies have their own measure of sheen, so check with their site or a rep to confirm how their specific finishes are defined.
---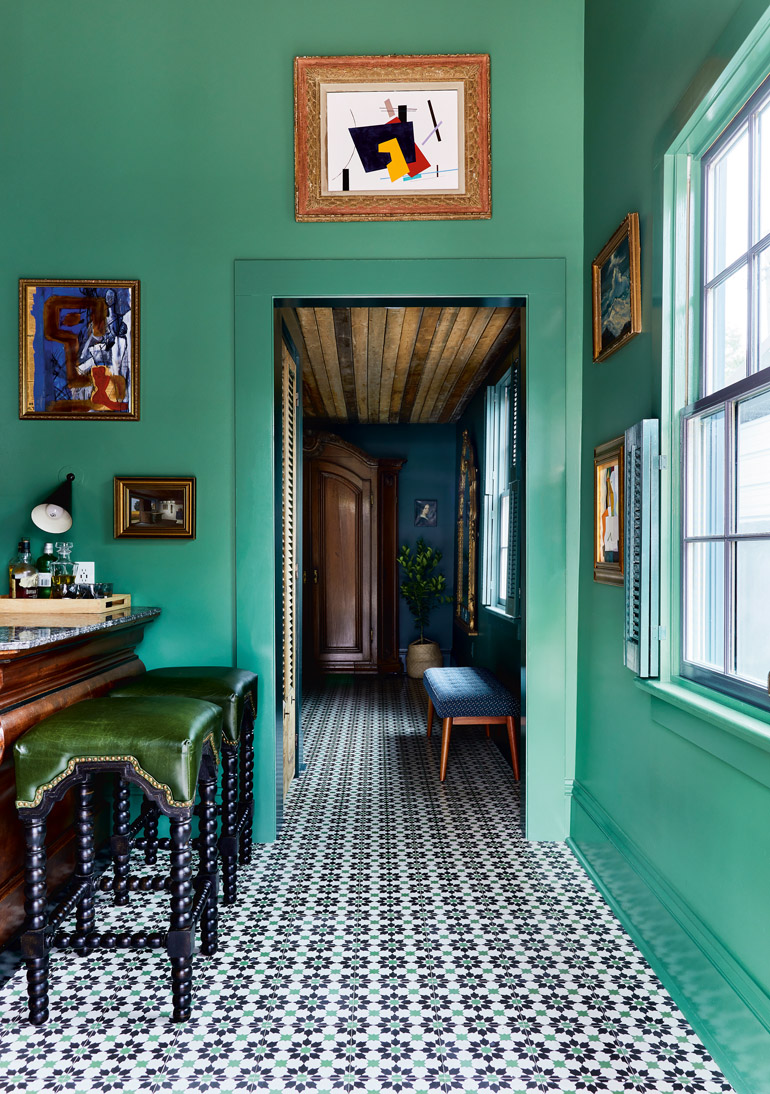 Home: Sara Ruffin Costello
---
FLAT: Fully matte, with no reflection whatsoever. We love this look because it's so clean and fresh, but it marks up easiest, and retouching can be very obvious. With that in mind, it's best for bedrooms or low-traffic areas.
EGGSHELL OR SATIN: Our favorite of the finishes because it isn't shiny but it's more durable and forgiving than a flat finish. Great for living areas, kitchen walls, and bedrooms.
SEMIGLOSS: As the name implies, there's a little sheen here, and with it a greater barrier against scuffing and chips. Good for moldings, baseboards, bathrooms, or any space that tends to get scuffed or will need to be wiped off easily.
HIGH-GLOSS: More for decorative drama, high-gloss is just that—super shiny and reflective. I've never used it on walls, but some people do, to really bounce the light around and create a dramatic mood. Be sure you have a smooth wall finish to start with, as high-gloss will show every imperfection.
LACQUER: Historically, the word lacquer meant super shiny and durable, but there are different sheen levels of this extradurable spray paint. A lot of cabinetry is painted in lacquer to reduce the number of chips and dings. Highgloss is intense, dramatic, and, well, intense. This is not a DIY job; be sure to hire skilled painters to achieve the perfect finish.
Hot tip: You aren't bound to the paint swatch. If you love a color but wish it were, say, 30 percent lighter, you can have that color mixed. Designers do this all the time to get the exact shade they want.
---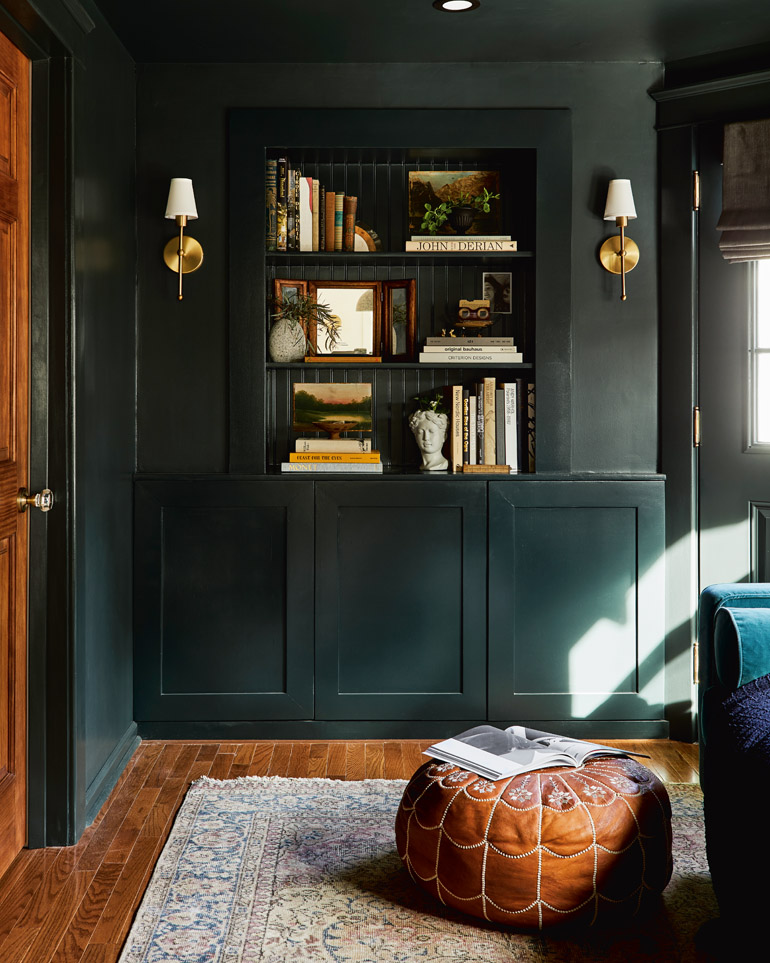 Home: Sara Liggoria-Tramp
---
TAKE IT NEXT LEVEL
If you're looking for a little character beyond a "new construction" look, that's where a finish comes in. There is a wide range—some options are weirder than others—but I'd put my money on these more common options.
1. ORANGE PEEL: This is a texture spray that requires a bit of prep to apply it and has the subtle bumpiness of an orange peel when painted over. This application is fast and inexpensive, but it can look dated, especially with semi- or high-gloss paint finishes. Use it to save money in rooms that may be less important to you (finished basements and laundry rooms, for example).
2. LIME WASH: This is a chalky finish made of crushed limestone and water that looks a little like suede when applied. It's an eco-friendly and hypoallergenic option that is a great alternative to the pricier plaster look. Beware that the color can be unpredictable, since it's ten times darker when wet and can dry at varying shades, depending on the surface beneath.
3. BASIC PLASTER: A warm, hand-done texture that looks great in older homes, though you may need to match the existing plaster in some spots. I would skip it in the bathrooms, however. We recommend a flat paint or, even better, a lime wash there. Notice that the handiwork involved for basic plaster is expensive because it's done with a trowel and applied fairly evenly.
4. VENETIAN PLASTER: Sometimes known as lime plaster, Venetian plaster is mixed with marble dust, layered on with a trowel, and then burnished until smooth. The end result: a durable, marble-like surface. It's easy enough to DIY, but what you save on labor, you'll want to use for buying a highquality product. The difference is between a really thick paint and a true plaster composed of acrylic and marble dust.
5. HEAVY PLASTER: On the most textured (and expensive) end of the spectrum, these handtroweled finishes can lend a heavy dose of depth to ultramodern, clean-lined spaces. This is a nice way to make a "too perfect" space feel a little lived-in, but it's not great for high-traffic areas that are prone to moisture.
Budget tip: To hide inconsistencies in the dry wall created by screws and joint compound, try a light hand texture, rather than a sprayed texture. It's more cost effective than plaster (though a bit more expensive than sprayed texture), but will add nice warmth to a space.
---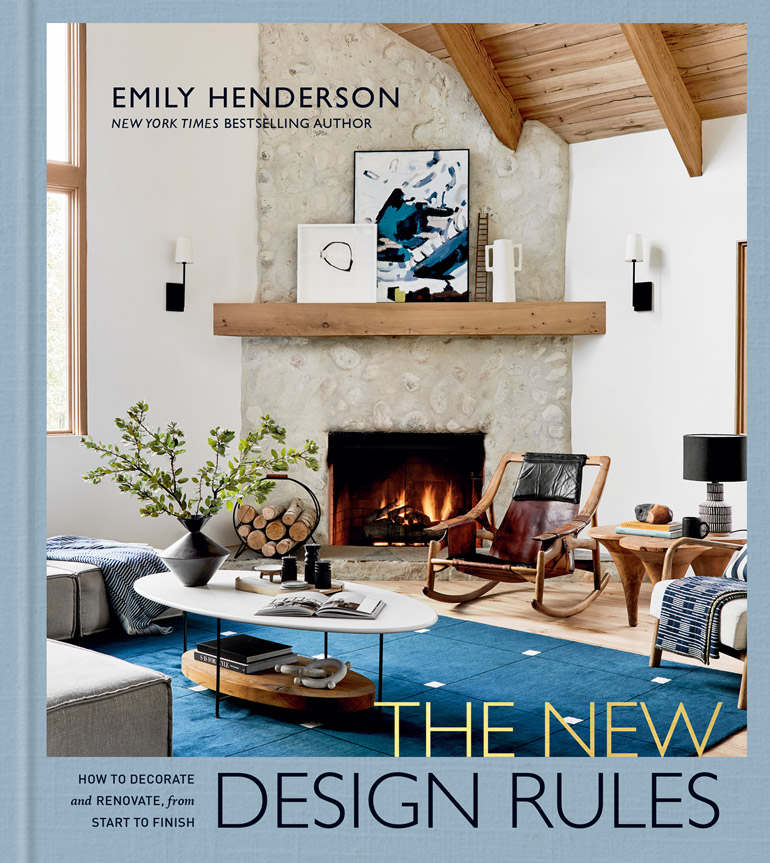 ---
Reprinted from The New Design Rules copyright © 2022 Emily Henderson with Jessica Cumberbatch-Anderson. Photographs copyright © 2022 by Sara Liggoria-Tramp. Produced and styled by Velinda Hellen. Published by Clarkson Potter, an imprint of Random House.