Photo by Lincoln Barbour
"An organized and attractive closet simply makes life better," says Erin Davis, owner and lead designer at Mosaik Design & Remodeling, a Portland-based company focused on beautiful and functional home remodels. With years of design experience, Davis knows a thing or two about maximizing space and helping clients improve their lives through sensible organization. She is committed to helping homeowners get the details right.
Mosaik Design & Remodeling recently worked with Closet Factory to remodel the master closet of a Lake Oswego home. "We were able to claim square footage from the home's garage to double the closet's space," Davis says. The result is a functional closet and dressing area with dozens of thoughtful, customized details.
"Even a small closet space and a modest budget can transform your life if you follow some basic reorganizing principles," Davis explains. Drawing from her experience helping couples declutter and get organized, here are her five tips to help homeowners realize their dream closet.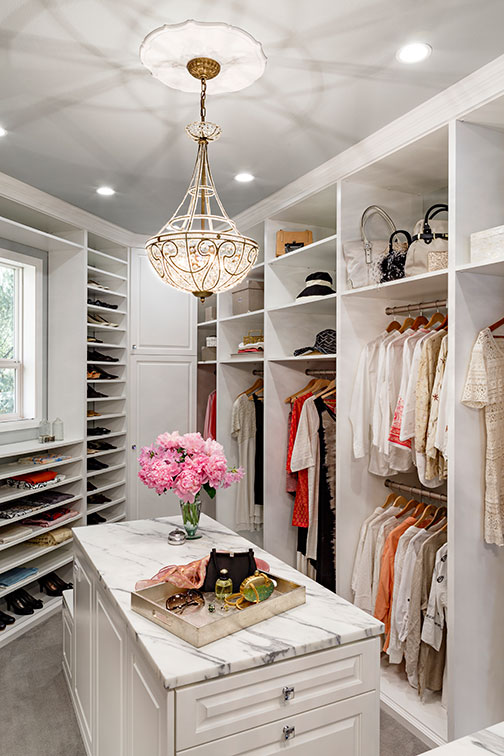 #1: TAKE INVENTORY
"Two people of the same age and gender can have wildly different wardrobes," explains Davis. "Count up your garments by type," she advises. "Tally your long dresses, short dresses, jeans, suits, shoes, scarves, lightweight pants, sweaters, etc., so you can divvy up space to best suit your style." For the Lake Oswego project, locally crafted cabinets and shelves were configured to give every group of items enough real estate.
#2: CUSTOMIZE YOUR SPACE
"Once you've taken inventory, take advantage of shelf dividers, hooks and drawer-organizing units," Davis suggests. is remodeled closet has a velvet-lined drawer for the homeowner's large collection of sunglasses, as well as valets for planning outfits and custom dowels for storing handbags.
#3: THINK ABOUT LEVELS
"Your most frequently used items belong at eye level," she explains. "Items that are used a little less often should go lower. Things you rarely use can get stowed up high." For example, Davis created a tip-out bin below a bench to hold dry cleaning. Because the homeowners travel frequently, islands were built at a comfortable suitcase-packing height.
#4: LET LIGHT IN
"The most common problem I see is poor visibility," Davis says. Most standard builder-grade closets have one sad ceiling fixture that doesn't cast nearly enough light. "If you have room, add another ceiling fixture, wall sconces or puck lights under shelving. A wall of mirrors, a light gray ceiling paint, can lights and crystal chandeliers maximize light in the space," she advises.
#5: ADD SOME GLAMOUR
Make the closet a reflection of your individual style. Two elegant chandeliers, marble countertops and crystal handles make this master closet glamorous. "Treat yourself to an aesthetically pleasing closet. A beautiful ceiling fixture, statement wallpaper or a pleasing paint color can add glitz to even the smallest space," she says. With Davis' inspiring advice, you may find you actually enjoy cleaning your closet.
---
Q&A WITH DAN GRANDON | Owner of Closet Factory
How did Closet Factory help on this project with Mosaik Design & Remodeling?
We collaborated with Mosaik and the homeowner, bringing our experiences and skills with closets and suggested a few changes to the organizational design to improve the ergonomics of the room. The next steps were to collaboratively look at the aesthetic options—what they wanted it to look like—and then to determine the budget for the project.
What are some of the ways you help homeowners maximize space and get organized?
The first thing we do is look at the physical space we have to work with and the items they're storing in the space. Taking a typical closet, for example, we'll inventory the client's clothes—how much long hang, double hang, and how much folded materials—determining how many doors and drawers they require. From there, we make a design based on that individual client's needs.
What is the process like working with Closet Factory?
Everything we do is custom, and we build everything we sell. There are no preset, predesigned or predetermined sizes. We can make the drawers and hanging sections any size. Additionally, we can make these things out of whatever the client wants. It's not just pressboard materials. For example, we can work with beautifully painted and stained hardwoods. It's whatever the client wants, the space that they have and their budget. That's what drives the design.
Is it possible to accomplish a closet make over on a modest budget?
Absolutely. Our project minimum is $750, and it goes up from there. When we work with clients, we want to understand their organizational needs, their aesthetic desires and the limits of their budget. The more information we get from clients, the better job we can do. There are so many options and accessories, and we can help them accomplish their project in stages.