Nooks and crannies give old homes the character so many desire. But this sweet alcove bed was designed and built for a new home.
Troy Farnsworth of Farnsworth Full Service Home Design tells how they did what they did.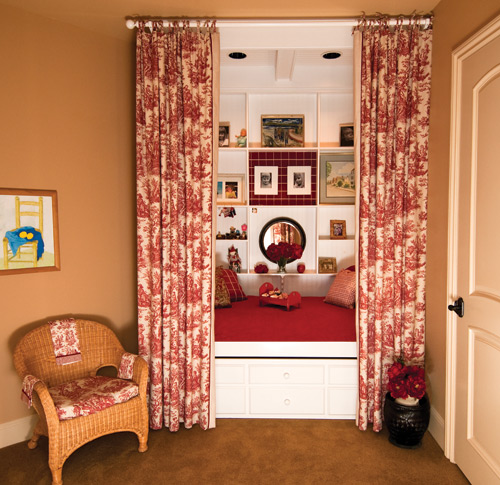 // Photos courtesy Michael Chudzik Photography
CHALLENGE: The homeowners wanted to create a fun place for their grandchildren. It had to appeal to young children but not be so precious that the kids would be too cool for it in a few years; no play castles or house. The clients planned to stay in the home a long while.
SOLUTION: They created a recessed daybed with built-in shelves and drawers for storage. Pull the curtains for a tent, fort or princess bed. "The idea with curtains was that you could make the space disappear if you wanted to." It's the ideal spot for reading, playing board games or having quiet time at Nana's. It's also handy for sleepovers.
HOW THEY DID IT: Farnsworth considered building out from the wall, but "the room got small quick. We were limited in regards to footprint. I had to move things around to create an alcove," borrowing space from the master bedroom which had plenty to spare. He's also used kitchen alcoves and pantries to create what he calls "household managers," or miniature home offices that can, like the built-in bed pictured, be hidden behind curtains or doors when not in use, because most desks "get piled with stuff and become eyesores."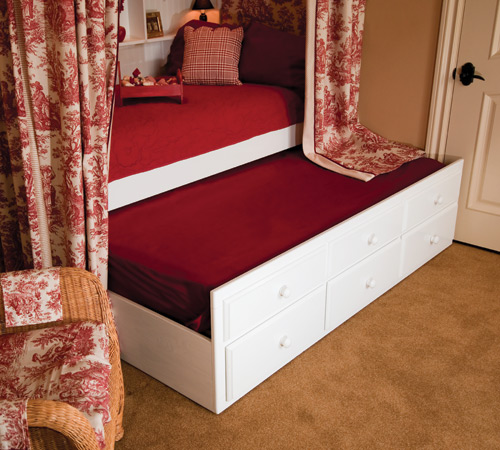 CHALLENGE:
A boring ceiling.
SOLUTION: Creating box beams in the sleeping alcove gave it a more substantial look.
HOW THEY DID IT: "When I first moved here in '93, my aunt and uncle told me I had to go [on tours of high-priced spec homes]. Typically, I'd see the homes and think they looked as if the budget ran out at the ceiling," Farnsworth says. Strategically placed between the box beams are adjustable lights that can be directed for reading or play.
CHALLENGE: No spare alcove or space to steal from.
SOLUTION: In another project, Farnsworth used closet space to create a Murphy bed for a teenage boy who was more interested in floor space to practice his martial arts than in showing off Star Wars sheets.
HOW THEY DID IT: In that case, Farnsworth repurposed the teen's existing six-drawer bedroom dresser, mounting it inside the closet perpendicular to the doors, because the closet had so much space. "I'm a big fan of Murphy beds. All you need is space 5 or 6 feet wide and 2 feet deep."