Produced by the marketing department of Oregon Home
Suzy Vitello moved into this ranch-style home knowing the future held renovations. The kitchen in particular was in need of an upgrade, from the pea-green walls to the peninsula cabinets, which gave the space a cell-like feel. "A bank of upper cabinets cut us off not only physically from the dining room, but emotionally as well," Vitello says.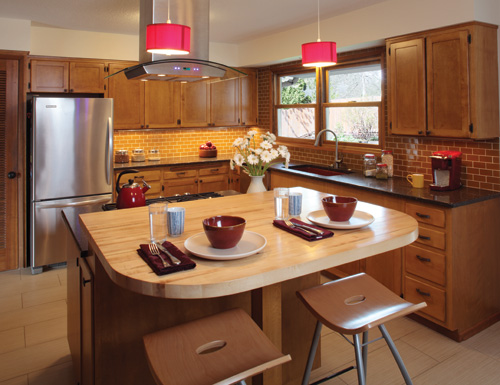 // Photos by Fred and Holly Stickley
It wasn't just the cabinets that were the problem, though. The kitchen is on the north side of the house, so one of the biggest challenges for the design team at Mac-Bo Home Remodel was getting natural light into the space. By relocating a closet and removing a portion of wall that trapped light in the foyer, the kitchen brightened considerably. Just to be sure, they supplemented it with red linen pendant lights.
Understandably, Vitello was a bit nervous about the investment, as the real estate market has had more downs than ups in the last few years. But Mac-Bo developed a plan that fit Vitello's desires and budget. To save money and landfill space, they reused the original cabinetry, refinishing the drawers and replacing the doors with the more eye-catching Shaker style. They topped them with a Mirama bronze-quartz counter complimented by the perfect amount of flair: a red cast-iron sink.
The kitchen Vitello described as "dark, boxy and uninviting" is now bright, spacious and fits a modern lifestyle. Guests can sip wine and commune around the island, rather than duck to see each other under the hanging cabinets. But it retains some of the original 1960s charm, which is just what the owners wanted. 

For more information, please contact [email protected] or visit mac-bo.com.