Danielle Kinder Designs specializes in designing homes for modern lifestyles.
Photos by Emily Kennedy
---
Portland designer Danielle Kinder's 1956 home had a lot to love — mid-century modern style, a pool for her children, and a mature half-acre lot in a quiet, quintessential neighborhood. But the inside space didn't work for two adults, three children, two dogs and a cat.
"Nineteen-fifties homes are fabulous but don't function as well for families today," Kinder says. "I enjoy seeing the possibilities within those spaces and have a knack for repurposing them."
---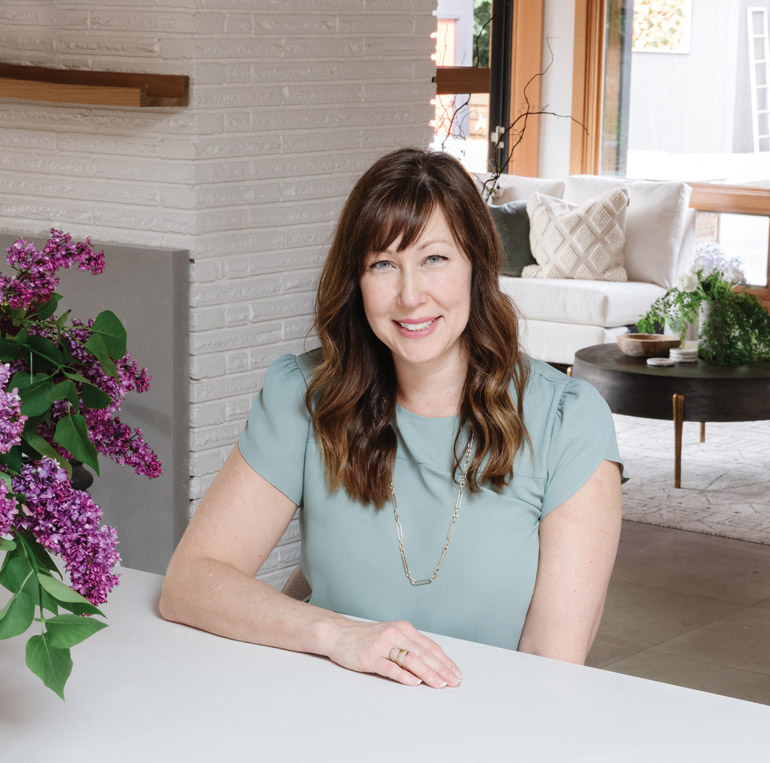 ---
With an eye toward architectural integrity, Kinder added 1,400 square feet to the home's original 2,100 square feet, while honoring the home's history, making it appear as if the addition had always been there. The result recalls the home's era with a fresh twist. Kinder did the design and layout, while working with an architect and Rhombus Design to ensure a sound structure. She also added a one-room pool house with a full bathroom. The multipurpose outbuilding now serves as a gym, home office, and guest bedroom, as well as a teenage hangout space.
"Teenage boys can go play video games in the outbuilding, and we don't have to listen to it," she jokes.
---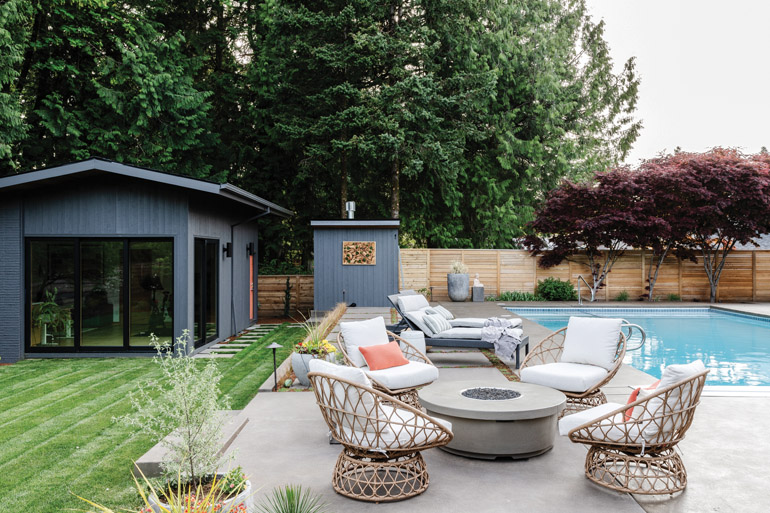 ---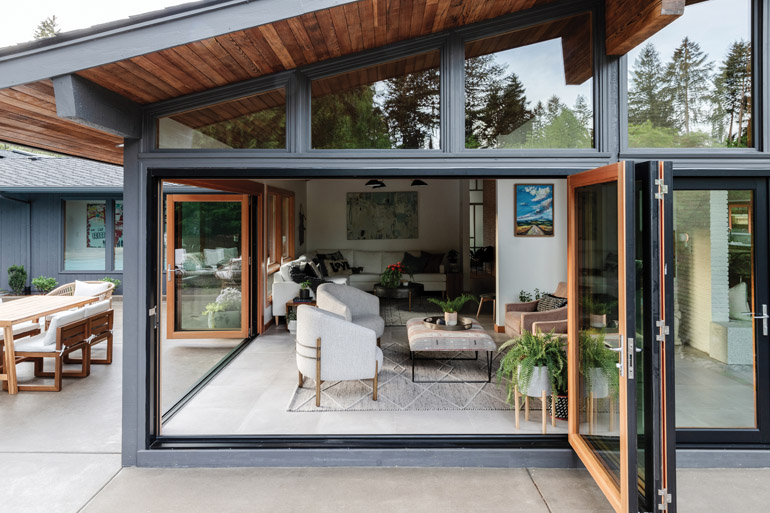 ---
Inside the main residence, Kinder wanted rooms that felt large enough for the whole family, space for entertaining, and openness to the outdoors. The original house had a covered outdoor patio that left awkward small rooms inside. Kinder enclosed the patio to create a living room–sunroom combination with a sloped beadboard ceiling and La Cantina accordion doors leading to the pool area. The addition also included two new bedrooms, a primary full bathroom, a family room with bar, and an expanded and updated kitchen with a large island for food preparation or gathering.
Kinder kept the mid-century origins intact in her choice of materials, while crafting a modern, clean look throughout. She selected cool concrete-like 24″x24″ tiles for the main living areas to counterbalance the warm wood ceilings, Italian tile for the primary bath and Spanish tile for the outbuilding bathroom. Neutral entryway wallpaper with a pattern of rounded rectangles adds a bit of mod-boho whimsy, and a combination of neutral wall-to-wall carpeting and eclectic area rugs provides additional texture and pops of color throughout.
---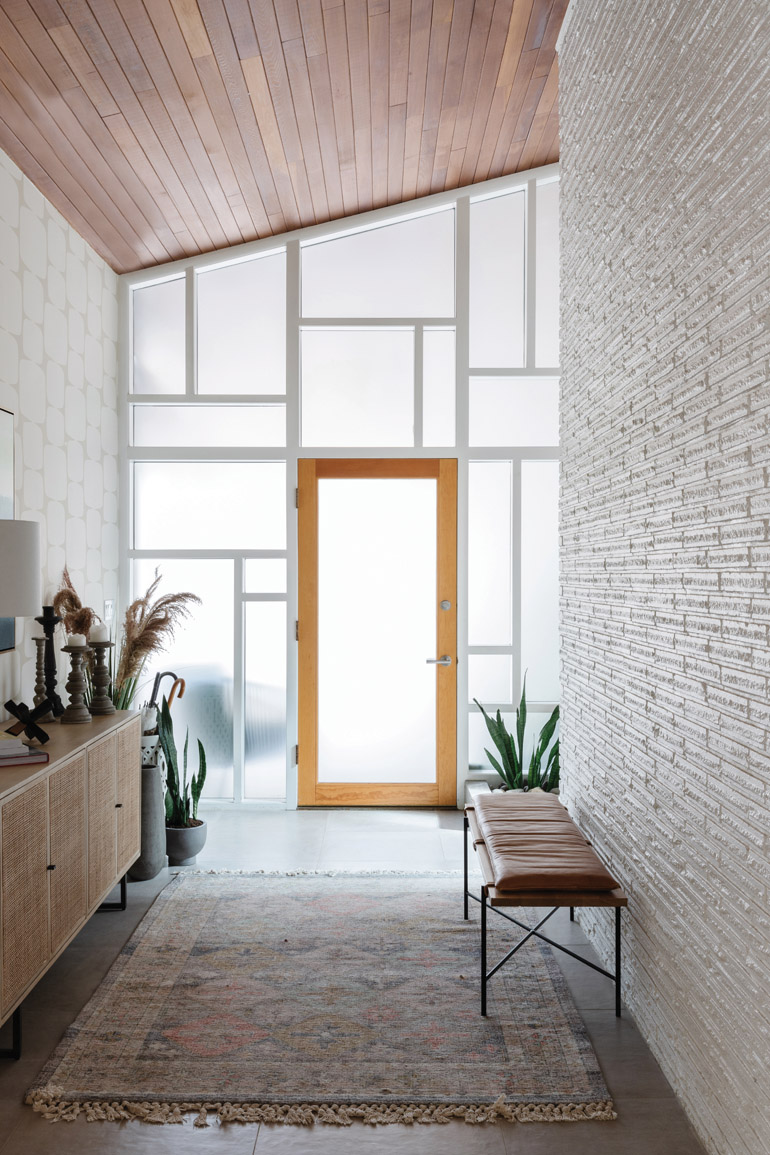 ---
One bonus of a remodel, Kinder says, is what you might discover along the way. She was thrilled during the demo to uncover narrow, mid-century brick beneath the kitchen and dining area drywall.
"We capitalized on that brick," she says. "It had signs of smoke damage, so we painted it white to match the entry brick, and now the whole center of the house has this beautiful texture. It was an exciting surprise."
Kinder was in the planning phase of her remodel when the COVID pandemic hit. She wasn't sure what impact the shutdown would have on her design business but found client projects were not going away. In fact, her business grew as the pandemic continued.
---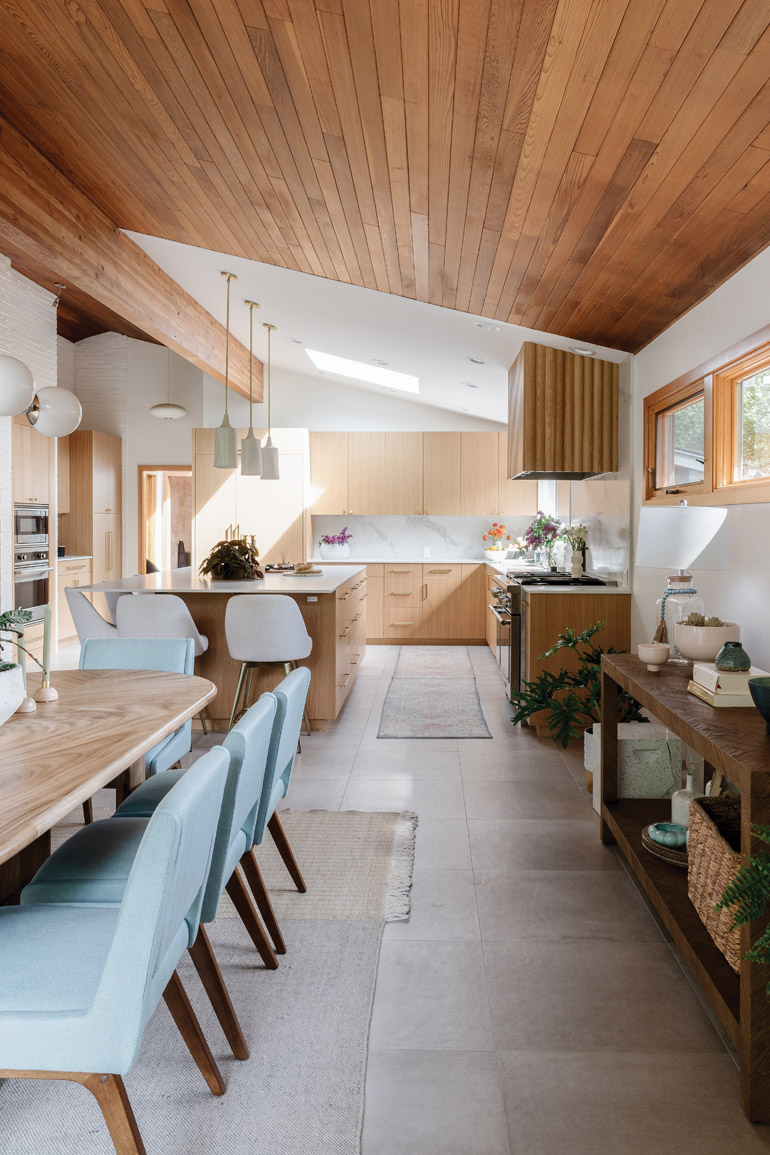 ---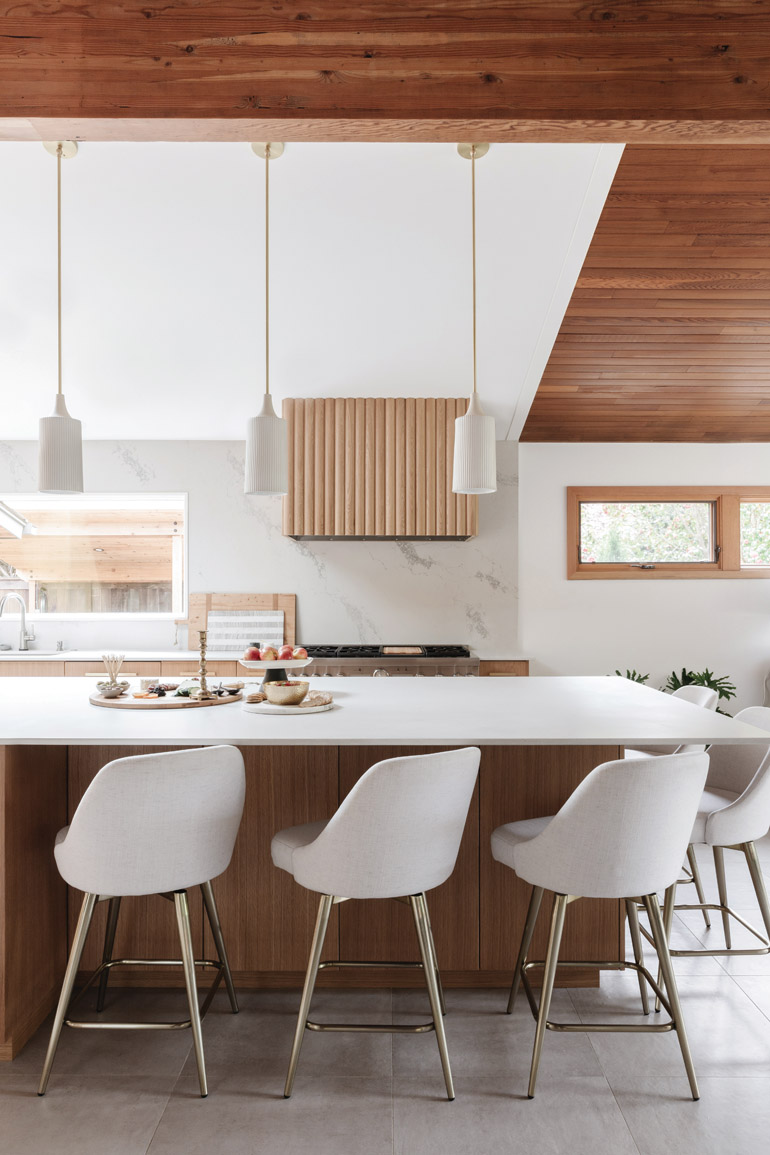 ---
"People are looking at their homes differently," she says. "Clients' needs have changed as a result of the pandemic, and people began investing in their homes and personal space. Home offices, school desks, updated kitchens and comfortable furnishings for lounging have become priorities. I focus on helping clients realize their homes' potential, while creating unique spaces based on their specific needs."
Kinder's interior design philosophy is based on a belief that homes should be livable, cohesive throughout, and at the same time beautiful and styled. She began Danielle Kinder Designs out of the desire to help other people create useful and beautiful spaces. In August she opened a retail furniture and decor boutique in Southwest Portland to better serve her clients and their design needs.
---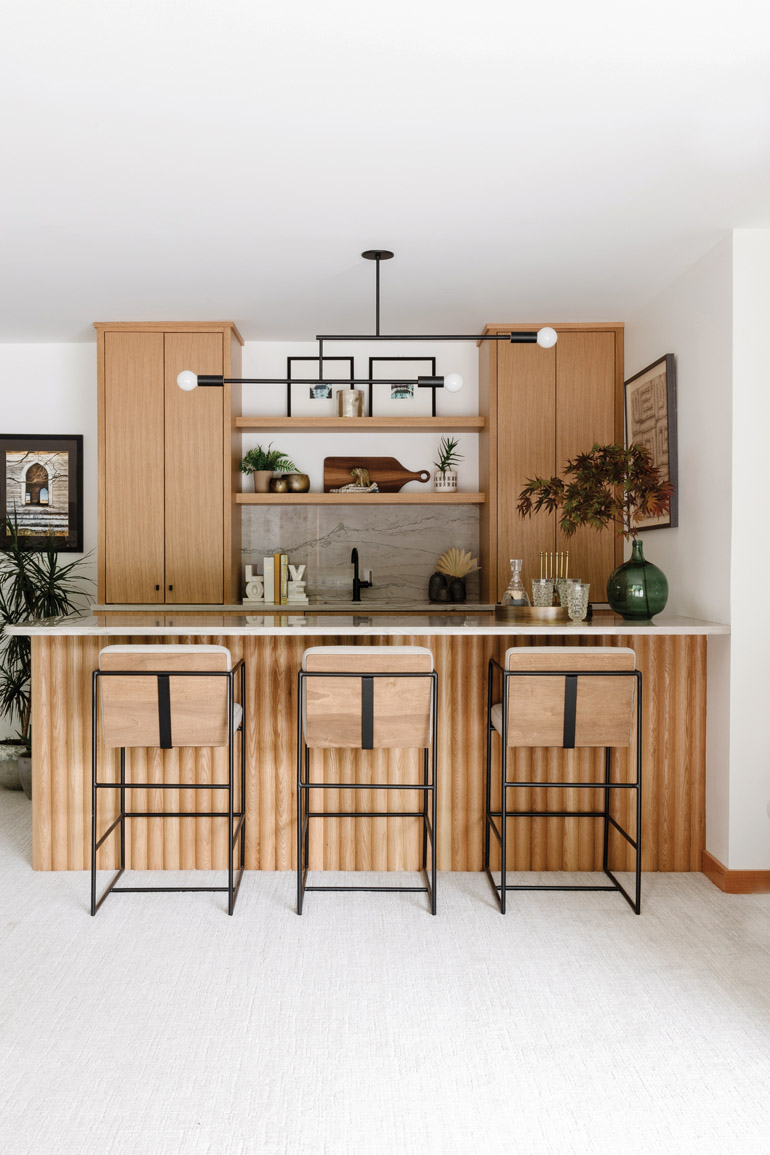 ---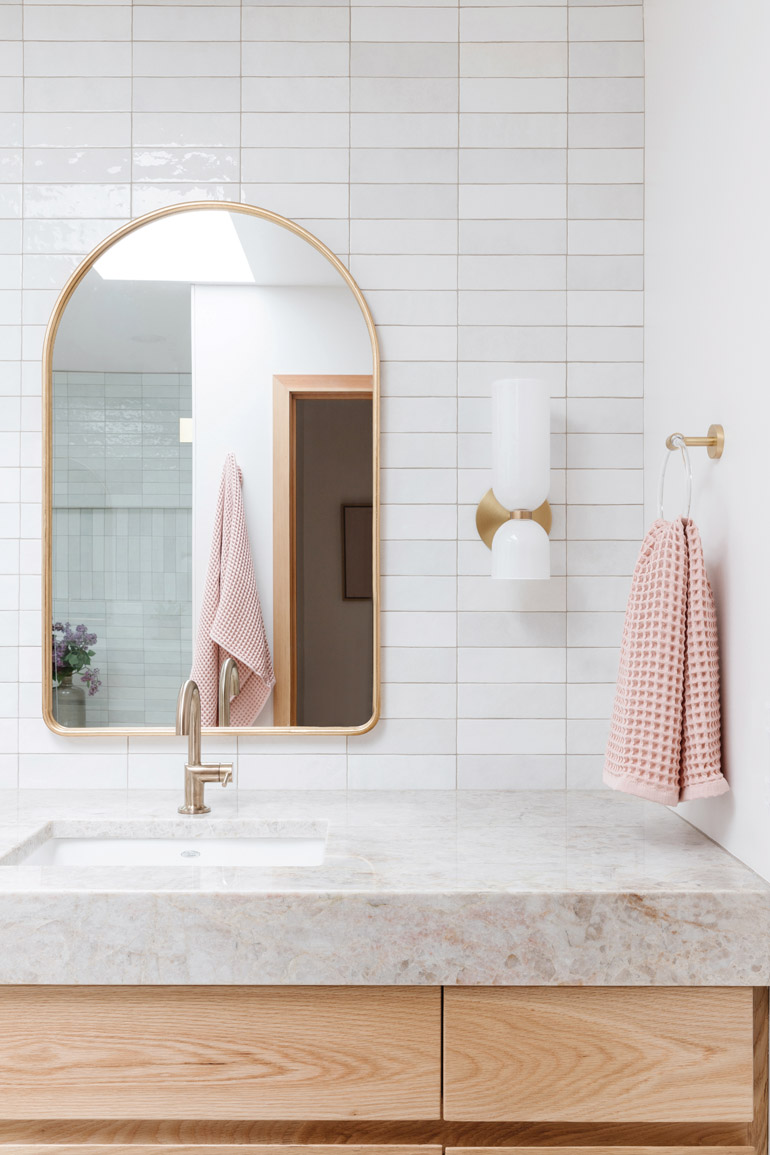 ---
"I very much believe a house should reflect the client, so I pay close attention to their current space, pulling in existing pieces in combination with new furnishings," Kinder says. "It's important to me that a house fits the period, as well as the people and their lifestyle."
In addition to finding textiles and furnishings that suit a client and their space, Kinder and her team warehouse all elements and then schedule an installation day. Kinder's crew delivers, assembles furniture, and decorates the space, and the client's re-envisioned home is revealed to them all at once.
"We feel they're giving themselves a gift by doing a project like this, and this is our way to present the gift to them," she says. "It's one of my favorite parts of the job."
---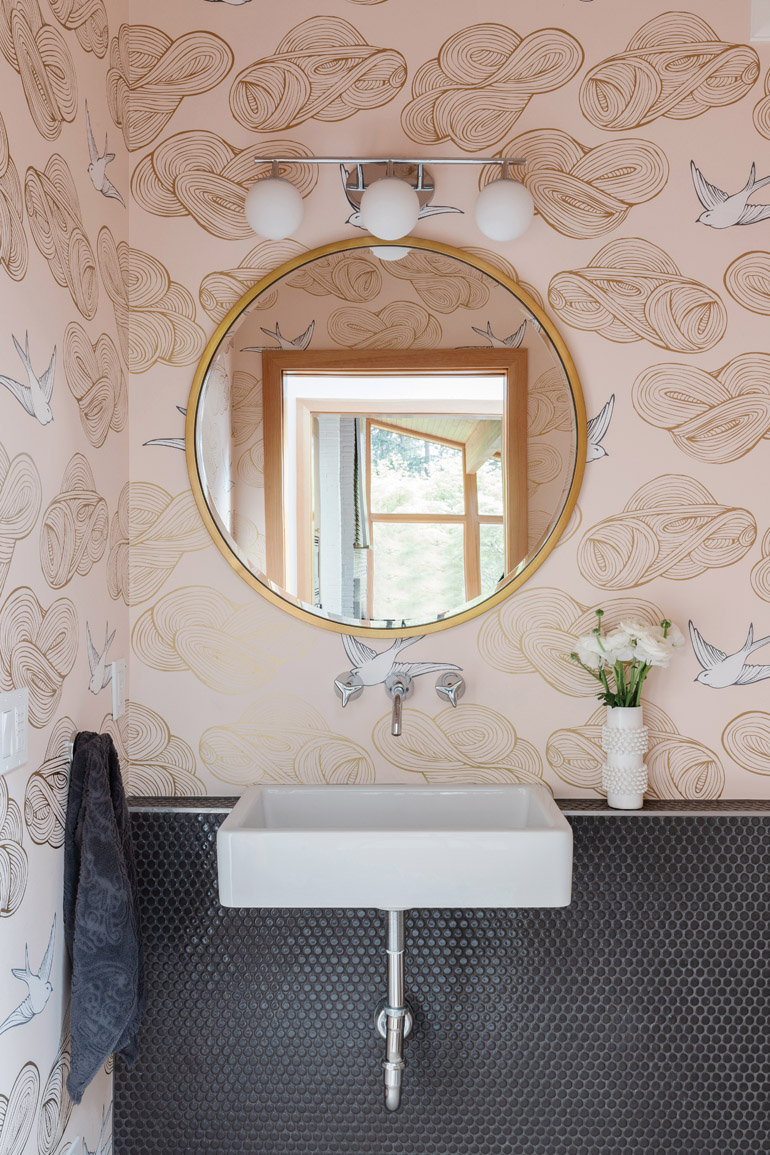 ---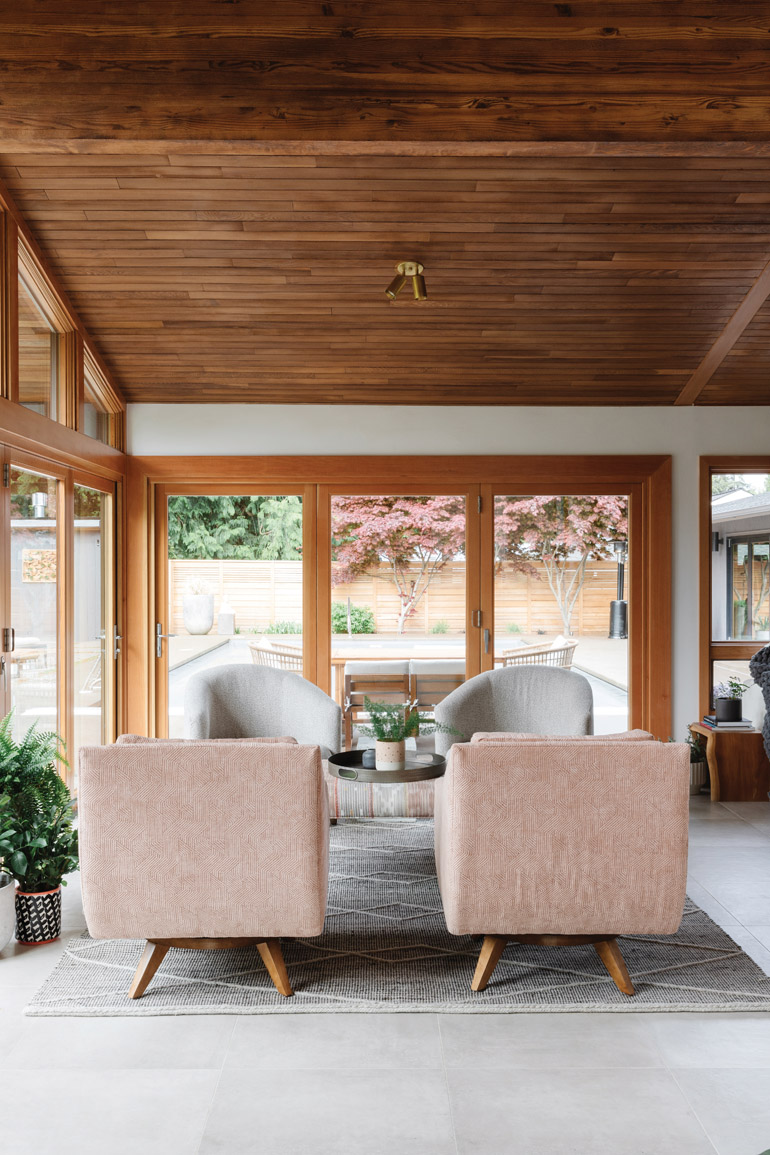 ---
For more information, visit daniellekinderdesigns.com or kinderhomepdx.com.