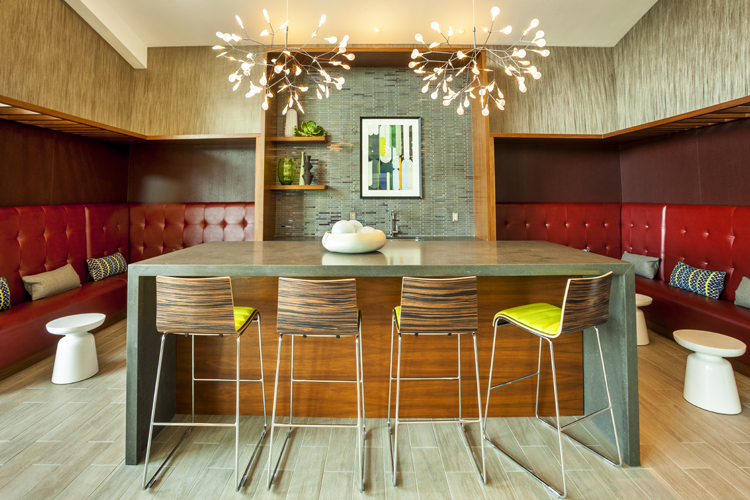 HUB9 APARTMENTS
WRITTEN BY
Brian Staffield
PHOTOS BY
Blackstone Edge
DESIGNER
Garrison Hullinger
Before you even enter the building, you start to notice all the small details at work. Entry door handles that look like reclaimed wood from an old barn transition into the entry, where a large wall graphic of an ancient oak invites you into the building. The oak imagery is strikingly paired with a bright yellow ceiling. Hub9's, interior design is filled with bright colors and a thoughtful mix of textures and materials. The bold design choices by Garrison Hullinger Interior Design firm definitely pay off for multifamily residents at Hub9.
Designing over 700,000 square feet of space might sound like a daunting task, but that didn't scare away the commercial design team at GHID. Hub9 is the first building of three in a master multifamily project in Hillsboro, Oregon.
The master multifamily project consisting of Hub9, Rowlock and Vector is located at Orenco Station in Hillsboro. The property on which these buildings were constructed was formerly home to the Oregon Nursery Company. Both Hub9 and Rowlock's interior designs echo elements of the location's storied past.
Looking to the past wasn't the only inspiration the GHID commercial design team had when they were designing the property. Designing for multifamily is different than designing for residential. When designing for a single-family home, an interior designer only has to think about the wants and needs of a small group of people, while designing for more than 124 individuals creates new challenges. Having multi-use areas in your building is always nice, but more often than not they go unused and ignored. That is not the case at Hub9.
The lobby of Hub9 is enveloped in Cascade Coil Drapery, creating a comfortable and inviting alcove. As you make your way toward the elevator, you'll find the mailroom, brightly decorated with large colorful lights. From the mailroom, across the coffee station you'll, be struck by a showstopper of a main floor, the rope room. That's right: an entire room decorated with dozens and dozens and dozens of ropes tethered to the ceiling. This fun and whimsical design makes waiting for the elevator far more enjoyable.
On the third level is the club room, a large multiuse area where Hub9 residents can hang out, watch television, have social events or even get to know some of their neighbors. Residents can use the kitchen area in the club room to prep and cook large meals for events there. From the clubroom, residents can make their way onto the large patio or even enjoy some Oregon pinot noir in the wine room.
Properly utilizing all the multi-use spaces in a multifamily building is one of the challenges an interior designer has to conquer. The commercial design team at Garrison Hullinger Interior Design took up the challenges of designing for multifamily and created thoughtful and usable spaces that anyone and everyone can enjoy. The GHID team brought the same tactful design process to Rowlock and looks forward to the opening of Vector early next year.
WHAT MADE YOU DECIDE TO FOCUS ON MULTIFAMILY AND COMMERCIAL DESIGN IN RECENT YEARS?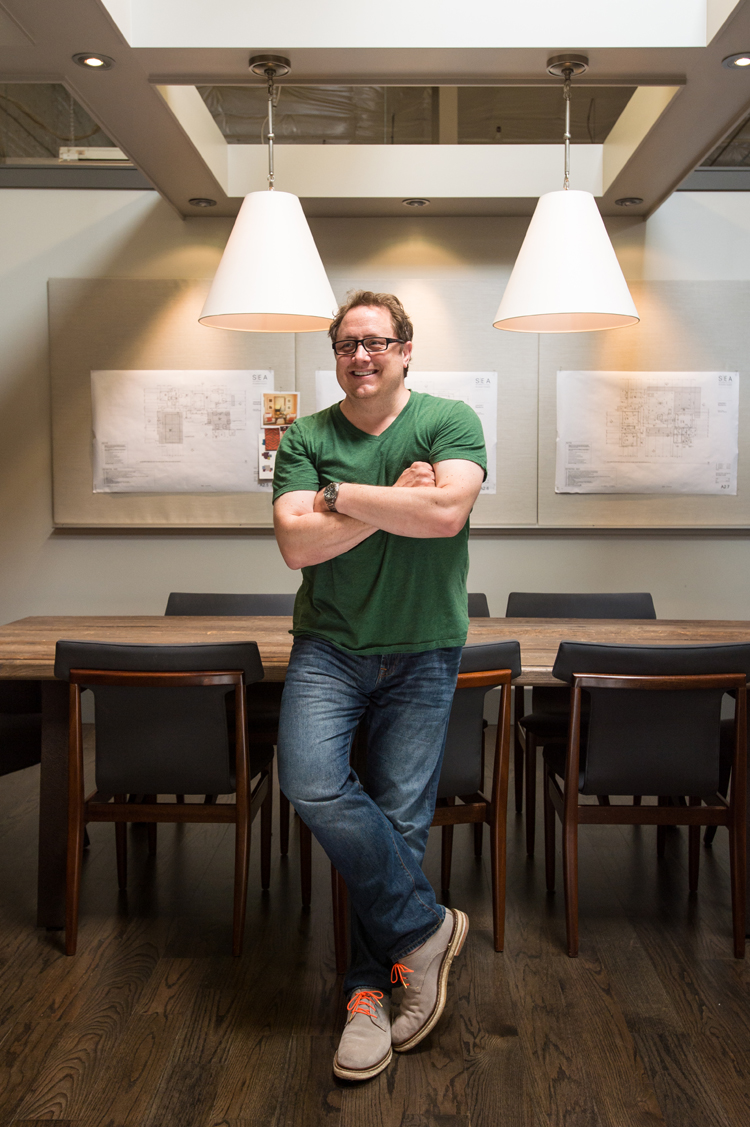 There is a demand from those individuals living in apartments that they want more than just a simple lobby or mundane corridor — they want an updated kitchen with unique tile and materials.
WHAT DO YOU LIKE ABOUT DESIGNING FOR APARTMENT BUILDINGS? WHAT IS THE MOST CHALLENGING?
We delve into the core of the public spaces and what the resident will experience. I love how we activate a space and give our attention to the smallest of details that create a positive experience.
HOW DO YOU FEEL THE DENSITY ISSUES THAT PORTLAND IS CURRENTLY FACING ARE AFFECTING THE WAY PEOPLE LIVE WITHIN AND DESIGN THEIR SPACES?
There is a need for simplistic living space with ample natural light that provides privacy but also the opportunity to interact with their community. This requires us to create gathering spaces for lounge areas, café-like settings and still make sure the urban dweller can get their bike down the corridors and have a place to secure it.
WHAT IS YOUR FAVORITE THING ABOUT OWNING ONE OF THE LARGEST INTERIOR DESIGN FIRMS IN PORTLAND?
I am proud of the professional talent that we have attracted. There was no intent five years ago, when I started this business, to grow to such a large size, or that I would even work on such amazing projects. I am in awe of the creativity and business acumen within the different departments of GHID. The strengths of those individuals allows me to focus on servicing our clients.