Photography by Christopher Dibble
---
Max Humphrey is having a moment, and it's been a long time coming. The New England native toured the world with a band for a couple of years (he was the organizational one). Then he was in film production in L.A. — "just the guy getting the scripts to the actors," he says. Eventually, he talked his way into a position at a design firm (he worked his way up from errand runner to designer). "I was the punk who was really into project management," Humphrey says. But Humphrey's time is now, and his place since 2016 has been Portland, where he serves residential and commercial clients with a penchant for personality, as well as national brands looking for just the right image for their catalogs. Of late, Humphrey has been winning space in national magazines for a style inspired by set design, one heavy on Oregon-friendly plaids, collected objects, and modern silhouettes layered with pattern and texture. "It's a nostalgia-based obsession," Humphrey says. Look for his first coffee-table book inspired by this style, Modern Americana, next spring.
---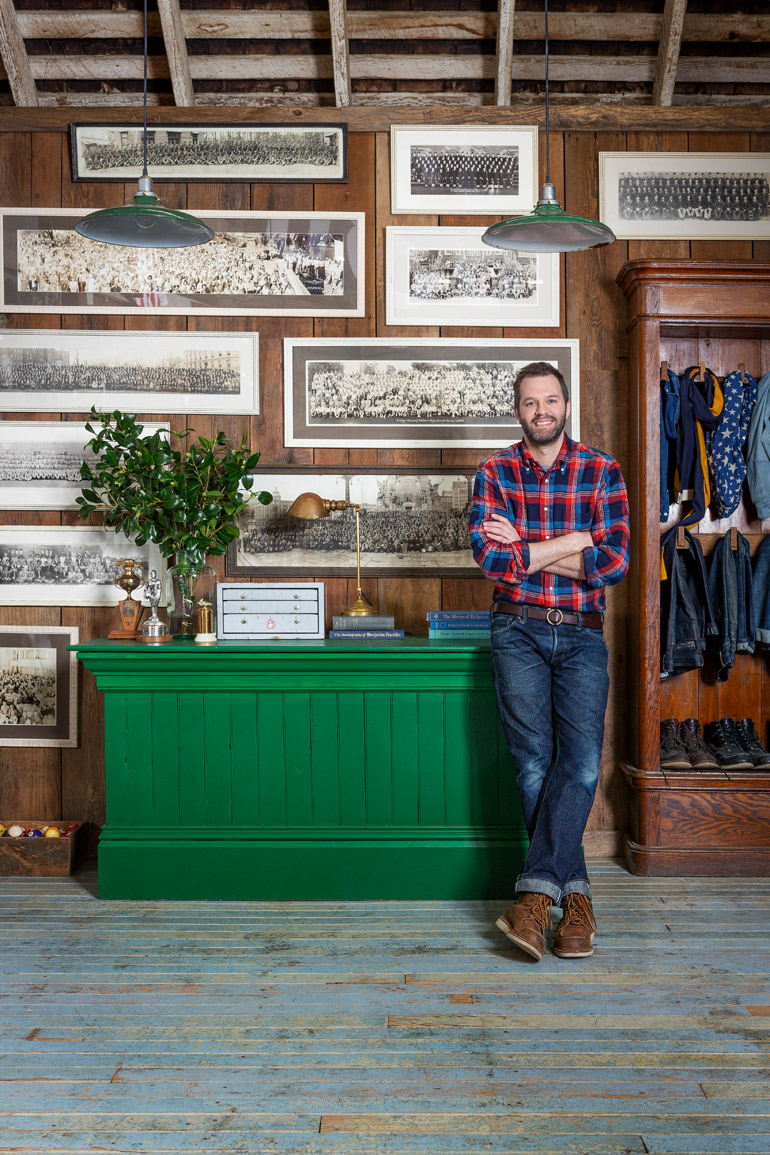 » Humphrey with his collection of yard longs, a type of panoramic vintage photo. "It's a great time to start a collection," Humphrey says.
---
Max Humphrey's Style Sheet
The expert shares ideas for having fun with your home during a pandemic.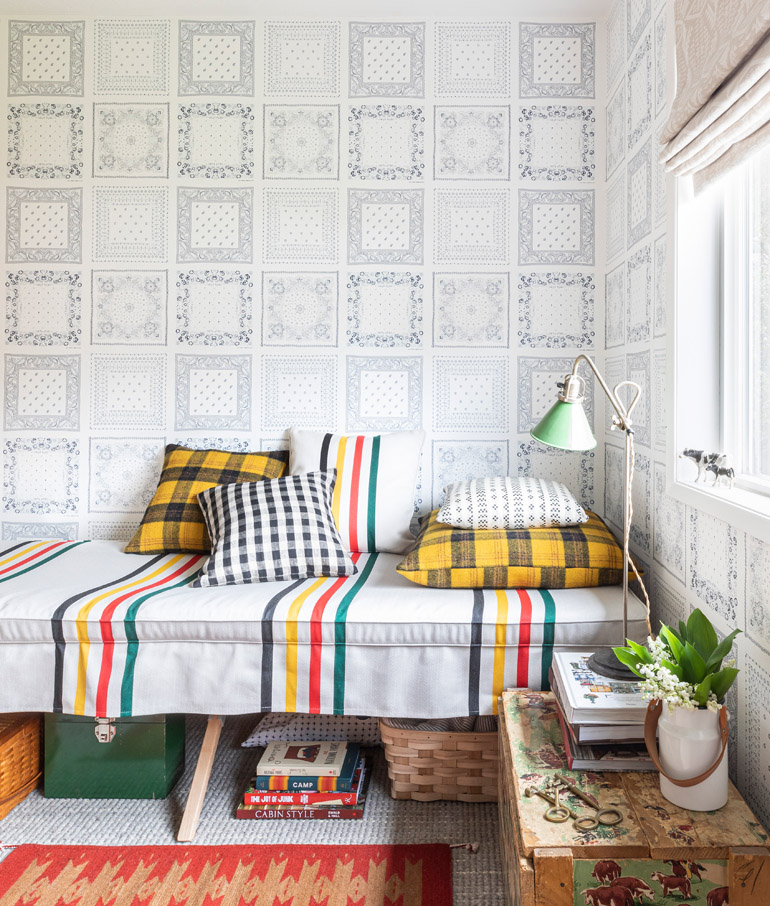 Tip: Make spaces do double duty.
"We were already using rooms for multiple purposes, but now there's no question," Humphrey says. "Every kitchen is an office. Every guest room is a hideaway." Here, a camp cot in a guest room becomes a quick hangout space with a few throw pillows.
» Above: Humphrey designed this wallpaper for a client's powder room based on his own collection of vintage bandanas. Available at maxhumphrey.com.
» Humphrey's style embraces found vintage objects, bold colors and a clever twist on the New England prep he grew up with in New Hampshire.
---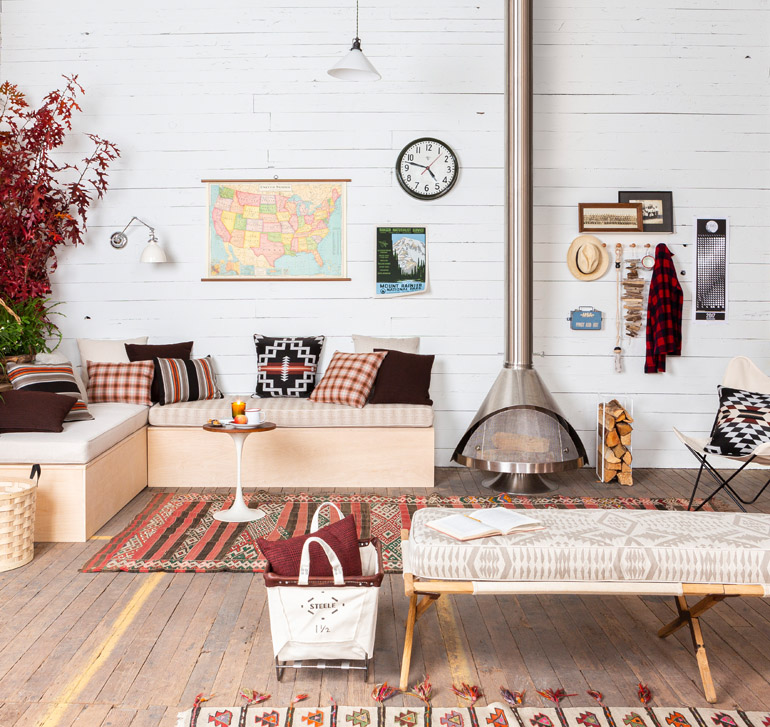 Tip: Bring your travels home.
"I like maps because you can just buy them and stick them to a wall, no framing," Humphrey says. "They are casual, instant gratification. They can represent the places you've been or the places you want to go. They can be really aspirational. It's all about not being too precious with things and having the freedom to just switch things up by shopping within your own home."
» Above: A collector at heart, Humphrey sources his objects locally at places like Urbanite, Aurora Architectural Salvage and a handful of smaller dealers he likes to keep secret.
---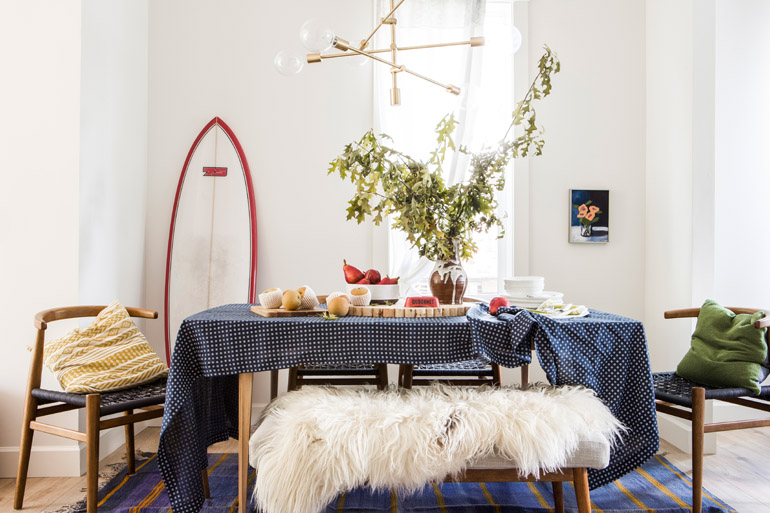 Tip: Remember what season you're in.
"I'm not into decorating seasonally," Humphrey says. "But if you're picking things up at the farmers market, then you'll have these things around. A little bit of leaves and fruit goes a long way. You can also work in the season with textures and blankets. People get really excited about fall in Oregon."
» Above: A selection of in-season pears makes an impromptu tablescape on a Schoolhouse Electric tablecloth.
» A rustic vase with cut branches brings the outdoors inside and adds life to any room.
» Nods to colder weather like this throw cozy up the space.
---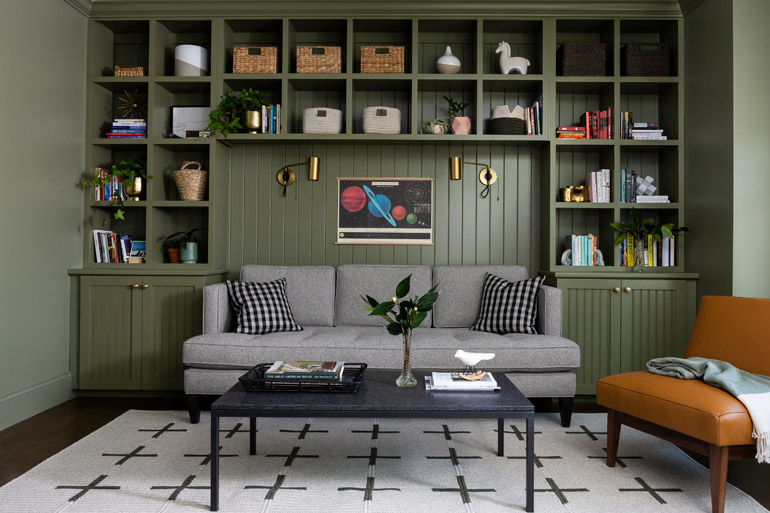 Tip: Go bold.
"Green is a gateway color," Humphrey says. "You see a lot of lighter greens but you can definitely go bolder. It looks awesome with everything. I used two versions of Benjamin Moore's Tate Olive for this room — a satin finish on the bookshelves and a flat finish on the walls."
» Above: Wall sconces by Schoolhouse Electric offer an elegant focal point. "They are the first Portland brand I stalked when I moved here," says Humphrey. "I'm very inspired by this company's aesthetic and message."
» The rug is one of Humphrey's own designs, called Cross Rug. "It acts as a neutral but is just enough pattern that it doesn't steal the show," he says. "It's very forgiving for people who have kids."
» Dress up your bookcases with personal objects. "I don't generally like to buy decor items just for decoration," says Humphrey. "I like animal sculptures, baskets for texture and plants for bringing the outside in."
---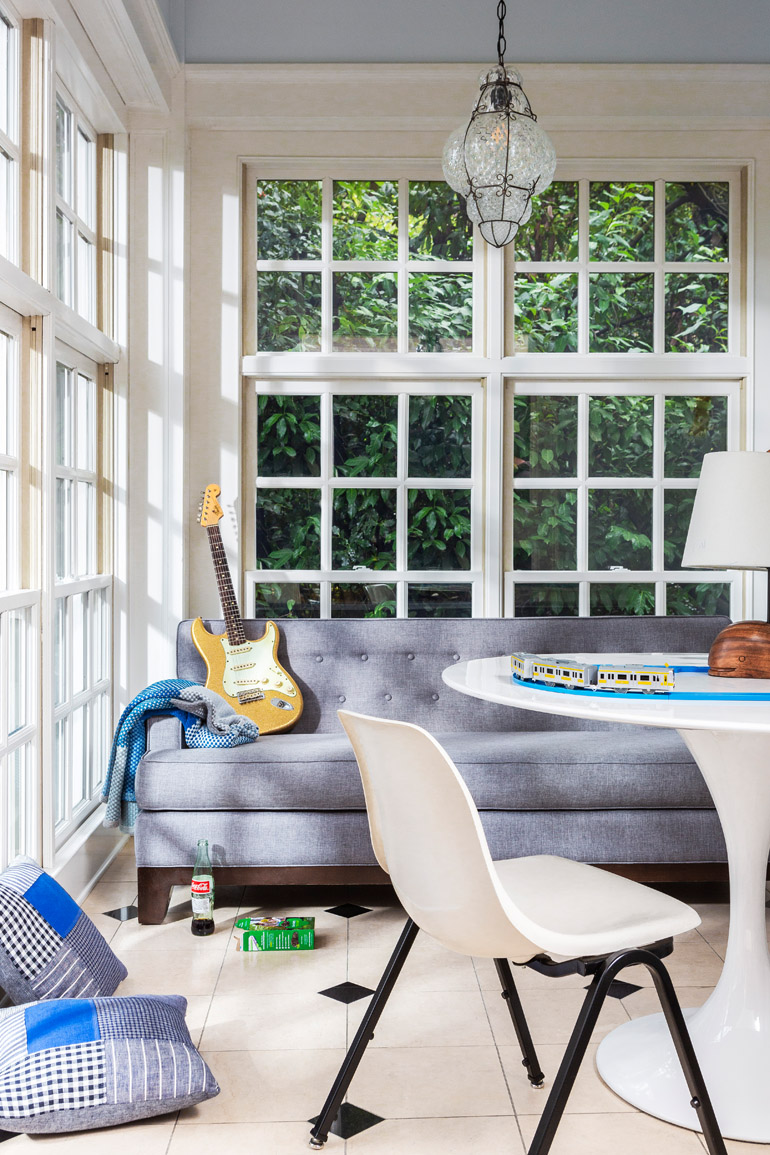 Tip: Pare down.
With so many people sharing a space, having a lot of objects about can start to overwhelm, Humphrey says. "I'm still a relatively new parent. The best thing you can do is get some baskets. Throw everything in a basket at the end of the day. If you don't have a place for stuff, it just accumulates. It's great to start the day fresh so it doesn't feel like Groundhog's Day every day."