FASHIONABLE FURNITURE AND HOME ACCESSORIES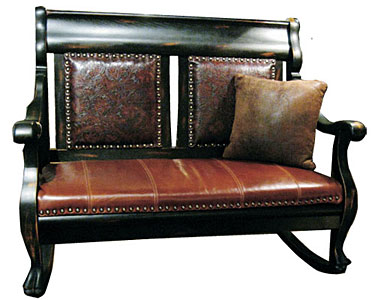 "The whole point of our shop is that we stock a little bit of everything," says interior designer Linda Seals of POSH DESIGNS (4023 N.E. Hancock St., 503-288-7674 or go to poshdesignspdx.com), a 6-year-old showroom and full-service interior design firm that she co-owns with interior designer Jan West, who together have nearly 60 years in the interior design business. "A lot of our pieces are colorful, as we've discovered that Oregon homeowners want color in their lives."
Look for rustic seats such as this Dad and Son Bench Rocker ($1,950), living room and dining room furniture, rugs, table lamps and floorlamps, and accessories such as oversized wall clocks, pillows and paintings. "Lots of people hire us for an $85-an-hour fee—half of which can be applied toward a purchase in the store—to help them redo their interiors," says Seals. "We're reasonable Posh designers; we don't charge posh prices."
HENNA YOURSELF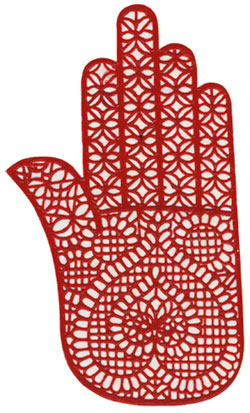 Journey to the far side of the planet without leaving Portland with a stop in HIMALAYAN GIFTS & CANDIES (2000 N.E. 42nd St., 503-284-8409 or go to himalayangiftandcandy.com), the bodegalike shop just inside the doors of the 42nd St. Station. Here you'll find sweets, treasures and crafts from Nepal, Bhutan, Sikkim, Darjeeling, Kalimpong, Ladakh and Tibet.
Buy a Bridezilla-to-be who's obsessed with all things wedding a pair of hand-shaped patterns by Shahin Mehandi Design ($1.59 each) from India. When henna is applied over the patterns, the overlays produce temporary tattoos known as Mehendi, an ancient Indian body art traditionally applied on the hands and feet of women preparing for a special festival or a marriage. (NOTE TO SELF: Maybe the designer who made the pair of white crocheted gloves I wore on my wedding day had just returned from India?)
For your most New Age designer-friend, spring for a box of cone-shaped incense ($6.50) or a stash of Kathmandu Eyes Himalayan tea ($12.50 for a box). For your BBF (Best Buddhist Friend), opt for a strand of prayer flags ($15). Before you exit this chock-a-block emporium of great stuff you never knew you wanted, pick up a sheet or two of handmade wrapping paper ($4.99) in an eye-popping color combo such as hot pink on a vibrant turquoise.
RETRO RULES HERE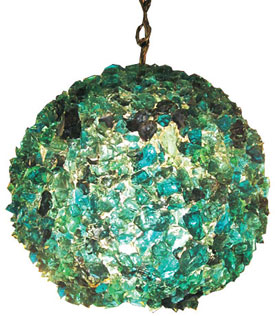 Remember going through an antiques mall with your mom when you were little and having to hear her say, "That is exactly like the one your grandparents had!" in every booth?
Well, fortysomethings can drive their own kids crazy with a walk around the perfectly named SHAG (4071 N.E. Sandy Blvd., 503-493-7011 or go to shagmidcentury.com), a 6-year-old, 1,200-square-foot store that pays homage to furniture and artifacts that were made from 1950 to the 1970s.
Take this vintage Moon Rock Swag Lamp ($149)—please! (FULL DISCLOSURE: I grew up with a gold one glowing in the corner of the living room in our tri-level.) The ranch house set will go atomic when they see all of the Danish Modern furniture ($1,295 for a Danish Modern settee by Peter Hvidt) and iconic pieces by designers such as Florence Knoll, Hans Wegner and Finn Juhl.
"I've always had a thing for modern furniture and modern lines," says Michigan native Randy Lucas, who co-owns the store with Cindy Hislope and finds his merchandise at auctions, estate sales, thrift shops—and in the hands of folks who bring their castoffs to the shop. "If you try to buy new furniture for the same amount of money that some of these mid-century pieces cost, you'll discover it's rare that it'll be made of solid wood."
FROM ELEGANT TO RETRO-LOOK HOME GOODS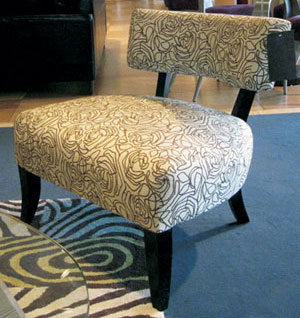 If your biggest nightmare is your little sister's dream of decking out her ranch house with period-perfect used furniture, head for DANIA (1905 N.E. 41st. Ave., 503-284-0880 or go to daniafurniture.com), where new furniture and accessories fill a four-level, warehouse-huge store that was once a Paul Schatz Furniture showroom. You'll find a Natuzzi Gallery filled with leather-upholstered pieces; coffee tables, sofas and chairs ($675 for this retro-look Mackenzie Chair) for your living room; tables, hutches and sideboards for your dining room; mattresses and beds for your master bedroom; desks, chairs, multi-piece workstations and file cabinets for your home office; entertainment units, TV cabinets and home theater seating for your media room; and furniture such as the Max child's table and four Eameslike chairs ($165) to finish off your favorite little person's bedroom or playroom.
The made-in-Oregon Wood Castle Collection ($895 for a queen bed in cherry or maple) is selling well, according to saleswoman Joan Westerberg. "It's Craftsman with an Asian look," she says.
CALLING ALL BOUQUET LOVING FRUGALISTAS
If inhaling a dozen roses arranged a la Martha (cut super-short, mashed rose-to-rose in a short vase) serves as your weekly therapy session (as it does mine), swing by TRADER JOE'S (4121 N.E. Halsey St., 503-284-1694 or go to traderjoes.com) before you leave this neighborhood to get as many petals for your pennies. If you stay away from a MUST-HAVE mentality, you'll always find something to put in your shopping cart when you come across the flower buckets filled with an ever-changing mix that can include orange ranunculus ($3.99 a bunch), white calla lilies ($3.99 for 5 stems) or purple tulips ($5.99 for 10 stems). The orchids ($6.99 to $17.99) are amazingly affordable, too.
If buying local is more important to you than getting a deal from a national chain, RALPH'S HOLLYWOOD FLORIST (2005 N.E. 42nd Ave., 503-249-1888) has a nice selection of roses and flowers such as pink snapdragons ($2.50 a stem) and stock. Owner Debra Hildebrand arranges her stems in artful European and Asian designs for weddings, funerals and for the flower tables for whom arrangements make their house a home.