Above: The beauty of nature shines through in this cheerful sunroom. By pairing traditional, floral patterns with a sleek dining room table and mid-century modern dining chairs, the look is at once classic and stylish. Tiled stair runners add a touch of international interest in an unlikely place. | Photos by John Valls
When it comes to curating a perfect home decor, the use of color can be a bit like playing with fire. Color has the ability to warm with a rich display of personality, but use too much and there's a chance of getting burned. Jason Ball knows this balancing act better than most, having worked professionally as an interior designer since 2004. He says he never was one to shy away from using color in his work, but when he took on a project several years ago, updating a farmhouse at the heights of Cooper Mountain, he found an opportunity to push his color boundaries by accessing the vivid vision of the home's owner.
---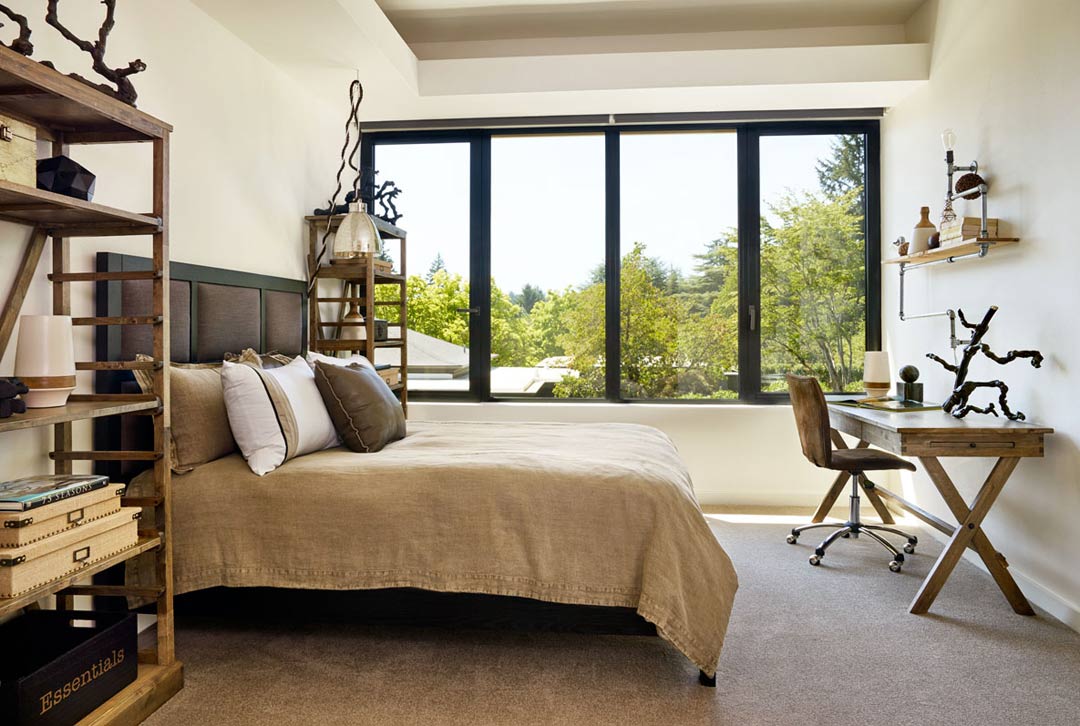 In the bedroom, the palette of various blues makes this the perfect spot to take a nap.
---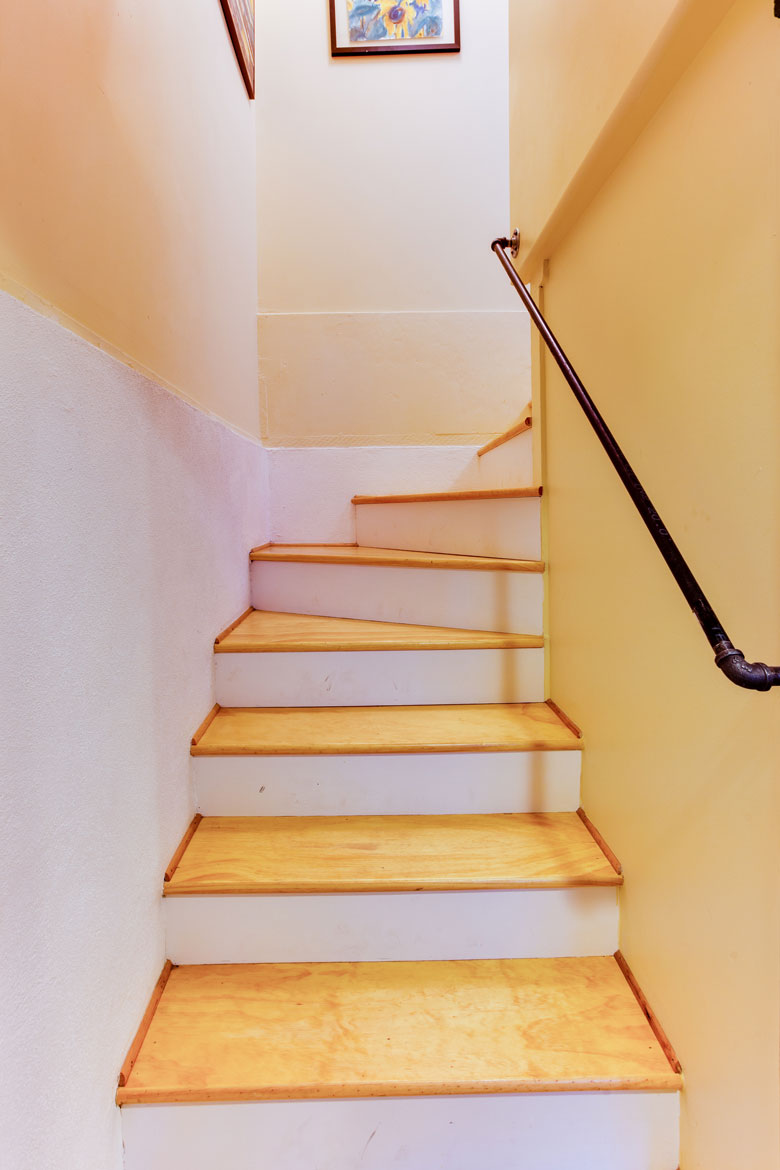 ---
"The word you're probably looking for is 'eclectic,'" says Ball, as he and homeowner Orly lead a tour of the house. At the entryway, vibrant Mediterranean tiles on the stairs greet visitors upon stepping through the front door. In the hallway to the living room rests a multicolored, hand-painted Italian dresser, giving confirmation that this is a place where color is not only utilized but celebrated. Off of the modern kitchen is a glowing sunroom inhabited by furniture pieces inspired by various styles and eras. It's all very eclectic indeed, and what's most amazing is how well it all fits together. The home exudes a great warmth and creates a uniquely welcoming feel.
---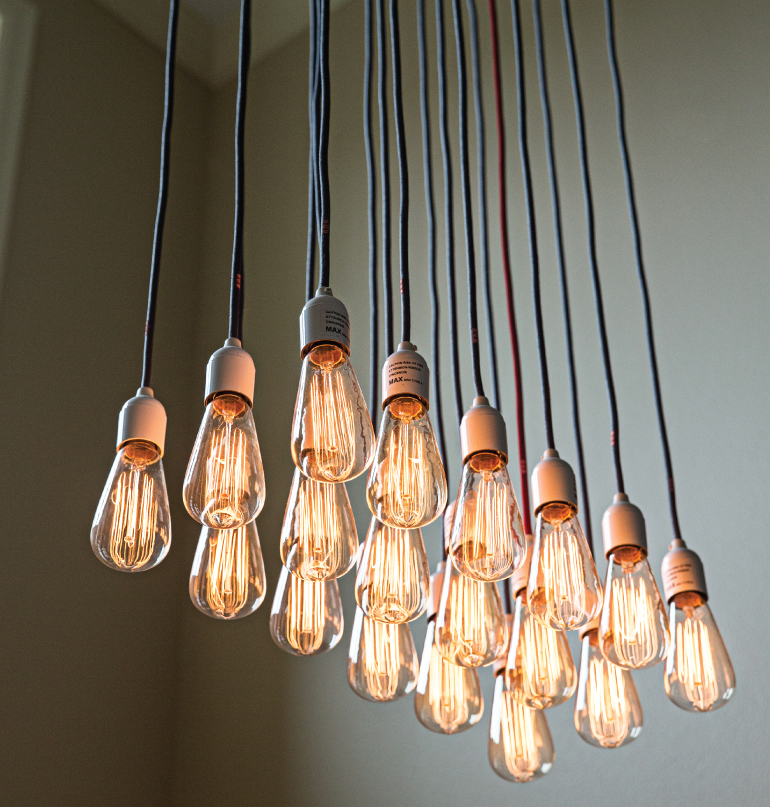 Single-strand, Edison bulbs hung in a grouping, allow the beauty of the surrounding colors to stand out.
---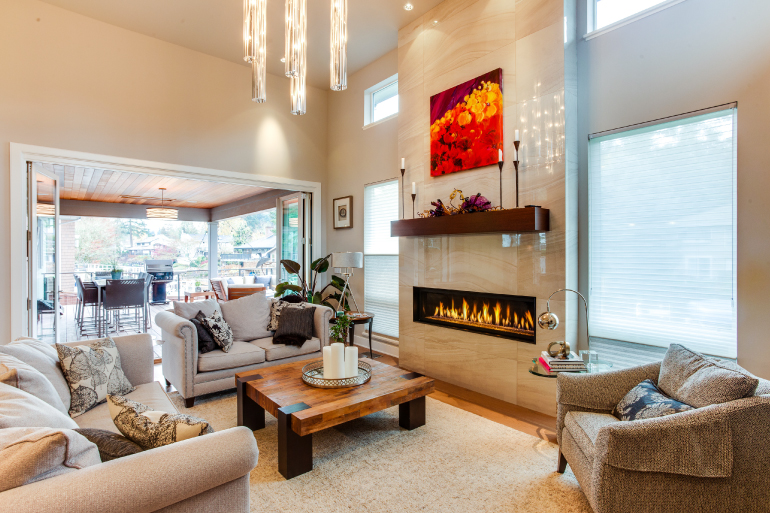 Burgandy accents in the living room add an air of sophistication while still remaining chic and cozy.
---
"I think it's brave, what we did here," says Orly as she gazes fondly at the sunroom, a spot she refers to as one of her family's favorites to spend time together. "It's easy to go to the store and just pick patterns in one theme, but I wanted things to work together without being prejudiced toward different styles," she says. Each room throughout the house tells its own story through color and design, and while visually striking, every room was also designed to be usable for the entire family of five and their guests.
While any home-renovation project can be daunting, it required a particularly patient collaboration of ideas and Ball's design expertise to bring Orly's ambitious vision to reality. "I see my line of work as a big responsibility, and it's important to me to get it right," Ball explains. Prior to interior design, he had a successful career in marketing research and also holds a master's degree in psychology, a couple factors that aid him well when navigating the expectations of his clients. "There is a real advantage in understanding how people go through the process of making a decision," he says.
---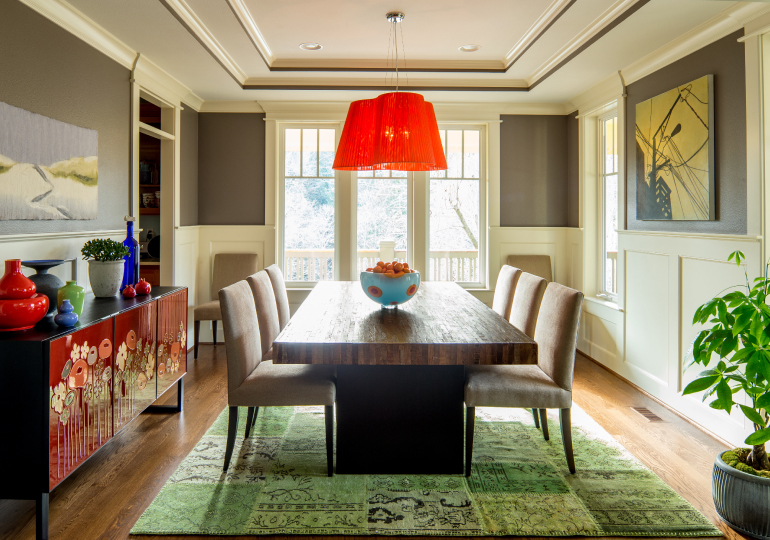 Accents of red and green make this dining room perfect for entertaining or long nights of homework.
---
One of Ball's tricks for success is that he makes it a point to discuss with new clients not only what types of designs they do like, but also what ones they don't. Prior to the house's current decor, for example, they describe the original farmhouse theme of the home as not quite fitting with Orly's taste. "It wasn't necessarily that we just wanted the house to be completely different," Orly explains, "but we're not farm people."
Ball agrees, recalling his first sight of the house. "It was very country back then," he adds with a laugh.
---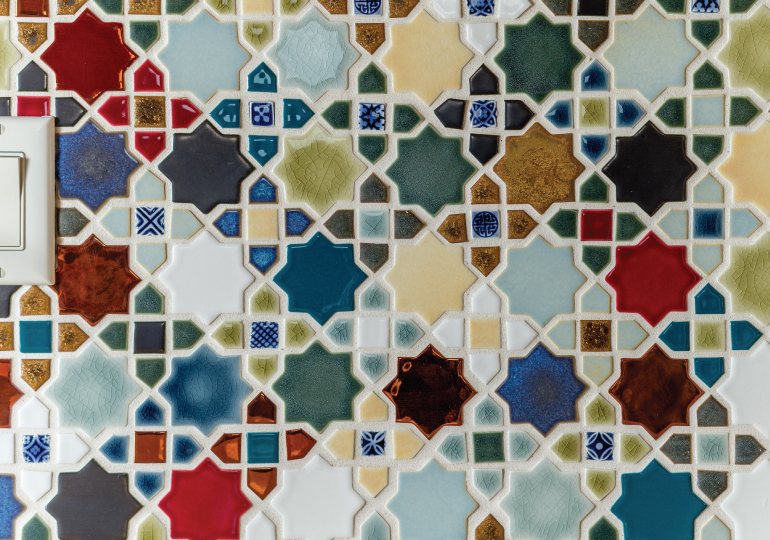 Moroccan inspired backsplash tiles lend a hint of international flavor and cheerful interest to the kitchen.
---
Looking back now, several years after having finished the renovation, Orly says there's nothing about the finished product she would want changed. "To me the color here represents life and freedom," she explains. "Having lots of color around us every day makes my family very happy, and it really helps with those gray winter days, which we've actually come to love too."
As for Ball, he walked away from the project with a newfound appreciation for exploring the power of color, having learned that playing with fire can lead to incredible results.
---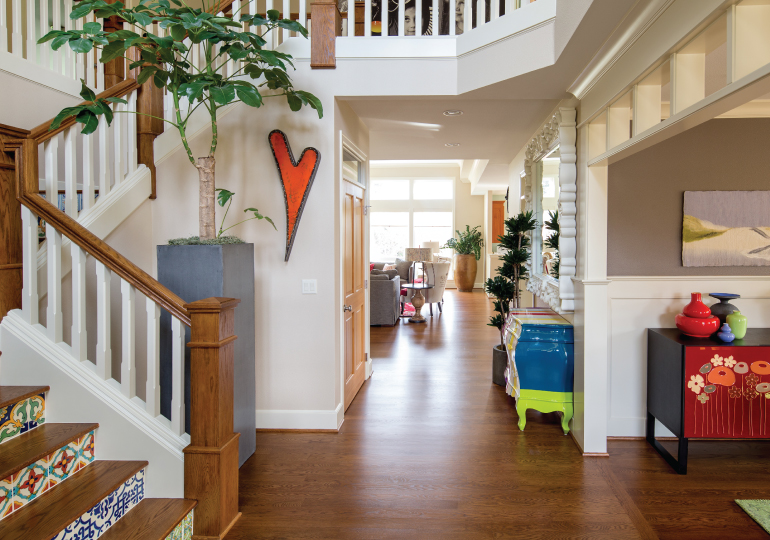 With gray as a background color, pops of brighter accents are more noticable in the entry way.