Kami Gray of Kami Gray Interiors reimagines space and function in this traditional Laurelhurst home. Her client and 8-year-old daughter bought the recently updated house and were pleased with all the basic structures and fixtures. But the kitchen, small dining room and lack of entry just weren't working for them. Plus, the conventional arrangement and furnishings didn't reflect their artistic and social lifestyle.
---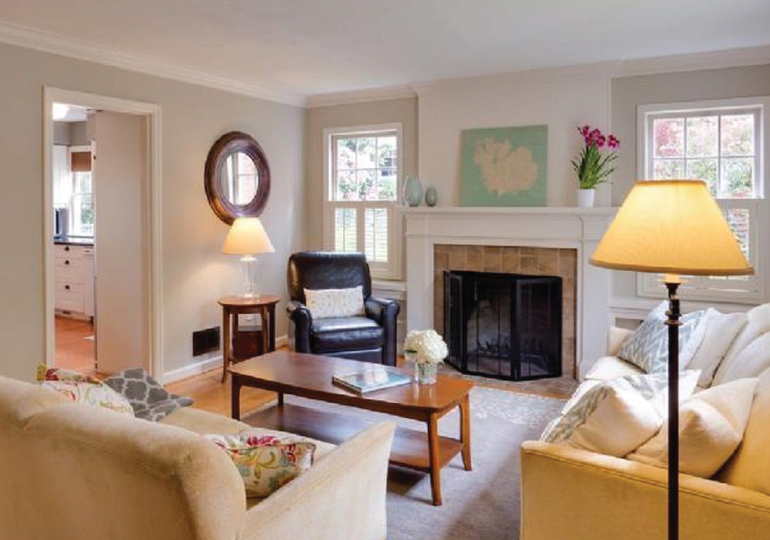 Before
---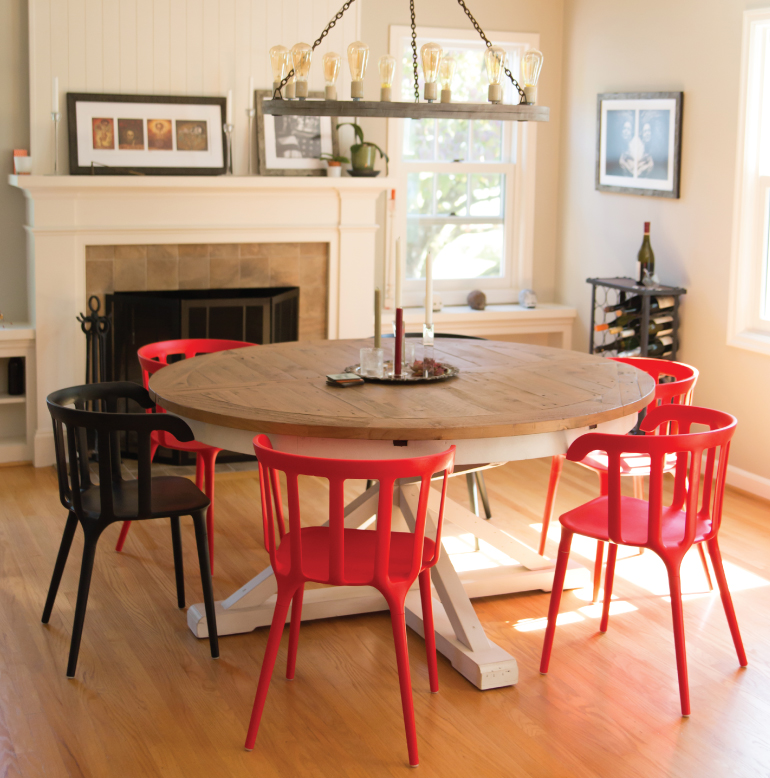 After | Accents of red give life to gathering spaces. Red works well with almost any building material from wood to concrete and is perfectly at home as a statement piece.
---
"Fortunately, these older Portland homes are so flexible," explains Gray. "You can keep them classic with a literal interpretation of the floor plan, or you can use the good foundation to do something fun." For her client, a graphic designer, art collector, bookworm and entertainer, something untraditional was in order.
"We turned the small dining area into a comfortable reading nook with cozy seats for the two of them," says Gray. "When they're not entertaining, the kitchen with bar seating and nook make a warm hub. We reworked the living room into a larger gathering space by bringing in a round table, which can be extended. And we created an entryway area that didn't exist before." Then came the fun part.
---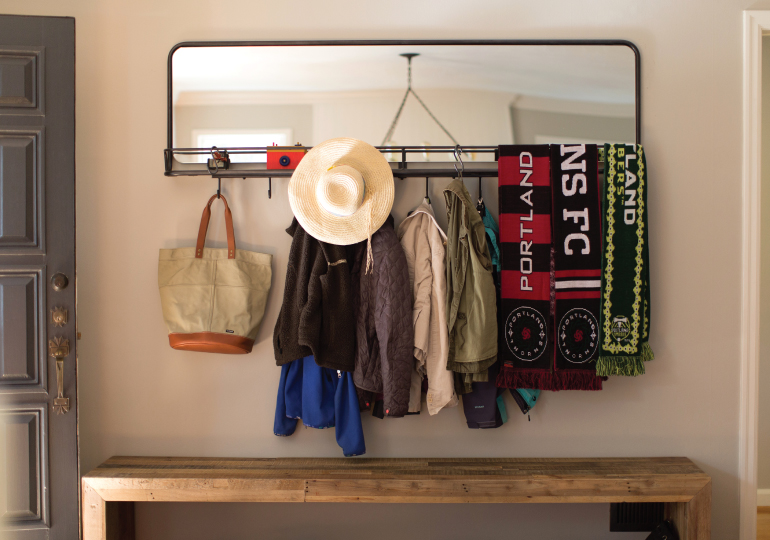 ---
Gray's client wanted a home that captured her personality. As a graphic designer, color is a big driver of mood and emotional response for her. She also had a number of quirky art pieces needing a better way to be seen. Her personal style tended toward more industrial design elements like galvanized metal and reclaimed wood — elements which could come across at odds with the traditional style of the home. Gray had custom reclaimed wood and galvanized metal fixtures done by an Etsy artist to incorporate the look while not overstating it. Using these throughout the main floor, including the guest bathroom, brings a sense of continuity to the home.
---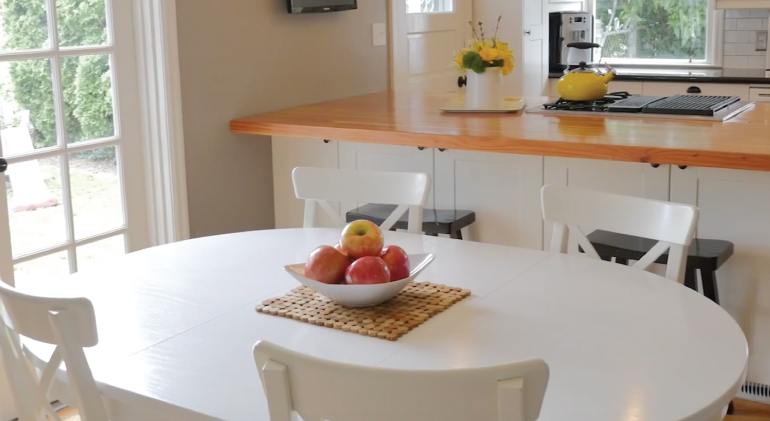 Before the remodel
---
"Another way to mix seemingly contrasting styles together is to use color to introduce the idea of playfulness," says Gray. "The reading nook is my favorite combination of color. We needed a way to bring together my client's French country floral chair and her three modern barstools.
By taking a 'global bazaar' approach, color brings sense to the space."
---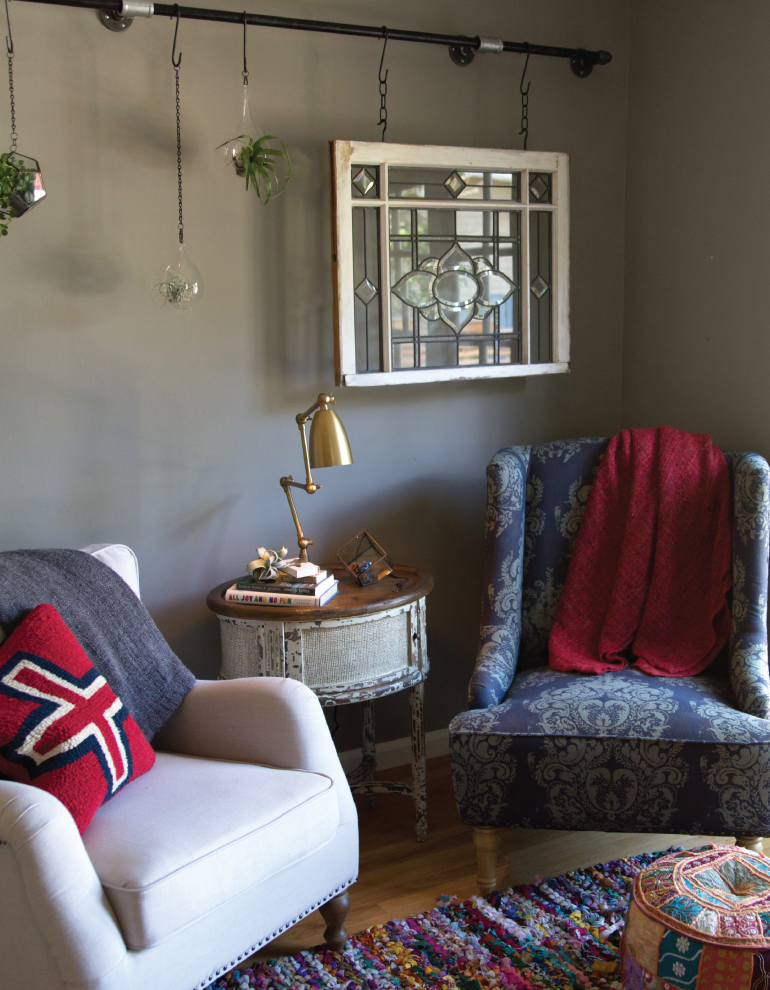 ---
Find yourself drooling over the rooms laid out in the Rejuvenation catalog? Wondering how to pull it off in your own home? Look no further than local PDX interior designer Kami Gray. Formally trained in design, Gray honed her interior magic-making skills as a prop stylist and set designer for the likes of Pendleton, Woolen Mills, Nike and, you guessed it, Rejuvenation.
Gray creates stylish, functional and inviting rooms for all personalities and budgets. Working with her husband through Ash Street Building Company, they can revitalize a home from kitchen sink to major remodel. Or Gray can help you dial in that catalog look using the space and materials you already own.