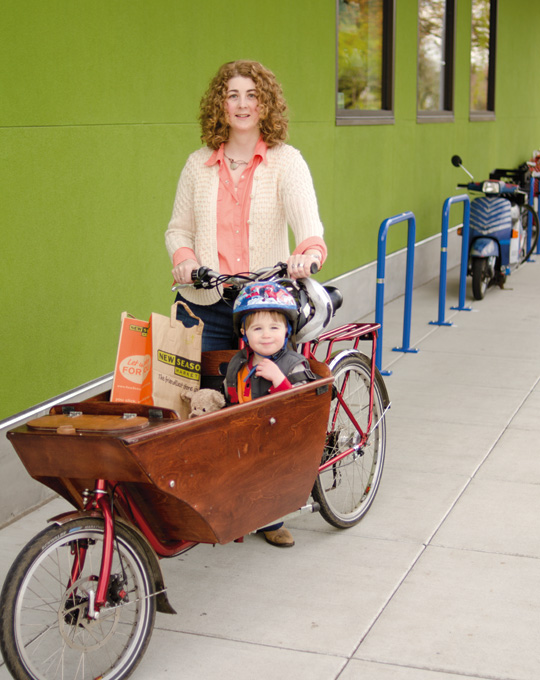 Jill Cropp  is a native Portlander who believes in living small, ditching the car and keeping a lid on stuff.
Who she is: A native Portlander, architect and advocate for living simply and avoiding waste.
What she does: Designs new and existing residential spaces through her business, Studio Cropp Residential Architecture and Design.
Where she lives: In a 1,000-square-foot bungalow in the Hawthorne neighborhood with her husband, Jeff, and their 2-year-old son, Colin. The house has solar electric panels on the roof, a rain barrel system and a front yard that sprouts vegetables. 
What inspires her: People who creatively examine how their lifestyles translate into multi-use spaces. You think you need an entire room for TV watching because that's what you're "supposed to have?" Try again.
What she's not: A minimalist. "It's not a competition to see who can live in the smallest square footage, but at the same time, more isn't always better. There's a point for everybody that's just enough but not too much."
Hometown pride: She believes in the importance of Portland's vibrant, livable, walkable neighborhoods. "They foster close relationships with neighbors and local businesses and that creates community."
She's never: owned a car. She and her family get around in a locally built bicycle with bike box, in Zipcars and on the bus.
Her bottom line: Save energy. Live in a smaller footprint, insulate your house or install solar power. Then, reuse. For example, almost all her furniture is second-hand vintage and mid-century modern.
Confession: It's not the expensive "sexy" eco things that excite her (such as wind and solar power). "If everyone just lived with 200 fewer square feet in their homes, we'd save a lot of resources."
If she could change one thing: She'd have less stuff.